Big 12 News
Steve Sarkisian Predicts Year 2 Jump for Quarterback Quinn Ewers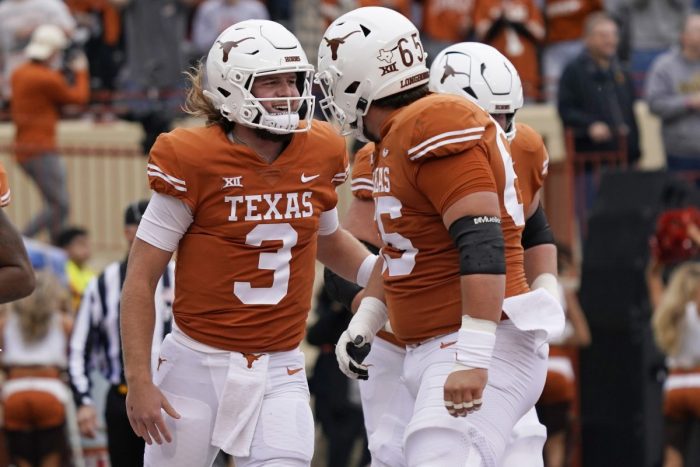 While Quinn Ewers became one of the 13 members of the Big 12 Conference named to the Maxwell Award Watch List on Monday, the hype for the young quarterback continues to climb heading into his second year under head coach Steve Sarkisian.
Sarkisian sat down for an interview on Monday Morning with FOX Sports' Colin Cowherd on his show, The Herd, and discussed the progression that sophomore quarterback Quinn Ewers has shown, predicting a big jump in Year 2.
Despite the fact that Colin Cowherd both renamed Quinn Ewers to Brock Ewers and compared him to Jay Cutler, Texas head coach Steve Sarkisian spoke on the offseason development of the young quarterback mentioning that he's positioning himself to take a big leap in the fall.
"The repetition matters. I think the expertise and the system matter, and historically for us, guys going into Year 2 in our system, which we're running an NFL offense, it's the same stuff we did in Atlanta with Matt Ryan and Julio Jones and those guys. Historically going into Year 2, that's when we really see that step, and all signs are pointing to that's where Quinn's going this year for us."
Ewers steps into Year 2 after finishing the previous season off with 2,177 passing yards, 15 touchdowns, six interceptions, and a QBR of 64.8 despite missing time with injuries. While Ewers put together some tough games on tape like the 41-34 loss to Oklahoma State on October 22nd where Ewers tossed three picks, he also had some major flashes including a week two loss to Alabama where Ewers played excellent football before exiting with an injury in the second half.
If the Longhorns want their final season of Big 12 Football to go down in history for the right reasons, it all starts with the development of Quinn Ewers If Ewers can make the jump as a sophomore and lead the Longhorns to a solid record and a potential Big 12 title, fans could finally have their answers to the historic "Is Texas back?" argument.