Oklahoma Sooners
Brent Venables on OL Heath Ozaeta: 'We've Got a Good One Right There'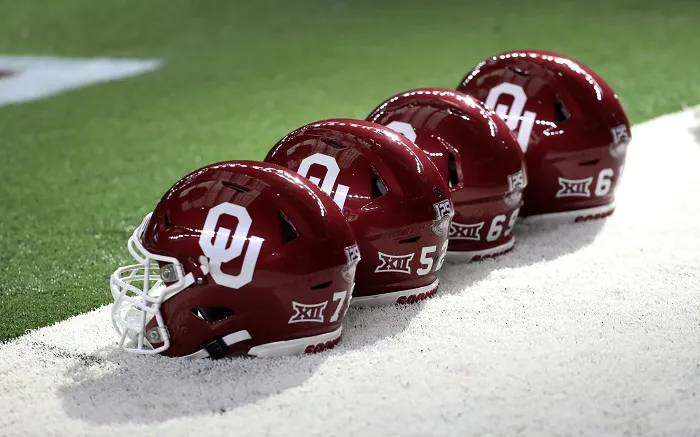 Drawing praise from Brent Venables isn't exactly something easily accomplished, let alone for a player that's never played a snap for Oklahoma. However, that is precisely what freshman offensive lineman Heath Ozaeta accomplished on Tuesday at OU Media Day.
Ozaeta hails from Snoqualmie, Washington, a mere 1,964 miles, or a 29-hour drive from his displaced home of Norman, Oklahoma. Over the past several weeks, temperatures in the Sooners State have regularly reached north of 100°, which is something that Ozaeta has had to adjust to, given that his life up to this point has been spent in the temperate climate of the upper northwest.
"I think it's the biggest adjustment for me right now," Ozaeta said of the Oklahoma heat. "Just like the 90° days, 100° days. That's probably the hardest part and the biggest transition for me, but I think I've slowly gotten used to it over the summer. It's definitely a big change."
Despite trying to transition to an entirely different climate, Ozaeta is drawing rave reviews from his head coach, who's known to drive home the point that, "it ain't ever going to be good enough."
"Heath Ozaeta, we haven't kicked off practice yet but we've got a good one right there," Venables said of the true freshman. "His measurables are outstanding. His testing is outstanding. His mindset, he's very even keel, very much like Cayden Green except he just got here."
Ozaeta has been working in at left guard, the one position on the field that Offensive Coordinator Jeff Lebby designated as a "battle" going into fall camp. At 6'5″ and a self-proclaimed 315 pounds, Ozaeta already possesses the size needed to compete at this level of college football. But as a freshman, he's still got some things to learn, naturally. It sounds like Ozaeta might have to dethrone Savion Byrd, or potentially Troy Everett to grab the starting LG spot, but learning from those guys is something he's focusing on right now.
"Savion Byrd and Troy Everett are both in front of me and both are super impressive players," Ozaeta says. "Savion is super sharp with his technique. Super technical. So, I'm always watching him in practice. Watching his feet, watching his hands to see what he does.
"I think having those older guys in front of me, guys that have experienced college football and know what they're doing, has been super valuable to me, just to watch them, learn from them, and get better every day."
Jeff Lebby has high expectations for the offensive line heading into the 2023 season, and his confidence isn't just with the first four or five guys. It's the "competitive depth" behind them, with guys like Ozaeta just waiting for their chance to shine.
"We've gotten to a point today where we feel pretty good about it," Lebby said of the offensive line. "I think we've got a chance to feel great about it as we get into Week 1, with Walter at left, Tyler at right, Raym obviously back at center, McKade at right guard, and then the left guard position – being able to go battle in camp. Again, we've got guys behind those guys that are real players, so that's the fun part of it. We've got to have a great camp and we've got to stack days one on top of the other. I've got a feeling we're really going to like where we are upfront in Week 1."