Kansas Jayhawks
Five Things To Watch During Kansas Basketball's Trip to Puerto Rico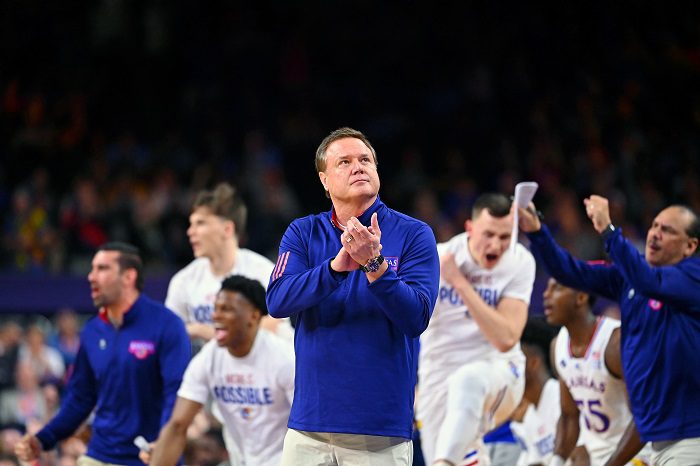 The Kansas Jayhawks men's basketball team will be taking their talents to Puerto Rico for three exhibition games this week. The trip, which is expected to be from August 1-August 8th, will include an exhibition against a Puerto Rican Select Team at 11 a.m. CST on Thursday, August 3rd. They will also play two games against the Bahamian National Team on Saturday, August 5th at 4 p.m. CST and Monday, August 7th at 11 a.m. CST. Each game will be broadcast on the Jayhawk radio network featuring play-by-play with Brian Hanni and color commentating by Kansas basketball alum Greg Gurley. Here are five things to consider keeping an eye on as the Jayhawks make their first trip with the 2023-2024 squad.
Who Takes Over the Final Starting Spot?
There are essentially three guys looking to take over the final spot in KU's starting lineup this fall. Elmarko Jackson, Areterio Morris, and Nick Timberlake are all looking to fill that space on the roster. Jackson, the talented freshman, could be the most athletic and have the highest ceiling of the group. Morris may have the most question marks, but the talent is there for the incoming transfer from Texas. Timberlake is the most experienced, a fifth-year senior transferring in from Towson, and may be Self's pick in who he trusts the most. Will these exhibition games give us an insight into what Self is thinking when it comes to starting lineup and rotation construction? It could very well be something to keep an eye on this week.
Can Hunter Dickinson Be a Leader in Year One?
Everyone sees the talent that Hunter Dickinson brings to the table. Dickinson is a guy who averaged 18 points and 8 rebounds per game at Michigan last season and only seems to be getting better on the court as time passes. Even though Dickinson is in his first year as a Jayhawk, will he be able to have a leadership role on this team? From what we've heard from summer practice and camps, Dickinson likes to talk. Maybe he becomes the vocal leader in the locker room while DeJuan Harris continues to be the on-the-court, lead-by-example guy. We all know Kevin McCullar Jr. and KJ Adams will have a leadership role on this team as well. Dickinson will continue to carve his role out both on and off the court and this time in Puerto Rico could help shake some of this out.
KJ Adams' Role on the Team
KJ Adams played a key role on last year's team as the "big man" in the lineup. His natural position could be more of a power-forward type player rather than being the five on the court. They could also use him as an off-the-bench spark plug if they want to play a smaller lineup. It wouldn't be unusual to see Self with a three-guard starting lineup, where he starts Harris and two of the guard group mentioned above between Jackson, Morris, and Timberlake. That would leave McCullar and Dickinson as the final two starters. It's easy to assume Adams, a starter from last year's team, will be right there starting from the beginning of the season again, but Self may have some tricks up his sleeve. It's another thing to watch for while the team plays in Puerto Rico.
Kevin McCullar Jr Progression
In a recent media session, Bill Self said McCullar has been the best player for the Jayhawks this summer. After going through the NBA Draft process, and entering his sixth collegiate season, McCullar has the most experience of anyone on this Jayhawk squad. If what Self is saying is true, McCullar could see an uptick in offensive leadership this season. That would be a huge boost for a team who lost a lot of offensive production to the NBA and graduation. McCullar has been one of the best defensive players in the country the past few seasons and adding a great offensive output to his game will make him the complete player Self is hoping to mold this season. Seeing how McCullar attacks on the offensive end of the court will be something to keep an eye on as the team scrimmages this week.
How will the team's chemistry look?
With so much turnover this offseason between the transfer portal, players graduating, and leaving for the NBA Draft, there are some questions surrounding team chemistry. The Jayhawks should be able to answer those questions quickly while they scrimmage against professional players in Puerto Rico. If things look clunky, and players start chirping at each other, that is obviously a bad sign. On the other hand, if the team looks to be clicking and are having fun out on the court, it could be a very good sign heading into the season. Just one more thing to keep an eye on while the Jayhawks are playing three scrimmage games out of the country this week. There are plenty of offseason storylines to follow as the team makes its first big trip for the 2023-2024 season. These are just a few of the most important ones to keep an eye on before the team makes their way back to Lawrence, Kansas next week.