featured
With Hunter Dekkers Likely Out, Who Will Step Up at QB for Iowa State in 2023?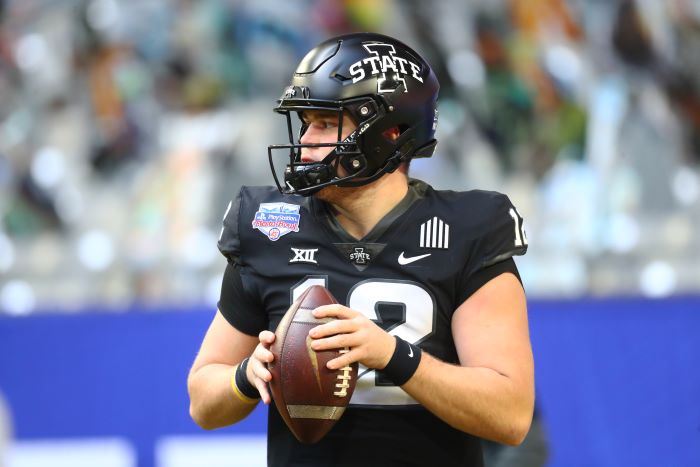 There has been plenty of uncertainty surrounding the Iowa State football program over the last few months. After a disappointing 4-8 season (1-8 Big 12) last year, the Cyclones are faced with more questions than answers going into the 2023 season.
This is in large part due to the quarterback situation. Back in the spring, I had heard rumblings about a gambling situation within the football program. While there were several key names involved none were bigger than starting quarterback Hunter Dekkers.
It didn't take long for someone at Big 12 media days to ask about the gambling situation, but head coach Matt Campbell didn't have much to say, outside of it being something they were monitoring. At that point, everyone knew that Dekkers was involved, but nobody knew how the whole thing would play out.
Due to NCAA violations, I knew that Hunter Dekkers was in trouble and may miss most of, or the entire 2023 season. But on Tuesday, I think we got our answer after the Des Moines Register's report came out.
An affidavit included with the criminal complaint filed Monday in the Iowa District Court for Story County alleges approximately 366 bets totaling $2,799 were placed on a DraftKings sportsbook account linked to Dekkers, including 26 bets placed on Iowa State sporting events.
One of those sporting events was an Iowa State football game back in 2021 against Oklahoma State when he was a backup.
Dekkers will not participate in Iowa State's fall preseason camp practices in order to "focus on his studies and on the defense of this criminal charge," according to a statement released by his attorneys. It probably goes without saying, but it feels like we have seen the last of Hunter Dekkers in an Iowa State uniform.
Despite the chaos surrounding Ames, this team still has a season to prepare for. As I mentioned earlier, Iowa State went 4-8 last season, so there is plenty of work to do in Ames right now, and Matt Campbell knows that.
As for replacements for Dekkers, it appears that the Cyclone will have some options. Thanks to the recruiting by the staff, the cupboard is not bare like it once was. Rocco Becht is probably the favorite to win the starting job just on experience alone. Becht was a former three-star quarterback coming out of Florida in the 2022 class. Last season he saw action in two games, completing 7-of-15 passes for 65 yards, zero touchdowns, and one interception.
While Becht is the most likely candidate to take the starting job, don't forget about J.J. Kohl from the 2023 class. Kohl is a local guy out of Ankeny, Iowa, and was a four-star prospect, according to 247Sports. He was ranked as a top 20 quarterback overall in the 2023 class and participated in the Elite11 last summer. He's not your ordinary quarterback when it comes to size, standing at 6-foot-7, 230 pounds.
While J.J. and Rocco battle it out for the job, I found it interesting that Iowa State signed a JUCO quarterback in their 2023 class with Tanner Hughes. He's a junior who played at Butte College out in California for the last two seasons.
Iowa State has some options at quarterback like they haven't had in the past. Fortunately for the Cyclones, they had a guy like Brock Purdy start four years for them. However, they haven't had depth in the position like they do right now. Losing Hunter Dekkers certainly stings but it could have been a lot worse if this had been four or five years ago.