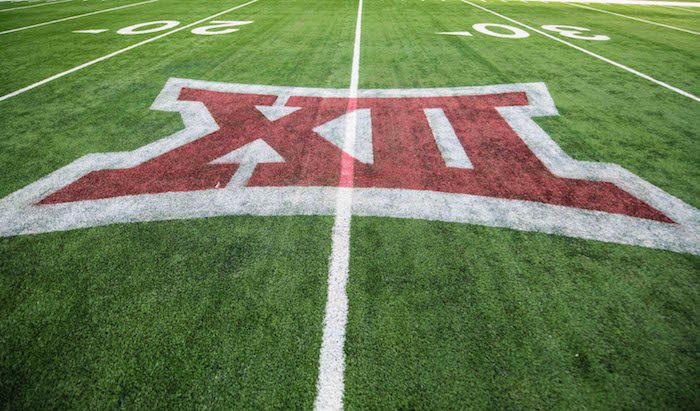 Just four weeks from today, all fourteen Big 12 schools will begin their 2023 season, all hoping to climb their way to the conference mountaintop by the season's end.
The road is perilous though, as each and every week presents an opportunity for upsets in this league. Look no further than last year, when Kansas State (9-3) went into the Big 12 Championship and took down TCU (12-0) to take home the crown.
If your team takes a week off in the Big 12, it could cost them a game, which could be the difference between finishing second, or sixth, in the final standings. In 2022, just one game separated fifth and ninth place in the Big 12. That's how small the margin for error is.
The Big 12 schedule is littered with trap games or games that might present issues for a team due to extenuating circumstances such as the games prior to and after a contest, when the game is scheduled, if it's on a short week, an opponent that's easily overlooked, etc.
With that in mind, which game should your team make sure not to overlook in 2023? Let's take a look.
BYU
at West Virginia | Nov. 4 (Week 10) | Week 9: at Texas | Week 11: Iowa State
BYU has back-to-back road trips twice in 2023, the first being at Arkansas followed by a game at Kansas. The second time, the Cougars will head to Austin to take on Texas before traveling two time zones to face West Virginia. This will be the longest road trip of BYU's season, plus, it will come against a team that was picked to finish last in the conference. If this game gets an 11:00 a.m. kickoff, watch out.
Baylor
at UCF | Sept. 30 (Week 5) | Week 4: Texas | Week 6: Texas Tech
Baylor plays three of its toughest games of the season in the first six weeks of action with Utah, Texas and Texas Tech all coming to Waco before their BYE. In Week 5 though, Baylor will hit the road to take on UCF, in what will be the Knights' Big 12 home opener. The Bounce House will be rocking, and Baylor will be coming off a big game against Texas. The Knights have the perfect opportunity to jump on the Bears here, who could get caught looking forward to the Joey McGuire Bowl.
Cincinnati
Miami (OH) | Sept. 16 (Week 3) | Week 2: at Pittsburgh | Week 4: Oklahoma
Cincinnati and Miami (OH), historically, have had a very tightly contested rivalry. The Bearcats have won 16 straight in the series, taking a 60-59-7 lead with last year's 38-17 victory. The Redhawks are Phil Steele's No. 8 most-improved team in 2023 and return 16 starters from last year's team. Meanwhile, Cincinnati has a new coach in a new conference and has just nine players back that started a game in 2022. With the conference opener against Oklahoma the following week, Miami (OH) could play spoiler if Cincy overlooks them.
Houston
UTSA | Sept. 2 (Week 1) | Week 0: N/A | Week 2: at Rice
A trap game in Week 1? You bet. UTSA is entering the AAC after going 11-3 a year ago, and 22-2 all-time under Jeff Traylor. The Roadrunners return 16 starters, including superstar quarterback Frank Harris, who was responsible for 41 TDs in 2022. With in-town rival Rice coming up in Week 2, and UTSA being overlooked by the freshly-elevated Cougars, I am sounding the alarm for a trap game here.
Note: At the time that this story was published, the line on this game was EVEN.
Iowa State
at Ohio | Sept. 16 (Week 3) | Week 2: Iowa | Week 4: Oklahoma State
Remember what I said about extenuating circumstances playing a factor in trap games? Bingo. Iowa State's quarterback situation is a mess right now with the Hunter Dekkers situation, and they'll host bitter rival Iowa in Week 2. In the week following, they'll hit the road to take on Ohio, who went 10-4 in 2022 and returns MAC POTY QB Kurtis Rourke, Freshman of the Year RB Sieh Bangura, and MAC Coach of the Year Tim Albin. The Bobcats present a challenge that shouldn't be overlooked and could end up knocking ISU off schedule before they ever get started.
Kansas
at Iowa State | Nov. 4 (Week 10) | Week 9: Oklahoma | Week 11: Texas Tech
After a BYE in Week 8, Kansas will play host to Oklahoma before traveling to Ames to take on Iowa State. With Hunter Dekkers' career in limbo, the Cyclones will have a new starting quarterback in 2023, but by Week 10, they should have most of the kinks worked out. The Cyclones will have a strong defense, and Kansas's defense looks to rank near the bottom of the league in 2023. If they have any sort of hangover heading into this one, or get caught looking ahead to Texas Tech, it could cost the Jayhawks a winnable game
Kansas State
Baylor | Nov. 11 (Week 11) | Week 10: at Texas | Week 12: at Kansas
Kansas State embarrassed Baylor on their home field in 2022, leaving Waco with a 31-3 victory. Now, the Bears will get the chance to return the favor and they'll catch K-State at a good time. The Wildcats will face Texas in Week 10, which could be a preview of the Big 12 Championship if the preseason poll proves true. Then, the game after Baylor is the Sunflower Showdown against Kansas. If K-State is even the slightest bit distracted coming into this game, the Bears should be good enough to make them pay for it.
Oklahoma
at Kansas | Oct. 28 (Week 9) | Week 8: UCF | Week 10: at Oklahoma State
Oklahoma narrowly escaped an offensive shootout with Kansas in 2022, winning 52-42 in Norman. However, that was without Jalon Daniels on the field. If Daniels can stay healthy in 2023, the Jayhawks' offense should be even more potent than it was a season ago. Dillon Gabriel faces his former team with UCF coming to town in Week 8, while the last-ever Bedlam game is scheduled for Week 10. Brent Venables had better have his guys ready for a trip to Lawrence, because KU will certainly be ready to give the Sooners their best.
Oklahoma State
Cincinnati | Oct. 28 (Week 9) | Week 8: at West Virginia | Week 10: Oklahoma
After a long road trip to Morgantown, Oklahoma State will return home to play its first of four games against Big 12 newcomers in 2023. While Cincinnati is being projected near the bottom of the league in 2023, OSU's Week 9 date with the Bearcats has all the makings of a trap game. With a long flight back home after West Virginia and the last scheduled Bedlam game coming up the week after, it will be easy to overlook Cincinnati here. However, the Bearcats would love nothing more than to beat of the Big 12's most consistent winners over the last decade.
TCU
Colorado | Sept. 2 (Week 1) | Week 0: N/A | Week 2: Nicholls
A trap game is typically one that teams tend to overlook on the schedule, or at least chalk up as a win when they're tallying up their predictions. Enter Colorado. The Buffaloes have had the craziest offseason ever, and nothing would kick off the Deion Sanders era better than a win over the defending national runner-ups. TCU returns only 10 starters from a year ago, and just three on offense. With several new faces in the lineup, and a new offensive coordinator, the Horned Frogs will be vulnerable. If Sanders can get the Buffs going early, this one could sneak up and bite TCU.
Texas
at Houston | Oct. 21 (Week 8) | Week 7: BYE | Week 9: BYU
This one is just because if Texas is going to "Texas" this year, it would be in this situation. The Longhorns will be favored against Oklahoma in the Red River Rivalry, and they'll have a BYE week afterward to sit and think about it, if they do indeed win. So, naturally, they would go on the road and lose a game against a struggling Houston team next, right? It wouldn't make sense for anyone else to overlook a team out of a BYE, but that's just how Texas football has worked for the past decade.
Texas Tech
at Baylor | Oct. 7 (Week 6) | Week 5: Houston | Week 7: Kansas State
In Week 6, Joey McGuire will make his first return to Waco since taking the Texas Tech job, and will hope to give his former team some payback after last year's 45-17 romp at the hands of Baylor. After the Red Raiders' home opener against Houston, and before a huge home game against Kansas State, the Baylor game sits perfectly in an area of the schedule that could get lost. While it won't likely get past McGuire, given his familiarity, it might be difficult to keep his team focused, especially if the Bears come in with a couple of losses after a tough September schedule.
UCF
at Boise State | Sept. 9 (Week 2) | Week 1: Kent State | Week 3: Villanova
How often do you see a team travel over 2,600 miles to play a football game? Well, that's exactly what UCF will do in Week when they head to Boise, Idaho, to take on Boise State. The Broncos are coming off a 10-4 season and return nine offensive starters from a season ago. What's interesting is, Boise State opens up the season against Washington, and should come into this game with a loss. When players see an 0-1 on the schedule, it's a little easier to relax on the plane ride and enjoy the trip. However, UCF had better find a way to stay locked in on this one, or that blue turf might bite them early on.
West Virginia
Texas Tech | Sept. 23 (Week 4) | Week 3: Pittsburgh | Week 5: at TCU
West Virginia will be an underdog against Texas Tech, but the timing makes this matchup even harder for the home team. Coming off an emotional rivalry game against Pittsburgh, the Mountaineers will have to get up for a game against the Red Raiders before turning around and hitting the road to TCU the next week. The pressure could be on for this game too, because West Virginia could very well enter the game at 1-2, with a potential fall to 1-3 through four games.