featured
Arizona, Arizona State, and Utah 'Likely' to Join the Big 12: Report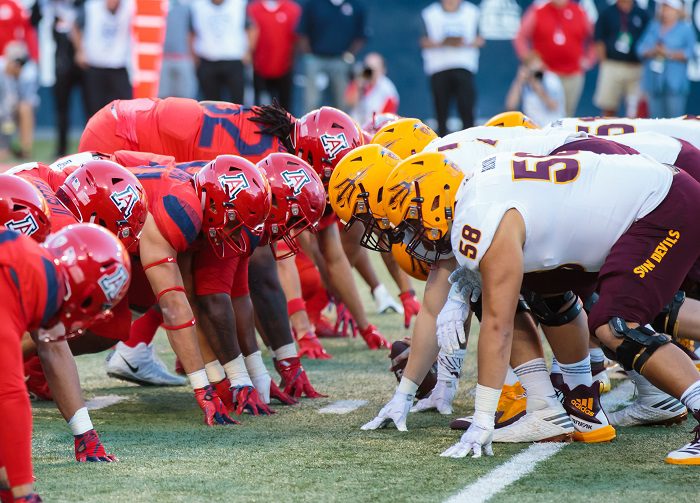 It's been nearly impossible to keep up with the latest buzz from the Pac-12 this week, but to sum it up in one phrase: It's not looking good for our friends out West.
Pac-12 presidents and athletic directors met earlier this week in hopes of finally reaching a media rights deal but were unable to do so, with the meeting ending Tuesday afternoon without a deal being reached.
Since then, several schools' Board of Regents have scheduled meetings, where they are expected to weigh their options heading into the final stretch of the week. That's important to note too, considering that Brett McMurphy reports that the Pac-12's media rights proposal with Apple will expire at the end of the week.
With so many moving parts, and so little time to dissect it all, it's hard to know what's real and what's not. However, through this entire process, there have been a few names that seem to have a good pulse on what's going on, and 247Sports' Jason Scheer is one of those names.
That's why there is some weight to his report that the remaining corner schools might be sticking together after all, just maybe not in the sense that many expected.
"Although it is not completely finalized yet, sources indicate that Arizona, Arizona State, and Utah are all likely to join the Big 12," Scheer writes. "One source said that it would have to fall apart for the three schools not to make the move and the ideal plan for the Big 12 is to make the biggest possible impact, which is announcing all three at once. Although it is not set in stone, there could be an announcement as soon as Friday."
Scheer goes on to say that if things do fall apart, it would likely be because of the Utes.
"Should things fall apart, it would likely be Utah's fault," Scheer continues. "It is unknown how that would impact the Arizona schools, but Utah AD Mark Harlan has long been a major supporter of the Pac-12 and has been extremely hesitant to leave the conference."
Scheers' report corroborates with a note from ESPN's Pete Thamel earlier this week, who said that the remaining four corner schools are expected to "lump their futures together," whether that means in the Pac-12, or somewhere else.
Could there be a wave of news coming on Friday? Perhaps, and if it does, we will keep you up to date. However, as with all things, be cautious in expecting anything that has to do with realignment.