Football
Big 12 Officially Welcomes Three More Pac-12 Schools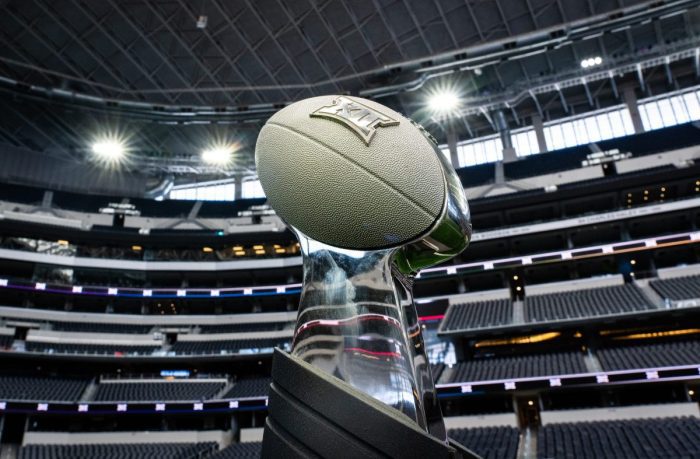 The Big 12 Conference announced on Friday night that Arizona, Arizona State and Utah will officially join the league, beginning with the 2024-25 athletic year.
With the announcement, the Big 12 will be at 16 teams next season. The league will officially welcome Colorado in 2024-25. The league will lost Oklahoma and Texas to the SEC after this season.
BYU, UCF, Cincinnati and Houston joined the Big 12 on July 1.
With the addition of the "Four Corner" schools, the Pac-12 is now down to four members. Four other members — USC, UCLA, Oregon and Washington — will join the Big Ten in 2024-25.
California, Oregon State, Stanford and Washington State are, for now, the only remaining members of the Pac-12.
The Big 12's statement on the new teams is below:
"We are thrilled to welcome Arizona, Arizona State and Utah to the Big 12," said Commissioner Brett Yormark. "The Conference is gaining three premier institutions both academically and athletically, and the entire Big 12 looks forward to working alongside their presidents, athletic directors, student-athletes and administrators."
This likely brings closure to a two-year marathon for the Big 12. In July of 2021, Oklahoma and Texas announced it would leave for the SEC no later than the 2025-26 season, which is when the Big 12's current TV contract ends.
In September of 2021, the league invited BYU, UCF, Cincinnati and Houston to join on July 1, 2023.
The Pac-12 then lost USC and UCLA to the Big Ten last summer, setting off a year-long fight for survival for the league — something the Big 12 knows something about.
But, the Pac-12 wasn't as fortunate. As commissioner George Kliavkoff struggled to secure a media deal that would come close to matching the Big 12, Pac-12 membership became increasingly frustrated.
Late last month, Colorado, after months of discussions with the Big 12, announced it would leave the Pac-12 and regain its old conference. Arizona's application for membership was approved on Thursday, but it took Oregon and Washington leaving for the Big Ten to spur Arizona State and Utah into action, with their applications to the Big 12 approved on Friday.