Trending Now
Bruce Feldman Believes Outside the Box Hires Doomed the Pac-12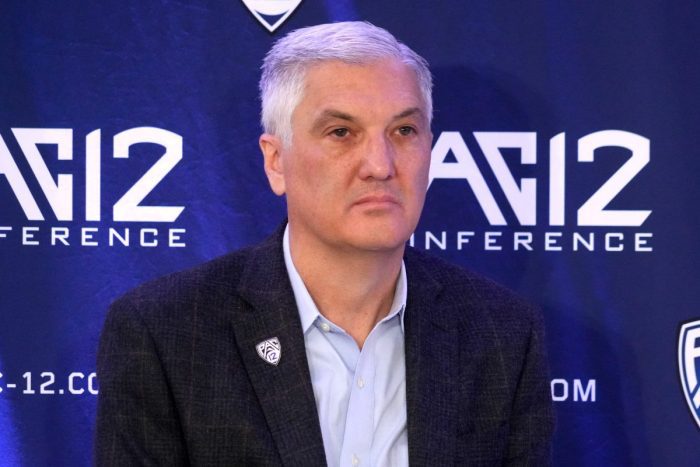 While the downfall of the Pac-12 Conference can be chalked up to a multitude of reasons including media rights issues, conference realignment, and a blind pursuit of competing with other conferences, the Athletic's Bruce Feldman shared his thoughts behind the fall of the league on the Dan Patrick Show, Monday afternoon.
Dan Patrick asked for Feldman's opinions on how the Pac-12 could have prevented the league's current reality which prompted Feldman to cite the back-to-back hires of Larry Scott and George Kliavkoff as key contributions to the Pac-12's downfall.
"I think they had one commissioner in Larry Scott who kind of lost track of keeping the main thing, the main thing, and was so excited to chase innovation at the expense of reality," Feldman said. "And then they went with another outside-the-box hire in George Kliavkoff, who I hate to use this analogy but, there's an old episode of Seinfeld where George Costanza seems to bluff his future in-laws all the way out to the Hamptons for something that doesn't exist. That's kind of how this felt for the Pac-12."
Feldman cited the lack of focus and forward thinking from both league commissioners as key components, and when discussing the current media landscape, Feldman mentioned the differences between George Kliavkoff and another relatively new commissioner in the Big 12's Brett Yormark.
"I just think they really did not evaluate the TV media landscape at least the way Brett Yormark, who's also a relatively new commissioner, did for the Big 12," Feldman said. "He was very aggressive and I think he had a better feel for what was going on around him in terms of the media landscape, whereas the Pac-12, once again, seemed to be really asleep at the wheel."
While the future of the Pac-12 Conference is more uncertain than ever, four schools remain affiliated with the league in Oregon State, Washington State, California, and Stanford, and with football starting up in less than a month, it's a safe bet to assume more fireworks are on the way.