Big 12 News
Colin Cowherd Predicts TCU Will Blow Out Colorado by Three Touchdowns Week 1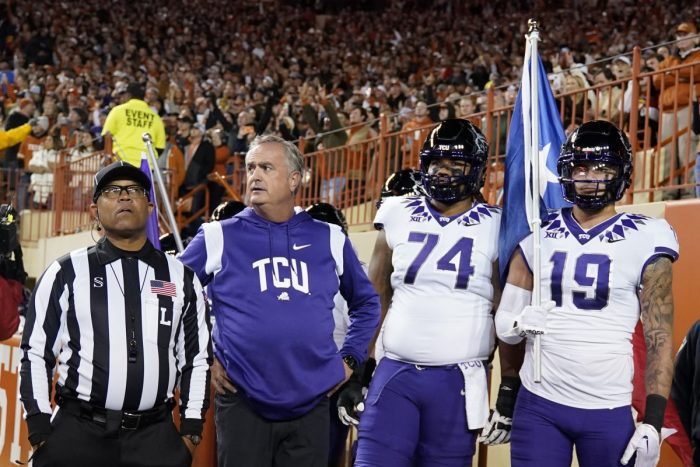 FOX Sports' Colin Cowherd started off his Monday morning with an epic rant about college football's shortage of great games. Cowherd used the topic of conference realignment to mention that college football's interest should be in generating better games on a week-to-week basis.
He started by mentioning that with 132 teams nationwide, the opportunity to see an "awful" game is much higher than in the NFL. Of the 80 games scheduled for Labor Day Weekend, Cowherd expressed interest in tuning into two games, LSU vs. Florida State, and TCU vs. Colorado.
While mentioning that the matchup between a current Big 12 and a future Big 12 team piques his interest, Cowherd gave a score prediction for Week One with the Horned Frogs blowing out the Buffaloes in Deion Sanders' debut.
"College football has a big, great-game shortage. Labor Day weekend, look it up. 80 games roughly over the Labor Day weekend, two interest me, and I love college football. LSU and Florida State, I think LSU's going to win the national title, I'll watch that. And TCU-Colorado although TCU's gonna blow 'em out by three touchdowns. It's Deion Sanders' debut and I want to watch."
To Cowherd's credit, the matchup between the Horned Frogs and the Buffs features two teams in completely different places. Looking at the previous year, Colorado finished off the 2022 season as one of the worst teams in the history of college football, and TCU found its way to a national championship game against Georgia in Sonny Dykes first year with the program.
While times can change quickly in college football, and the Buffaloes have a new coach at the helm, the matchup on September 2nd will be one of the most watched games of the weekend, despite what the final score works out to be.