Basketball
Postscripts: Making Sense of The Week of Conference Realignment Madness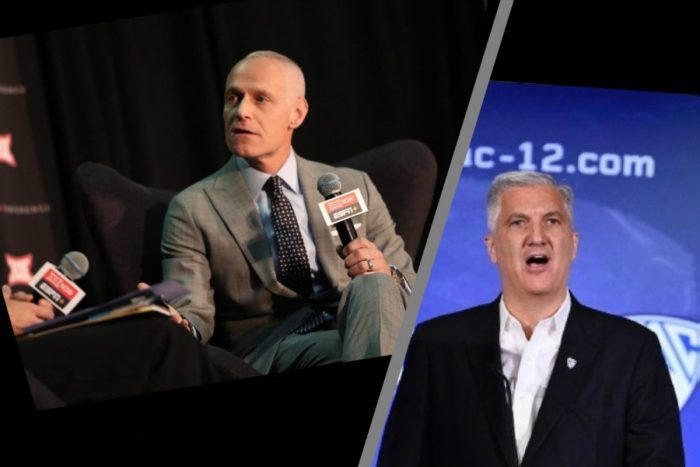 What's going on in the Big 12 and beyond? I expand and explain every Sunday (in this case, Monday) in Postscripts at Heartland College Sports, your home for independent Big 12 coverage.
This week, well, a lot happened this week. There's really no need for a 'As the Pac-12 Turns' anymore, so for this week, as I'm a day late, I thought I would just do 10 things on college football realignment.
This Has Been a 30-Plus Year Burn
If you want to trace the roots of all of this, you have to go back to the early 1990s when the SEC lured Arkansas out of the Southwest Conference — where it had been a member since 1915 — to join the league in 1992. The Razorbacks joined the SEC the same year that South Carolina did, giving that league 12 teams and a two-division format. The whole thing seemed quaint and quirky.
Now, here we are. Thirty-one years later and the structure of college football has been fashioned into super conferences. By next season the Big Ten will have 18 teams, the SEC and the Big 12 will have 16 and the ACC will have 14.
Some want to lay this at the feet of the Big 12 or the Big Ten or the SEC or the Pac-12. They're all culpable to a certain degree.
But Arkansas and the SEC lit the fuse 31 years ago. Don't let anyone tell you different.
The Pac-12 Blew It
Speaking of slow burns, the Pac-12 didn't just get here on Friday. It's been more than a decade of bad decisions.
The Pac-12 passed at least three times on taking in at least Texas and Oklahoma, moves that would have killed either the SWC or the Big 12.
Former commissioner Larry Scott's "Pac-12 Networks" idea was a complete failure and will cost the league millions in back payments to Comcast. It also dented the league's overall exposure.
The Pac-12 CEO's compounded that by hiring George Kliavkoff — someone with absolutely no experience in sports — to replace him. He sought more value for a league that lost two members last July than he had a logical right to.
For that matter, USC, UCLA and the Big Ten put the remaining 10 members in an awful position, one the rest of them proved incapable of navigating. The Trojans, the Bruins and the B1G owe them an apology they're unlikely to get.
The Pac-12 CEO's and presidents blew it by thinking too much of their league, passing on adding membership last year because those schools weren't "good enough" for the Conference of Champions.
It was a series of missteps and a wide range of villains that led to this.
The Big 12 Survives and Thrives
Two years ago the Big 12 was, to many, at death's door, with the departures of Oklahoma and Texas to the SEC. Few cared. You know who they are.
Well, here we are. The Big 12 has 16 teams and is now a landing spot for four Pac-12 programs.
How? Well, the 'Hateful Eight' turned what could have been their final moments together into a path forward by finding common ground on the future and hiring a commissioner in Brett Yormark that shared it and can execute it.
Contrast that to the Pac-12. Well, here we are.
I won't say the death of the current version of the Pac-12 isn't worth writing about. But there weren't many writing as flowery about the potential demise of the Big 12 as they did about the Pac-12 this weekend. It guess that's what more than 100 years of history gets you — flowery obits.
Hey, Arizona State
As I'm writing this we haven't heard from the good folks at Utah about the move to the Big 12. Perhaps a weekend of decompression was a good idea.
Arizona State plowed ahead with a press conference on Saturday with their president, Michael Crow, and their athletic director, Ray Anderson. And, in the immortal words of the late Keith Jackson, Whoa Nelly!
Here's the money quote from Crow:
That was an actual quote. Apparently. I think. I mean, who says that? Or thinks that? Or describes anything like that — except in Star Trek, of course?
Meanwhile, Crow did talk about the benefits of the Big 12.
As for Anderson, well, he managed to insult West Virginia.
"I promise I'm not going to Morgantown," Anderson said. "I'm going to sign that to Jean Boyd. He can go to Morgantown. But send me to Texas and the rivalry with Arizona and starting a new one with BYU and Utah and Colorado."
First, someone needs to tell Anderson that Texas is leaving the conference (I'm going to assume he meant the rest of the Big 12 teams in Texas). Second, uh, been to Morgantown, dude? It hops on gameday.
New WVU athletic director Wren Baker — who hasn't had the chance to get to a WVU football game yet because he was hired after the season — apparently knows how to handle shade.
So, we're scheduling Arizona State at WVU in 2024, right? RIGHT?
Time to Consider Multiple Conference Affiliations
Part of the model for college athletics is the 'bundle.' That is, if you join a league, all of your sports join the league, with rare exceptions if that conference doesn't sponsor the sport. It's why UConn is back in the Big East and playing independent football. The American Athletic wouldn't be UConn's football house without anything else.
For decades that model has worked. It's time to reconsider it.
Yes, football moves the needle and that's why all of this is happening. But as the game evolves the next several years, some sports like baseball, softball and other Olympic sports should be given some latitude to forge conferences that help them geographically.
I'm not sure how that model looks or how it works financially. But these posts from Pac-12 softball players paint a pitcher of the thousands of non-football playing college athletes that are fed up with it, even though they're smart enough to know that football pays the bills. There has to be a middle ground or we risk losing those sports in the wind.
Big 12 Fan Base is Elite
Just as the 'Hateful Eight' was galvanized two years ago, the fan bases of those eight teams are fully mobilized on Twitter and other social media. I mean, they obviously hate each other on gameday, but the esprit de corps throughout all of this has been incredible. The fan bases for the four new schools — most notable UCF — are something else.
Right now, Arizona and Utah look up to the task. Colorado and Arizona State have some ground to make up.
But come after this collective group at your own peril. Seriously.
Basketball is Going to Be Big-Time
The Big 12 already has the best basketball conference in the country. With the new configuration in 2024-25?
And everyone has a year to recruit before they get together.
Here's the Pac-12 Offer
One of the big questions throughout the process was what exactly the Pac-12 was offered. The Athletic's Stewart Mandel had a breakdown that Oregon's On3 Twitter feed sent out.
So a $25 million base plus incentives for subscriptions. The Pac-12 would have needed $1.7 million subscriptions to match the Big 12's base per-team television revenue of $31.7 million.
Does anyone really think the Pac-12 would have been able to get $1.7 million subscriptions together? I find it dubious. Remember — this isn't that you get the Pac-12 because you have Apple. It's an add-on, like Apple's MLS package. And when you read that Kliavkoff wanted the room to think $50 million per team with subscriptions, well, you can see why other programs left.
Like anyone else, these programs deal in guaranteed money, not potential pipe dreams.
By the Way …
How does Kliavkoff still have a job at this point? The remaining four members should have fired him Saturday morning. It's not all his fault, but when you're a commissioner your job is to lead. And, well, he didn't.
It's Not Over
The ACC wants more money. Florida State seems to think it can threaten a revolt. It's the next league to go through this. I'm not sure when the cycle will end.
But, for now, the Big 12 has stability, something it's wanted for a long time.
You can find Matthew Postins on Twitter @PostinsPostcard.