featured
HCS Big 12 Football Mailbag: ASU Leadership, Best/Worst Case Scenarios, 12-Team Playoff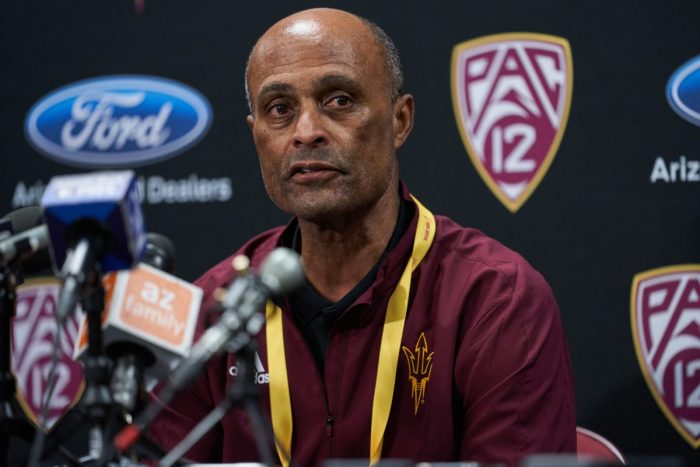 Welcome to the HCS Big 12 Football mailbag. This mailbag is for all you football junkies out there who root for a Big 12 school, and not only have questions about your team but other teams in the conference as well. So, join me, grab a cold brew or your favorite drink, and relax as I answer all your Big 12 questions. I want to thank each one of you who submitted a question this week and for tonight's drink of choice? Take a look for yourself. Cheers!
Duke: Anytime the new kid comes in, there are going to be questions. Sometimes the new guy tries to make his presence felt early on by standing out. However, standing out isn't always a good thing and this appears to be one of those times. I hated what Arizona State AD Ray Anderson said. I mean, why even let that come out of your mouth in front of the media? Between him and President Michael Crow, I do have some concerns about the leadership in Tempe.
The Big 12 threw them a life jacket when they were drowning and the least that those two could do is be appreciative of their opportunity to be in the Big 12. In the long run, I think they will be fine, but I just hope these two guys wise up a little bit and maybe close their mouths when they have ignorant thoughts like this.
Duke: I will do a quick rapid-fire style answer here.
Texas: Best 11-1, Worst 8-4
Baylor: Best 9-3, Worst 6-6
BYU: Best 7-5, Worst: 4-8
TCU: Best 9-3, Worst 6-6
Texas Tech: Best 10-2, Worst 7-5
Houston: Best 6-6, Worst 3-9
Oklahoma: Best 11-1, Worst: 7-5
Oklahoma State: Best 10-2, Worst 6-6
Kansas: Best 8-4, Worst 5-7
Kansas State: Best 11-1, Worst: 8-4
Iowa State: Best 6-6, Worst 3-9
Cincinnati: Best 6-6, Worst 3-9
West Virginia: Best: 6-6, Worst 2-10
UCF: Best 8-4, Worst 5-7
Duke: Baylor is one of those middle-of-the-pack teams in the Big 12 for me. I put them at seven in my preseason poll back in July, and I still feel the same. Offensively, Blake Shapen needs to be more consistent at quarterback and I have some concerns on the offensive line as well. The good news is, they return an excellent running back with Richard Reese and the wide receiver room has plenty of upside with guys like Monoray Baldwin, Hal Presley, and Ketron Jackson Jr. Of course, the defense needs to get better, and the secondary is an area of concern for me. I don't see this team competing for a Big 12 title in 2023.
Duke: I can only speak for myself here, but I don't want Arizona State or Utah to go away. I am thrilled to have those two in the Big 12 Conference, and you should be too. While I agree that Arizona State has some leadership problems, I am not ready to kick them out because of that. Some schools just have better leadership than others, and Arizona State just isn't strong in that particular area. Right now, we should be welcoming ALL the new schools with open arms and a cold beer (or whatever you drink).
Duke: I would like to think we were never on bad terms, Matt. Those that have followed me for a while know that I am pretty easygoing. I like to crack jokes, talk about the Big 12, and drink a little bit while doing it. Sure, I may not be the most pleasant man to talk about your team if they are playing poorly, but honesty is what I am here for. I don't like to sugarcoat things. I feel like anything can be resolved with a drink, and in your case, maybe one of those world-famous Skyline Chili Dogs. And hey, I saw they deep fry those suckers too, which is right up my alley here in Texas.
Duke: That is an amazing stat Simon and that should be very encouraging to the people that were hesitant about adding some of the schools the Big 12 did. I like the idea of making sure the conference champions get in at the power five-level, but that may need to go down to four due to the current state of the Pac-12. Personally, I hate the at-large slots because we all know which two conferences are going to fill up those slots. There's no doubt that the committee is flawed, which is why I would be in favor of fewer at large spots. I would hate to see five SEC teams fill up the 12-team playoff. I mean, do we really need to see an SEC team who finished third in their division in the playoff? I don't think so.