featured
How to Fix the College Football Playoff After Realignment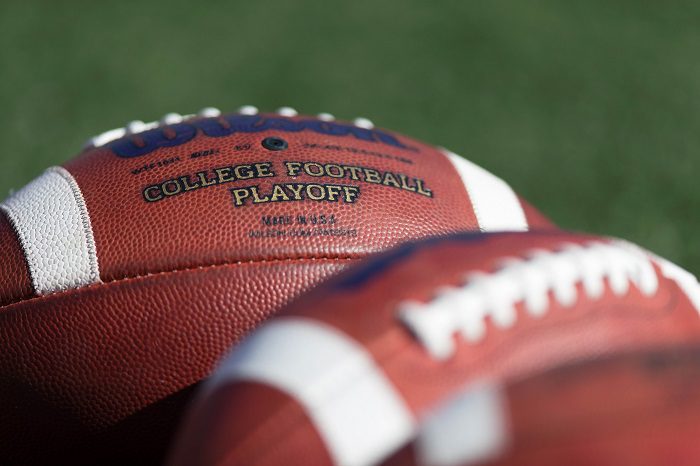 Disclaimer: The author's thoughts and opinions are his own and likely don't reflect the opinions of other HCS staff members.
This is going to be messy, and it's going to be hard (Refrain from saying it, sinners), but we've got to talk about it.
The College Football Playoff format is a mess, and it's had major flaws, really, since its inception. From the TCU/Baylor debacle in 2014-15, to the degradation of playing in bowl games, we've seen the CFP stir up all kinds of controversy and turmoil in the sport that we all love so, so much.
Realistically, we will never go back to the way things used to be. When I was growing up, the Bowl Championship Series (BCS) was the metric used to determine who would play in the National Championship Game, and four other bowl games: the Rose Bowl, Fiesta Bowl, Sugar Bowl, and Orange Bowl. From 1998-2005, the national championship rotated amongst those four bowls, but from 2006-2013, it was a separate game.
In hindsight, it was a beautiful time. Being selected to those bowls meant something, and with conference affiliations tied to the games, conference champions would get the privilege of playing in one of these prestigious contests.
The BCS used a combination of polls and computer projections to determine team rankings relative to the rest of the field, eventually spitting out the top two teams, who would then play for the right to be crowned national champions.
Was it perfect? Absolutely not. But then again, when was the last thing we created that was without flaw?
The College Football Playoff certainly isn't perfect. In fact, it was so good, that the powers that be decided it needed to triple in size. And that was BEFORE the latest wave of conference realignment, which effectively wiped one of the "Power Conferences" from the face of the Earth.
So, how do we fix it? What is the best way to determine a champion in the world's greatest sport?
How It Looks Now
The first thing to recognize is that college football will likely never get away from a playoff format of some sort. With the kind of revenue the event brings in, it's here to stay. So, saying, "Let's just go back to the old way of doing things" isn't an option.
With that disclaimer out of the way, let's take a look at what we have to work with at this point in time.
Four-Team Format
In 2023-24, the same four-team playoff system will be used
Four teams, chosen by a committee will meet at determined bowl locations, with the semifinal winners playing in another rotational bowl that will have the National Championship sticker slapped on it.
12-Team Format
In 2024-25, the Playoff expands to a 12-team field
The field will consist of the six highest-ranked conference champions and six at-large teams, as determined by a committee.
The four highest-ranked conference champions will be ranked 1-4 and will receive a first-round bye
Teams seeded 5-12 will play each other in the first round, with the higher-seeded team hosting the playoff games on campus.
The quarterfinals will be played at rotational bowl locations (neutral site), as is the case for the semifinals, and the Championship Game.
The Major Problem(s)
While calling the entire Playoff system a problem might be accurate, it's quite lazy. So, here are the biggest issues that we are dealing with in the current and future formats.
The CFP Committee – It was a nice thought, and there is some validity to their tactics. However, a committee of just 13 people being the sole decision-makers in determining a playoff field isn't good enough. College Football deserves better.
"Ranked Matchups" Metric – Preseason and early season polls, and their use to prop up early season "ranked" wins is a joke. If it's based on rankings heading into November, then great. Otherwise, dump this and move on.
First-Round Blowouts – Of the 18 semifinal games played thus far, 13 have been decided by double-digits. The average score in CFP semifinal games has been 39.4-20.3. There are the rare exceptions of 2022 TCU-Michigan or 2017 Georgia-Oklahoma, which were instant classics, but they are just that: the exception.
Conference Divisions – They've got to go. There's no reason why Alabama and Georgia should avoid each other for a decade at a time in the regular season. Luckily, it appears these are a thing of the past.
Notre Dame – You're making this much more difficult than it should be. Just join a conference already.
Conference Realignment – One of the unintended consequences of conference realignment is the balance of power being shifted even further toward the Big Ten and SEC. The Pac-12 is gone, and so is the term "Power Five," which means…
Autobids Have to Go – This is going to hurt some feelings but it's the truth. With conferences growing and changing by the year, the auto bids process is becoming outdated. It's ridiculous to say that winning the American is the same feat as winning the SEC. If you win the Big Ten, Big 12, SEC, or ACC, and you have less than two losses, you'll be in. It's that simple.
12 Is Too Many: There aren't 12 teams in any given year that can win a national championship, let alone seven or eight teams. A 12-team playoff is too watered down. This isn't the NFL, where talent discrepancies are managed by salary caps.
The New and Improved Rankings
Alright, so we've determined the issues. Now let's get to work. Notre Dame joins the Big Ten, with the ACC in flux. The divisions in the SEC, Big Ten, and ACC are gone.
The next issue is determining rankings. In this playoff, the rankings will be determined with a modified BCS model, using both a computer model and a human element.
The rankings will be determined by taking the average of:
Computer Model:
ESPN Football Power Index
Human Element:
Get rid of the AP Poll entirely.
Expand the playoff committee from one group of 13 members to five groups of 20 members.
Each group should have a healthy mix of college football statisticians, former or unaffiliated coaches, and analysts that understand the game.
Have them meet separately, behind closed doors to determine rankings, as is now the case.
Take the average from all five groups' rankings
The weekly rankings, which will start in November, will be determined on a decimal system between .0000 and 1.0000, just like the BCS was calculated.
The New Playoff Format
Now that we have the rankings worked out, here's how the Playoff will look.
(Yes, now is the appropriate time to grab your torch and pitchforks.)
Six Teams – I can make the argument that six teams is still too many, given the blowouts we've seen in semifinal matchups, but if we have to expand, six is the correct number.
No. 1 and No. 2 Get First-Round BYE – The reward for being the top two teams in the country is a weekend of rest and getting to watch the other teams duke it out.
There Are NO AUTO BIDS – None. Zero. Winning the AAC and being ranked higher than the other G5 teams isn't enough to play for a national title. Sorry.
First-Round Games Played on Campus – The No. 3 and No. 4 seeds will host the No. 6 and No. 5 seeds in on-campus playoff games. (Love This.)
Semifinals Still Rotate at Bowl Locations – Same as before.
National Championship Still Rotates As Well – Same as before.
Important Thoughts
Winning Your Conference Is Still Very Important – If you win your conference, you'll have an extra data point, which the computers will love. If not, you'll have to wait it out and see how the cards fall.
Six is Enough to Get the Right Teams In – If a team has just one loss in the SEC, Big Ten, Big 12, or ACC, they'll be in. There simply won't be enough teams to keep them out.
(Example: TCU (12-1) in 2022 wasn't a conference champ, but still got in.)
Don't get caught up on the lack of auto bids – This is a hot word that people need to drop from their vocabulary. A one-loss "Power Five" Champion has never been ranked lower than No. 6 in the CFP rankings.
Having two losses doesn't lock you out -The lowest-ever ranked two-loss champion (Non-COVID year) was Pittsburgh in 2021, who came in at No. 12 with regular-season losses to Western Michigan and Miami. A two-loss conference champ has been in the Top 6 a total of six times in the CFP era.
This Format Maintains Regular Season Integrity – You want to play for a national title? Don't lose more than one game. It's that simple. If you play at Florida Atlantic (sorry Owls, not picking on you) in the AAC, let's face it: you didn't go there to win national titles.
This Playoff Isn't Watered Down – Our first-round games will be competitive, and they'll be on campuses, where college football should always be played. Will semifinal games still be blowouts? Yes, probably. But, that's the problem you run into with facing one of the top two teams in the country.
No format is perfect, and there likely won't ever be one. However, this would protect the integrity of the sport, expand the playoff to keep expansionists happy, and keep stark differences between the college and NFL game. Yes, more college football is a good thing, but nobody likes to watch blowouts in December. A six-team playoff with no auto bids is the best answer, but I'm afraid we will never see it.