Big 12 News
Arizona State AD Ray Anderson Apologizes For Morgantown Comments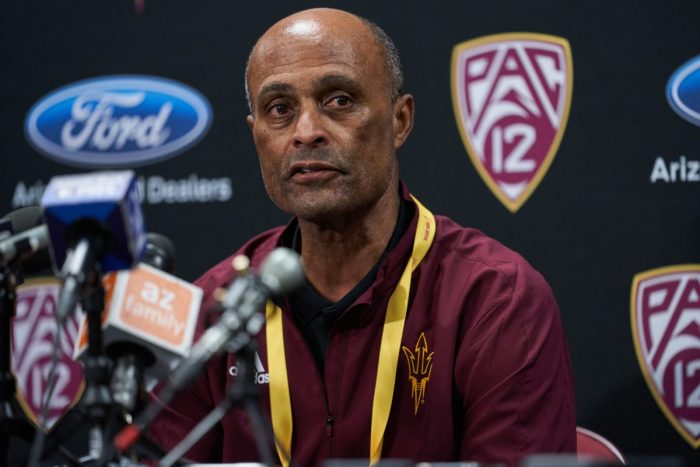 Last weekend, Arizona State Athletic Director made headlines by promising that he wasn't going to find himself in Morgantown, West Virginia.
"I promise I'm not going to Morgantown," Anderson said. "I'm going to sign that to Jean Boyd. He can go to Morgantown. But send me to Texas and the rivalry with Arizona and starting a new one with BYU and Utah and Colorado."
The conversation was based around how to make sure travel coasts across the athletic department don't spiral too far out of control, and it seems pretty obvious neither man is in love with the scope and size of the league, at least out of the gates.
However, the comments put him in hot water with folks around the Big 12, who feel that Anderson should just be giving thanks to the conference for pulling his schools out of the frigid waters of the Pac-4.
On Wednesday, Anderson walked back his comments on Morgantown during an interview with Arizona Sports.
"Those comments were said in jest and taken out of context," Anderson said. "They were clumsy comments from me that I sincerely regret. I offended some people when no offense was intended and I apologize, I sincerely do.
"Wren Baker, the West Virginia AD, and I have known each other, so I called Wren on Monday and had a chance to talk. I explained the context and he graciously accepted my apology and said he'd certainly pass it on President Gordon Gee, whom I know. Then, we shared our mutual excitement about us being in the same conference going forward. I'll also tell you, we shared a few laughs because he made me promise that I would absolutely come to Morgantown. And many times over the course of the next few years."
Anderson then gave a bit more context on why he might not enjoy a trip to Morgantown, at least from a climate perspective.
"I must admit, I'm not a fan of cold weather and it gets really cold there in the winter time and that's what I was jesting with President Crow about," Anderson said. "That being said, I have been there. It's a beautiful college town. They've got a nice stadium there and I'm telling you, their folks are as gracious with their hospitality as any you will find. So, I know there are good folks there and no offense was intended and I look forward to visiting."