featured
Disclaimer: Don't Mess With the Big 12 Conference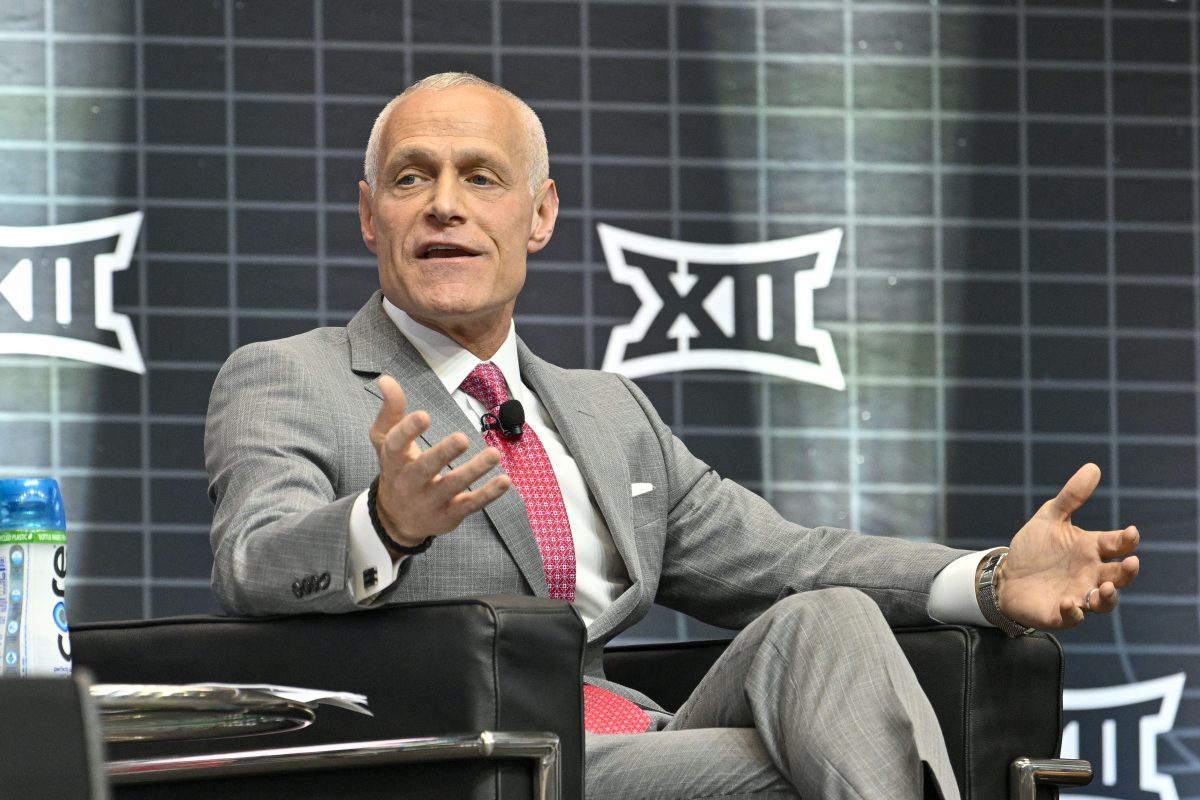 With conference realignment in full swing, there are thousands of hot takes on social media. Everyone wants to share their thoughts and ideas on what may, or may not, happen.
Just last week, the Big 12 added three more schools with Arizona, Arizona State, and Utah. Those three were brought along with Colorado who announced their decision to join the Big 12 in 2024 the week prior.
While the new fan bases are getting to know each other, there is still plenty to learn. However, the one thing everyone seems to have in common is how happy they are to be in a conference like the Big 12.
As nice as it has been to see everyone so happy, some people aren't too fond of the new-look Big 12. There are plenty of media members who bash the conference every chance they get, but there were some particular comments that caught my eye on Twitter.
Andrea Katherine, a Fox News Twitter personality (according to her), tweeted this on Tuesday.
Why she felt the need to comment on Brittany's tweet is beyond me, but she did.
Since she felt so strongly about the conference, I thought I would share my thoughts about her tweet here. Let's break this down one layer at a time.
First off, she calls the Big 12 a "totally random conference with no common culture."
What?
Have you seen the Big Ten? They have Rutgers, Northwestern, Indiana, Purdue, Illinois, and Maryland. What kind of "culture" do those schools provide? A school in New Jersey shares the same conference as the Nebraska Cornhuskers. Give me a break. Plus, they are about to add four West Coast schools in 2024. How's that for random?
Calling out UCF, West Virginia, Colorado, and the Arizona schools was equally asinine. UCF is located in Orlando, which is one of the premier destinations in all of the Southeastern United States. Additionally, if there is one fan base in the new-look Big 12 that you don't want to piss off, it's UCF.
As for the West Virginia Mountaineers, Morgantown has become a fan-favorite for many folks around the Big 12. You'll find homemade pepperoni rolls and moonshine right outside the stadium.
Sure, Arizona State, Arizona, and Colorado are recent additions to the conference, but have you been to Boulder, Colorado? It's immaculate. You can slam the desert schools all you want but Tucson and Tempe are beautiful cities, and both have fantastic campuses. Nobody in their right mind would turn down a trip to the great state of Arizona.
However, instead of admitting she was wrong, Andrea had to dig herself an even deeper hole.
Hating on Cincinnati? This is coming from a Missouri fan, so, take that for what you will. I'd take the time to compare the cultures in Cincinnati, Ohio, and Columbia, Missouri, but I'm not going to. There's no comparison. Furthermore, give me a trip to Provo or Salt Lake City on any day of the week over going to Columbia to watch a game in a stadium at half capacity.
Then, the woman with two first names made the biggest mistake of her afternoon. Of all fan bases to mess with or talk down upon, she picked Iowa State.
Let me tell you something, Iowa State has more passion in its fan base than Missouri has had in a long, long time. The Cyclones have even had more success than Missouri on the field over the last few seasons and Jack Trice holds over 61,000 strong. Iowa State isn't some pushover fan base.
To wrap it all up Andrea says, "People love the SEC because it has a common culture, it's the food, it's the Finebaum callers." Again, coming from a Missouri fan, this is pretty on-brand. It's all about the almighty SEC because it can never be about individual schools outside of Alabama, LSU, and Georgia because those are the only schools in the conference that have won anything of merit in the last decade.
I would love to see what Columbia looks like on gameday compared to Baton Rouge, Tuscaloosa, or Athens. To be honest, the first thing I think about when I hear Missouri football is that Eli Drinkwitz is making $6 million a year while never having won seven games in a season.
Missouri has been a deadbeat football program for nearly a decade now, so I would imagine the only thing to cheer about is the success of other schools in the SEC.
This goes out to not only Andrea Katherine but anybody else that needs convincing: the Big 12 Conference is here to stay. It's not going anywhere. We aren't the Pac-12 4, the Big Ten, the ACC, or the SEC. The Big 12 is one of the premier conferences in the country, whether you like it or not. While this conference has plenty of fantastic schools, what makes this conference different is the comradery and togetherness that is unique to this conference, and this conference only.
We have been through several waves of realignment, and we have made it to the other side. If you are looking for passion, we have it. If you are looking for a fight, we bring it. And if you are looking for the complete package, you've found it. The new-look Big 12 has a chip on its shoulder and it's not scared of anyone.