Kansas Jayhawks
Five Things We Learned From Kansas Basketball's Trip to Puerto Rico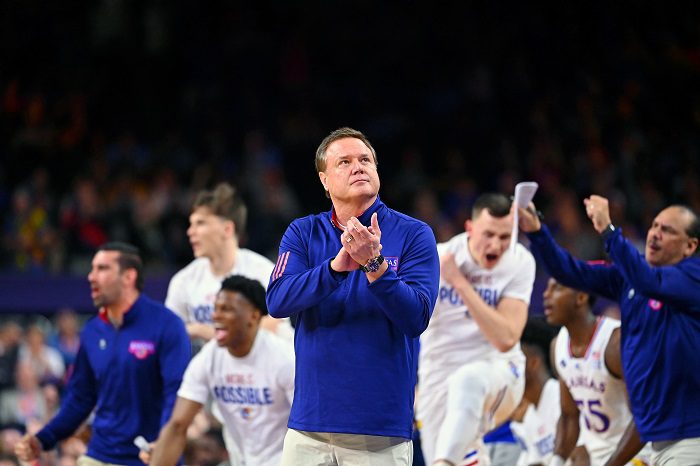 The Kansas men's basketball team wrapped up their trip to Puerto Rico with their first exhibition loss in their last 36 games. The Bahamian National team, composed of professional players including Eric Gordon and Buddy Hield, won the contest 87-81. While official stats are not kept for exhibition games, Dejuan Harris Jr. led the way in the finale for the Jayhawks with 23 points on 10 of 14 shooting. In addition to the offensive outburst, Harris's defense shined as expected as he garnered five steals during the game.
The Jayhawks did win the first two games of the trip. KU defeated the Bahamian Street Team 106-71 in the opener. Texas transfer Arterio Morris led the way for the Jayhawks with 20 points, five rebounds, and five assists. KJ Adams gave a nice effort as well, adding 19 points, four rebounds, and two assists. There were plenty of highlights, including brilliant passes and monster dunks, for the Jayhawks.
Hunter Dickinson shined in a 92-87 win over the Bahamian National Team in game two. Dickinson scored 28 points on 11 of 13 shooting from the field. Freshman Elmarko Jackson added 12 points before fouling out. What did we learn from KU's trip to Puerto Rico?
Final Starting Spot Still Open Competition
Heading into the exhibition tournament, one of the things everyone was watching for was which players would be in the starting lineup for the Jayhawks. Particularly, when it came to the two-guard spot in the starting rotation. The picture did not get any more clear this week. Nick Timberlake, the transfer from Towson, started game one. Arterio Morris, the transfer from Texas, dominated the first game and started game two for the Jayhawks. Elmarko Jackson looked good in game two and ended up starting game three. This is all a part of head coach Bill Self's game plan. He wants to see all of these guys get playing time, and ultimately, whoever ends up starting will all sort itself out. At this point, there is no runaway candidate for the final starting spot. That's a good thing, as each player looked solid during the exhibition games.
Kevin McCullar Jr Improvement is Real
Bill Self was giving high praise about McCullar's progress and improvement going into his final year as a Jayhawk just a couple of weeks ago. McCullar's offense looks to be improving and his defense is still elite. This was a good sign that McCullar is going to be another reliable offensive piece for the Jayhawks this season. Last season he was inconsistent on the offensive end, but his defense made up for it. Being highly effective on both ends could make a huge difference for this year's squad.
KJ Adams' Role Looks Defined
There was speculation that KJ Adams could potentially move into a sixth-man role, but that was all squashed after seeing what took place in these exhibition games. Adams started each game and showed his dominant side, moving the ball and getting to the hoop with ease throughout the tournament. Adams will be a starter on this team, without a doubt, and will play a critical role in helping the Jayhawks make it back to the Final Four in 2024.
Hunter Dickinson is the Real Deal
Yes, it's only three exhibition games, but it's easy to see Hunter Dickinson is the real deal. After averaging 18 points and eight rebounds at Michigan last year, Dickinson averaged 19 points, seven rebounds, four assists, and two steals per game in Puerto Rico. Dickinson will be a force in Bill Self's offense and there's no doubt he will be a difference-maker for the Jayhawks this season.
Team Chemistry Looks Good
If anyone was concerned about this team not mixing well together with all of the moving parts that came with the transfer portal, those thoughts can be put to bed at this point. The Jayhawks looked surprisingly smooth, on both ends of the court, but especially on offense. The transitions were seamless, quick soft touch passes were on display, and throw-down dunks were aplenty. The team genuinely looked like they were having fun together. You can't fake team chemistry, and it looks like the Jayhawks are off to a good start on that front. When you consider how many new faces are in the locker room, this is a positive development surrounding the program. There is still plenty of time before the season officially begins, but after one trip to Puerto Rico to play three exhibition games, things are looking up for the Kansas Jayhawks basketball program.