Iowa State Cyclones
Iowa State AD Hints That UConn Was Part of Big 12's Focus After Colorado Joined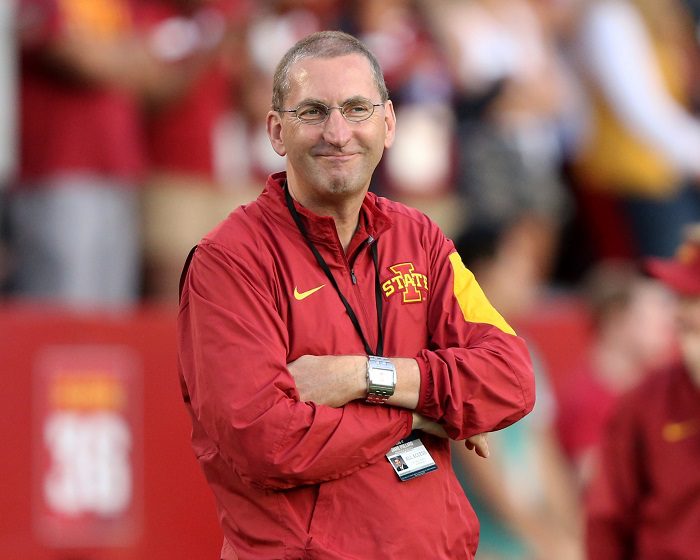 After Colorado made the jump to the Big 12 around two weeks ago, the public's focus shifted to the rest of the Pac-12 and where they might end up.
Sure, there was noise about UConn potentially coming in as the 14th school, but there wasn't any validity to that, right? You bet there was. That is if you take Jamie Pollard at his word.
Always one of the best interviews in the Big 12, Pollard has provided valuable insight into several Big 12 issues over the years, and most recently, the Big 12's expansion plan after Colorado came aboard.
"[Colorado] was where we were focused initially because we felt that one could lead to possibly more," Pollard told 365 Sports. "Or if not, we talked about other schools that could fill that final spot. Then, as it started to emerge, Arizona was next in line as far as showing the initial interest but then it quickly escalated because of the Oregon/Washington timing with the Big Ten. Then, it became Arizona, Arizona State, Utah as a package deal, so we never had to fully vet if Arizona was 14, or was it going to be UConn as 14 if Arizona didn't come?
"We never really went past that. It was a package of those three, or Arizona as 14, or Uconn as 14, and that was really where the focus was."
Man, how different things would look if Colorado and UConn made up the Big 12's expansion teams. Imagine the league map, dynamic, and even perception if Arizona, Arizona State, and Utah decide to stick with the Pac-12. It's safe to say that the entire landscape would look different.
However, that's not how the cards fell, and instead of 14, the Big 12 ended up with 16 schools that really make sense for the conference.