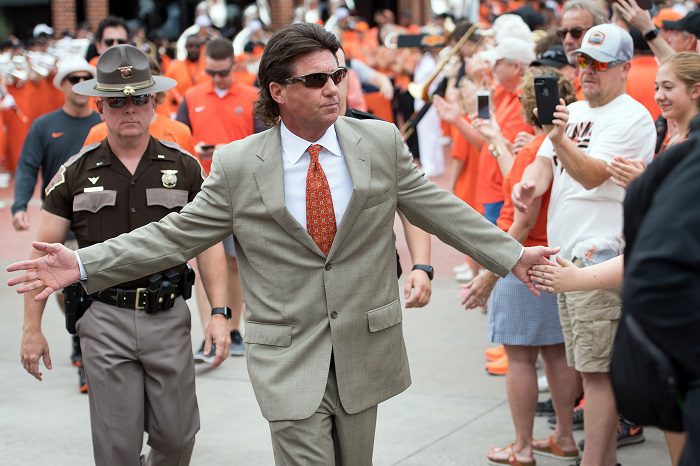 Oklahoma State Head Coach Mike Gundy is a national treasure. He doesn't give a darn what you or I think, and he will always do things his way. And to be fair, his way has worked to this point, as he's essentially built the Oklahoma State football from the ground up.
Gundy is not only the most-tenured coach in the Big 12, but also one of the longest-tenured head coaches in all of college football. If you have ever listened to him for more than a minute, you know that the conversation could go anywhere, at any time. Perhaps his most famous line ever was "I'm a man, I'm 40." Well, on Saturday Mike Gundy turned 56.
What did he do to celebrate? He attended a Zach Bryan concert at the BOK Center in Tulsa and made a big surprise on stage joining Bryan and his band for the encore performance of Bryan's hit "Revival."
Throughout the song, a video of Gundy was shown as he was dancing, shaking, and putting his pistols high in the air for everyone in the crowd to see.
For those not familiar with Zach Bryan, he is a country music singer from Oologah, Oklahoma as was in Tulsa for part of his Burn, Burn, Burn Tour. It looked like a fun time there in Tulsa and I am sure it is something Mike Gundy will remember for years to come. What a way to cap off a birthday and it was also cool to see Zach Bryan tweet his support of Oklahoma State too.