Basketball
Postscripts: Pac-12 Arrogance Sinks Conference, NCAA Sends Warning to Transfers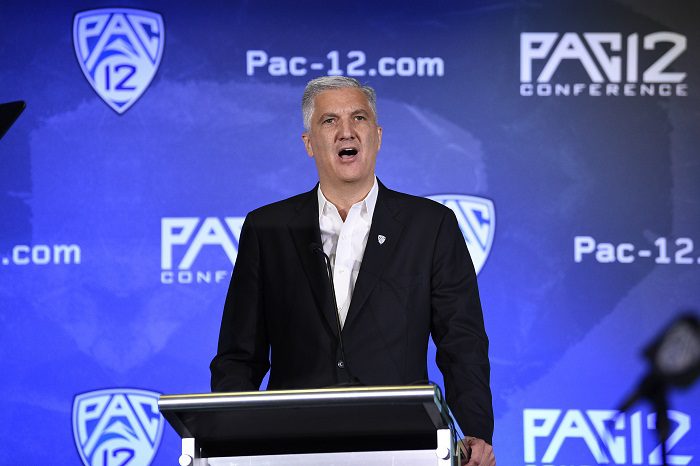 What's going on in the Big 12 and beyond? I expand and explain every Sunday (in this case, Monday) in Postscripts at Heartland College Sports, your home for independent Big 12 coverage.
This week, the NCAA is delivering warnings to two-time undergrad transfers, we find out what the Pac-12 really wanted and Ames is flush with alcohol entering football season and we're here for it.
The Warning for Two-Time Transfers
Earlier this week the NCAA told West Virginia basketball player Omar Sliverio that he would not be granted a waiver to play for the Mountaineers this season. In fact, the denial of the waiver ends Silverio's college career as he needed it for a final year of eligibility.
He's played for three different colleges — Rhode Island, Hofstra and Manhattan. Transferring to the Jaspers turned out to be a disaster, as the program fired its head coach, Steve Masiello, two weeks before the season, which promoted Silverio and others, including WVU forward Jose Perez, to transfer.
If Silverio had his degree, this wouldn't matter. He could just transfer without penalty. But because he doesn't, and he's transferred three times now, he needed the waiver. The reality is he's gotten two free transfers because he transferred from Hofstra to Manhattan at a time when the NCAA didn't know what to do with undergrads who were transferring to multiple programs, so they just gave them waivers.
But, earlier this year, the NCAA approved new transfer rules for second-time undergraduate transfers. The new rules took effect for the 2023-24 athletic year and to summarize, the NCAA will take into account physical injury or mental health condition that pushed them to transfer along with "exigent circumstances" that could force a player to leave an institution — like sexual assault or abuse.
That's it. That's the list. Silverio didn't meet either criteria, even though he transferred to WVU in the spring. So the NCAA appears to be applying this rule even though Silverio transferred before when the rule takes effect.
Earlier in the week, the NCAA denied Arizona State wide receiver Jake Smith's appeal to play this season as a second-time transfer. He started his career at Texas at 2019 and then transferred to USC the following year. He transferred to Arizona State after he was declared a medical non-counter at USC due to a foot injury. USC wouldn't allow him to play, so the redshirt junior transferred.
So, the NCAA rule says that physical injury can be taken into account. The NCAA either didn't take it into account or, well, didn't care.
The NCAA had no control over the transfer portal when it started. This rule, in theory, is a good one. I'd rather not have athletes hop from program to program, in part because schools have residency requirements to get degrees, and if you transfer to a different school every year in search of playing time you won't meet those requirements.
But, of course, this is the NCAA, so they've taken the application of the rule in a direction that seems draconian. They're not grandfathering players in. They're not taking into account players like Silverio, who already sat out a year after his coach was fired. Or Smith, who probably wanted to play for USC but wouldn't be allowed to.
What the NCAA is saying here is that it will only provide this second waiver to undergrads under extreme circumstances. So, if you're an undergrad and you're weighing transferring for the first time, you better make a good decision.
If it's a second time, you had better have your degree.
How DARE you offer me $30 million per year!
For most of the year we've craved specifics of what ESPN offered the Pac-12 during their exclusive negotiating window last year. The rumor on "Big 12 Twitter" was that amount was around $30 million. I put that in the category of "bunk" at the time because the Pac-12 had just lost USC and UCLA, their current TV deal was behind the Big 12's and it just didn't seem logical to believe that the Worldwide Leader would give the Pac-12 more for less.
Well, as it turns out, ESPN DID offer the Pac-12 more for less.
Our buddy John Canzano out west has been accused at times (mostly by Big 12 Twitter) of carrying the Pac-12's water through all of this. But, he actually brought the info I've been hoping for in a report earlier this week. Turns out, ESPN's offer was $30 million per team for a 10-team Pac-12 before expansion. That was an all-in offer.
For perspective, the Pac-12's current deal is for $250 million per year. Divide that by 12 and you get $20.8 million. ESPN was offering the 10 remaining members of the Pac-12 $10 million more per year to stay together. I mean, that's a 50 percent jump. If I'm a Pac-12 president I'm in.
Per Canzano, a source told him that the Pac-12's response was "We said we want $50 million per school."
Pick your favorite dumbfounded GIF and insert it here.
So many things are clear now.
The lack of leadership in the Pac-12 is even more astounding now. Their attitude appeared to be, "We're the Pac-12. Give us money because we're the Pac-12." I thought they misread the landscape. Turns out they couldn't read the map of the landscape, one that had most assuredly changed in the past two decades and they either ignored it or didn't care.
How do you turn down a 50 percent raise?
A counter-offer like that can't be countered, so ESPN walked away.
Now, it's much clearer that the Big 12 sensed an opportunity rather than wanted some security for its newly-augmented conference. There is gossip in every business. How long do you think it took for word to get to the Big 12 and commissioner Brett Yormark that the Pac-12 did ESPN like that? How long do you think it took Yormark to contact ESPN and say, "Hey, you wanna talk early?"
He had the league a new deal in about two months, with Fox in tow because, well, Fox isn't just gonna let the Big 12 walk away in that scenario.
I'm also more inclined to believe that the Big 12 didn't leave money on the table now. If the Big 12 hadn't wanted to talk early, ESPN would have eventually circled back to the Pac-12 and they might have reached a deal. Had that happened there would have left less currency on the table for the Big 12 during its exclusive window in 2024, at a time when ESPN is also trying to figure out how to get its NBA deal done.
For those that believe the Big 12 cut in line to get its TV deal, there was no line. The Pac-12 made a counter-offer so outrageous there was no line for ESPN — or any other TV partner — to stand in.
Just unfathomably bad leadership on the Pac-12's part. And, as the onion is peeled back, it just looks worse.
A Liquor Library to Drink Your Sorrows Away
We all know Iowa State fans love to drink. And this season is shaping up like on where the Cyclones are going to win the tailgate but perhaps not much else due to the gambling scandal engulfing both the Cyclones and their cross-state rival, the Iowa Hawkeyes.
Don't worry — Iowa State athletics and its We Will Collective has you covered.
You've got Ames Lager, brought to you in part by the We Will Collective.
You've got Clone Fest, a craft brew brought to you by Iowa State University and a local brewer, Backpocket Brewing.
You've got Legend, brewed by Peace Tree Brewing Company and 1st Down Brewing. It's a corn ale brewed to honor Jack Trice, ISU's first African-American player and its stadium's namesake.
You've got 1858 Vodka, which was unveiled this week, also from the We Will Collective, if you need your alcohol a little stronger.
And you've even got We Will Cold Brew, brought to you by the We Will Collective. I personally have no use for it because I don't drink coffee or cold brew and it doesn't come with alcohol in it, but hey, I'm sure some you are gonna love it.
So … I'm probably going to be driving from Cincinnati to Provo the last week of September for a couple of games. I may have to make a slight detour to Ames and get some for Derek Duke. Yeah, totally for Derek. Won't be getting any of that for me. Not at all.
You can find Matthew Postins on Twitter @PostinsPostcard.