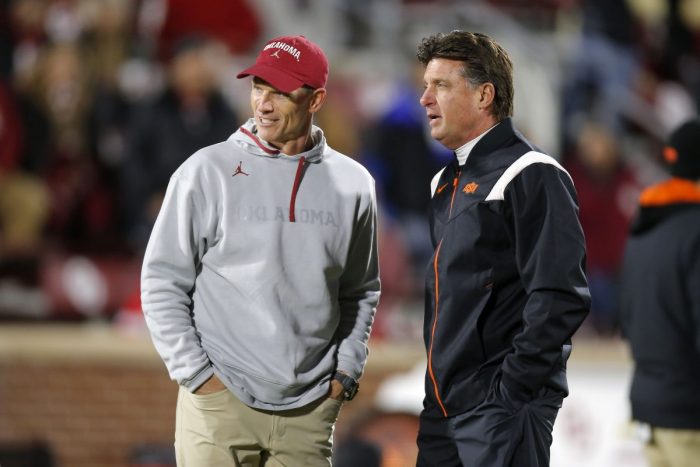 The Big 12 has finally released its football schedule for the 2023 season, which means fan bases can start to look at what lies ahead in the season to come and start counting the wins and losses.
Some fans looked at their team's schedule today and instantly felt awful about their chances in 2023. However, some were optimistic about what is to come in 2023 and feel genuinely excited about what next season could be.
For the first time since 2012, a true round-robin schedule could not be implemented in the Big 12, meaning that each team will dodge four conference opponents in 2023. That, coupled with the addition of the "new four" makes for a greater disparity between the easiest and the toughest schedules of 2023.
With that in mind, let's take a look at the five easiest 2023 football schedules in the Big 12.
5.) Baylor
Toughest Road Games: at UCF, at K-State, at TCU
Toughest Home Games: Utah, Texas, Texas Tech
Dave Aranda and the Baylor Bears have a luxury that nobody else in the Big 12 does: they get to play five of their first six games of the 2023 season at home, including their first four games of the year. Late road tests against Kansas State and TCU are tough but eight games in Waco is about as easy a slate as one could ask for after a 6-7 campaign in 2022. Despite four of their first six games coming against Utah, Texas, UCF, and Texas Tech, the back half of the schedule has winnable games against Cincinnati, Iowa State, Houston, and West Virginia.
4.) Cincinnati
Toughest Road Games: at Pitt, at BYU, at Oklahoma State
Toughest Home Games: Oklahoma, Baylor, UCF
The Big 12 did Cincinnati a lot of favors in their first year in the conference and that starts with their home opener and first Big 12 matchup coming against Oklahoma, in what will certainly be a sellout game. Trips to Pittsburgh, Provo, Stillwater, and Houston will mean lots of travel time, but home games against Iowa State, Baylor, UCF, and Kansas are all winnable. The biggest win for Cincinnati here is that the Bearcats avoided the top four teams in the final 2022 Big 12 rankings (TCU, Kansas State, Texas, Texas Tech) and will have a chance to make some noise if they can steal a game against Pitt or BYU early.
3.) Kansas State
Toughest Road Games: at Missouri, at Texas Tech, at Texas
Toughest Home Games: UCF, TCU, Baylor
Kansas State is coming off a Big 12 Championship season and a 10-4 record, but can they repeat in 2023? Well, if the schedule is any indication, they have a great shot. K-State drew road games against Missouri, Oklahoma State, Texas Tech, Texas, and Kansas. They'll host UCF, TCU, Houston, Baylor, and Iowa State. There's not a game on the schedule that Kansas State isn't capable of winning with an entire offensive line and starting quarterback returning among many other key pieces. This schedule actually plays out very nicely too with the Wildcats staying in the state of Kansas for the final three weeks of the season.
2.) Oklahoma
Toughest Road Games: at Cincinnati, Texas (Dallas), at BYU
Toughest Home Games: UCF, West Virginia, TCU
If you're an Oklahoma fan, you've got to feel good about the Sooners' chances of improving on their 6-7 finish from 2022. Oklahoma's toughest games outside of the annual meeting in Dallas are games in Cincinnati and Provo. What could be the last Bedlam game comes sandwiched between games against Kansas and West Virginia and your toughest home game of the season comes against TCU on the last weekend of the regular season. Oklahoma will likely be favored in all but one of its games and avoids Kansas State, Baylor, and Texas Tech, all of whom defeated OU in 2022.
1.) Oklahoma State
Toughest Road Games: at Arizona State, at UCF, at Houston
Toughest Home Games: Kansas State, Oklahoma, BYU
Finally some good news for the Cowboys after what has been a long January. Oklahoma State's schedule, to my eyes, is the most manageable in the conference in 2023. Home games against Kansas State, Oklahoma, and BYU will be the toughest games of the year, while road trips to Arizona State, Iowa State, West Virginia, UCF, and Houston are all winnable. Mike Gundy and Co. have been in some hot water so far this offseason, but a schedule like this could help them get right back to their winning ways in 2023.