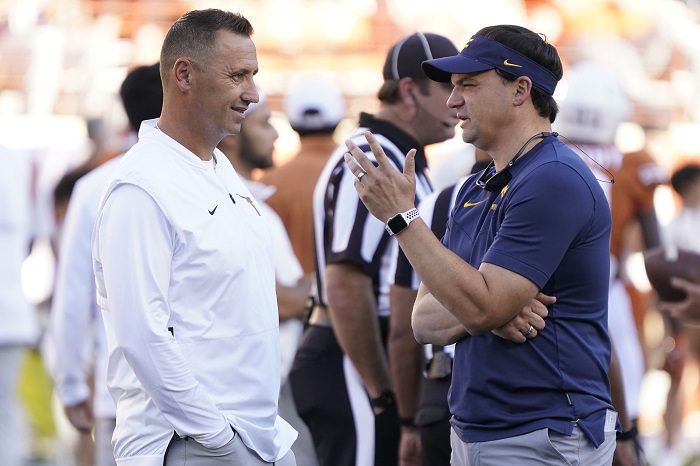 The Big 12 has finally released its football schedule for the 2023 season, which means fan bases can start to look at what lies ahead in the season to come and start counting the wins and losses.
Most fans looked at their team's schedule today and were optimistic about what is to come in 2023 and feel genuinely excited about their chances in most games. However, there were those of you that took a first look and instantly got a pit in your stomach.
For the first time since 2012, a true round-robin schedule could not be implemented in the Big 12, meaning that each team will dodge four conference opponents in 2023. That, coupled with the addition of the "new four" makes for a greater disparity between the easiest and the toughest schedules of 2023.
With that in mind, here's a look at the five toughest football schedules in the Big 12 in 2023.
5.) TCU
Toughest Road Games: at Kansas State, at Texas Tech, at Oklahoma
Toughest Home Games: BYU, Texas, Baylor
A game that was once thought to be an automatic win is now tricky as TCU will host Deion Sanders and Colorado to kick of the 2023 season. Road games at Houston, Kansas State, Texas Tech, and Oklahoma coupled with visits from SMU, BYU, Texas, and Baylor provide plenty of potholes for Sonny Dykes' Hypnotoads. Last season's national runner-ups won't have it easy in 2023, but then again, they didn't in 2022 either.
4.) BYU
Toughest Road Games: at Arkansas, at TCU, at Texas
Toughest Home Games: Cincinnati, Texas Tech, Oklahoma
Welcome to the Big 12, BYU. The Cougars have the toughest schedule of any of the new teams by a long shot and one of the toughest in the conference. Road trips to Fayetteville, Fort Worth, Austin, a cross-country trek to Morgantown before finishing the year in Stillwater will be tough. Add to that Cincinnati, Texas Tech, Iowa State, and Oklahoma coming to Provo, and the schedule looks stout for Kalani Sitake in Year One. BYU is capable of competing in the Big 12 right away, and it will get the chance to prove it in 2022.
3.) Texas
Toughest Road Games: at Alabama, Oklahoma (Dallas), at TCU
Toughest Home Games: BYU, Kansas State, Texas Tech
Texas is hoping to build in a big way in 2023, but this schedule will make them earn everything they get. A road game in Tuscaloosa in Week 2 is less than ideal but trips to Waco, Houston, Fort Worth, and Ames are somewhat manageable. Unfortunately, the home slate is loaded with games against BYU, Kansas State, and Texas Tech. Oh, and you have to play Oklahoma in the Cotton Bowl during the second weekend in October. Steve Sarkisian and Texas are plenty talented enough to handle this slate, but it won't be easy.
2.) Iowa State
Toughest Road Games: at Oklahoma, at BYU, at Kansas State
Toughest Home Games: Iowa, TCU, Texas
After coming off a 4-8 season in 2022, the Iowa State Cyclones land on our list of hardest schedules for 2023. The Cyclones have tough road games in Norman, Waco, Provo, and Manhattan, while hosting Iowa, Oklahoma State, TCU, Kansas, and Texas. The bye week between trips to Cincinnati and Waco helps, but it will still spend a lot of time in 2023. If Matt Campbell hopes to turn things around next season, it will take a Herculean effort from his squad.
1.) West Virginia
Toughest Road Games: at Penn State, at TCU, at Oklahoma
Toughest Home Games: Pitt, Texas Tech, BYU, Cincinnati
Woof. The West Virginia Mountaineers have the steepest hill to climb in 2023, and its not much of a gamble to say that. Road dates with Penn State, TCU, Houston, UCF, Oklahoma, and Baylor are brutal. Add to that home games against Pitt, Texas Tech, Oklahoma State, BYU, and Cincinnati and you have the makings of one of the toughest schedules in the country. Neal Brown needs to win, and win a lot, in 2023 and the schedule doesn't look to have more than one gimme, and that comes against Duquesne in Week 2.