TCU Horned Frogs
Sonny Dykes on Challenges of Preparing for Colorado: 'New Schemes, New Players, New Everything'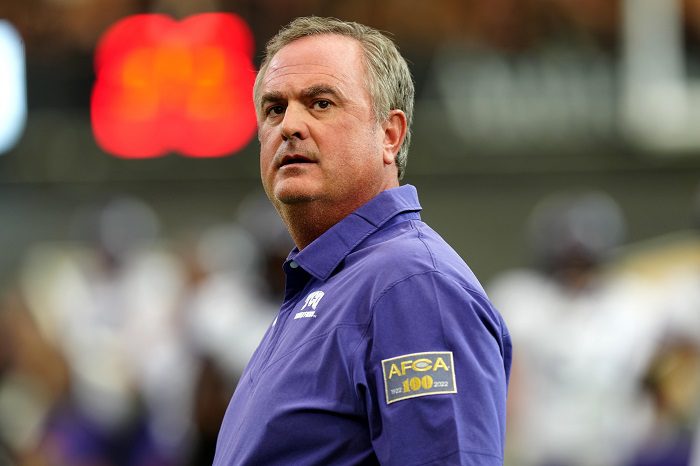 Sonny Dykes and TCU are coming off a 2022 season in which they finished as the national runner-up, with a 13-2 record and a Fiesta Bowl ring to show for it.
Meanwhile, the Horned Frogs' Week 1 opponent, Colorado, is coming off a 1-11 season but has seen arguably the most change that any program has ever experienced in the span of one offseason.
Not only are the Buffs headed to the Big 12 in 2024, but they've got an entirely new coaching staff and, outside of a handful of players, a completely revamped roster.
Deion Sanders has made headlines over the last several months with his unorthodox rebuilding tactics, but after going winning just one game last year, there's no handbook to turn things around in one season.
Despite all the newness, Colorado is just a 21-point dog in Fort Worth, which in hindsight, speaks to the sheer mystery surrounding the Buffaloes in 2023. All the change isn't lost on Dykes though, as the second-year TCU coach spoke to the challenges of preparing for the Horned Frogs' Week 1 opponent.
"You start with scheme," Dykes told On3. "You gotta watch the coordinators, where those guys were and what they did before and then you try to watch the guys that are going to be important players. Obviously, Sheduer [Sanders] was at Jackson State so we'll spend a lot of time watching his tape and trying to evaluate what he can do well and what he can't do well, and what he struggles with."
Dykes then talked about some of the challenges of playing anyone in Week 1, with last year's film not always being accurate to what a team might show at the start of a new season.
"The important thing for us, and honestly I think it's always this way going into the first game, is you have to prepare for your opponent, but really more than anything else, you have to just prepare to go play well," Dykes said. "You're going to see things that you don't expect. It's going to happen no matter who you play. People are always going to make changes in the offseason and make adjustments.
Then, he circled back to what makes Colorado a unique challenge in that aspect, with unprecedented turnover from last year.
"This is going to be much different, because we're not even going to bother watching Colorado's film from last year," Dykes said. "There's no point in doing that. New schemes, new players, new everything.
"So, it'll be a complete challenge for us and something that will be different, but the main thing we have to do is make sure our team is ready to play. Make sure we can go out and minimize mistakes. Take care of the football. Be sounds on special teams. All of the things that get you beat early, you know, pre-snap penalties, explosive plays. All the things that matter to losing, especially matter in early ball games. Those things are all magnified in the first two or three ball games."
Colorado and TCU will kickoff at 11:00 a.m. on September 2, from Amon G. Carter Stadium, which will also be the site of FOX's Big Noon Kickoff in Week 1.