Baylor Bears
2023 Big 12 Football Metric-Based Roster Ratings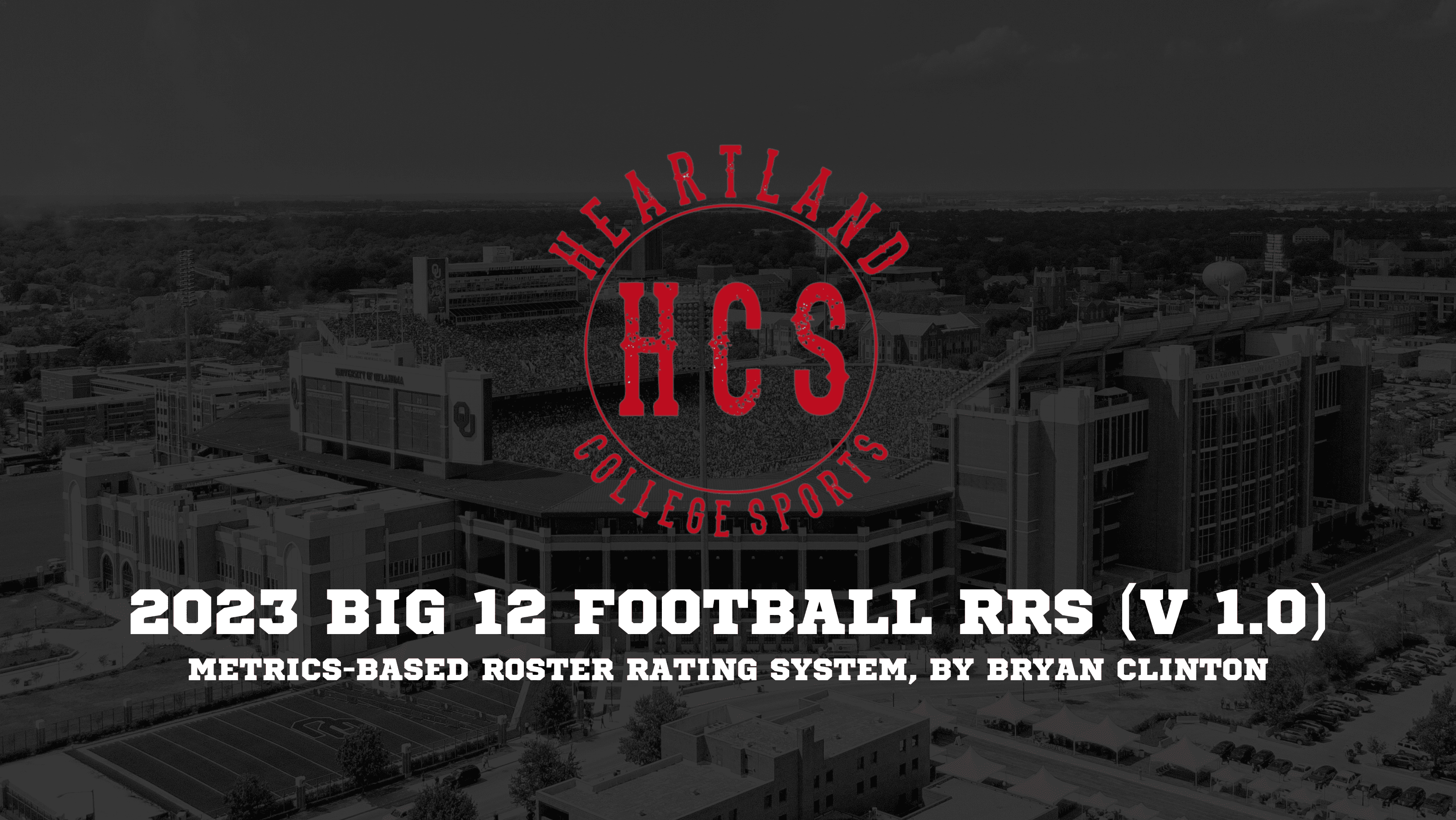 Over the last week, Heartland College Sports has been releasing power rankings for position groups for all 14 teams in the Big 12 heading into 2023.
If you missed them, here's a link for each of them:
To determine where each position group stood, careful consideration was taken in balancing three key factors for success in college football: talent, production, and experience. Typically, having one, or even two without the other, isn't conducive to success at the FBS level, especially in a conference like the Big 12.
Once each of the position groups was ranked, we had a good idea of where each team stood in the pecking order, at least positionally, heading into the 2023 season. However, I wanted to take things a step further.
What if we could create a metric that would allow us to rank rosters heading into each season, using factors that we can account for?
Using data from recruiting sites, we can easily determine talent, or at least projected talent. Then, we can use statistics from previous seasons to determine production and experience.
By using those three keys, I've developed a metric to rate each team's roster heading into the upcoming season: the Roster Rating System (RRS).
While finding a balance between talent, production, and experience is subjective, I feel really good about these ratings, especially with this being year one of the model.
RRS Accounts For:
Talent (Industry comparisons like 247Sports' Composite)
Returning Production
Experience
Third-Party Expert Analysis
RRS Does Not Account For:
Coaching
Injuries
Team Bias (Don't Be That Guy)
Your Feelings
How RRS Works
After determining position group rankings across the conference, I developed multipliers for each of the position groups, based on the importance of each position.
Instead of subjectively selecting what I felt was the most/least important, I let NFL valuation determine it. By taking the average of the Top 10 NFL salaries (Cap Hit for 2023) at every position, I determined that the order of importance is as follows:
Quarterback
Defensive Line
Offensive Line
Linebackers
Receivers
Secondary
Running Backs
Special Teams
Once the multipliers were determined and data points were input, all that was left to do was normalize the data to put it into terms that everyone could understand. So, I converted it to a scale of 1-100.
A rating of 1 suggests that your team ranks last in each position group, while a rating of 100 means your team is at the top for each position group.
Note: This is not a predictive measure of how your team will perform in 2023, but simply a look at how each Big 12 roster stacks up against one another.
Let's dive in.
2023 Big 12 Football Roster Ratings (RRS 1.0)
1. Texas Longhorns
Rating: 94
QB: 3 RB: 1 WR/TE: 1 OL: 2 DL: 2 LB: 1 DB: 3 ST: 1
The Texas Longhorns possess one of the top rosters in all of college football, and certainly the best overall roster in the Big 12, according to RRS. Texas has the top-rated running back, receiver, linebackers, and special teams groups in the Big 12, while being top-three at quarterback, offensive line, defensive line, and in the secondary. With such an advantage, it's a wonder how the Longhorns haven't managed to win a Big 12 title since 2009. Can Steve Sarkisian get them over the hump in 2023? The media certainly thinks so, and they have the roster to do it. Ranking inside the top three at every position group gives the Longhorns a rating of 94, which is 14 points higher than the second-rated team on our list.
2. Oklahoma Sooners
Rating: 80
QB: 1 RB: 2 WR/TE: 6 OL: 4 DL: 3 LB: 4 DB: 4 ST: 6
The Oklahoma Sooners are one of the top programs in all of college football, but the roster is in the middle of a major rebuild. Still, Oklahoma's roster stacks up nicely against the Big 12, ranking first at the most important position in the sport, as well as in the top four at running back, offensive line, defensive line, linebackers, and in the secondary. Without much production or experience at wide receiver, the Sooners need one of their plethora of highly-rated talents to step up, but outside of that, their roster is well-built. Venables and staff will lean heavily on transfer talent, as well as younger pieces in the depth chart this season, but this roster is in a much better position than it was a season ago. With an RRS rating of 80, OU has the roster to compete for a Big 12 title in 2023.
3. Kansas State Wildcats
Rating: 64
QB: 4 RB: 5 WR/TE: 11 OL: 1 DL: 7 LB: 6 DB: 7 ST: 5
Kansas State returns the best offensive line in the Big 12, giving them a major piece to build around offensively heading into 2023. Will Howard returns at quarterback, giving the Wildcats one of the conference's best options at quarterback. With DJ Giddens and Treshaun Ward at running back, the Wildcats have a dangerous tandem to deploy at running back, which is music to their O-Line's ears. While the defense will need something of a rebuild in 2023, the Wildcats still have good pieces at all three levels and have been well above average on special teams. With a 64 rating according to RRS, the Wildcats have one of the top three rosters in the Big 12, even after losing some major star power.
4. TCU Horned Frogs
Rating: 63
QB: 8 RB: 10 WR/TE: 4 OL: 8 DL: 10 LB: 2 DB: 1 ST: 2
TCU has historically recruited as the best team in the Big 12, excluding Texas and Oklahoma. That played a major role in their run to the national championship game in 2022, but a lot of that talent is now in the NFL. Still, the Horned Frogs rate at the top of the Big 12 in the defensive backfield, and are second in special teams and linebacker in 2023. While they have "question marks" at quarterback and running back, TCU has very capable playmakers at each position, with Chandler Morris and Trey Sanders being potential stars if they can fit their new scheme properly. There are concerns along the line of scrimmage, but they've got some unproven depth that could step up. With an RRS rating of 63, TCU comes in just behind K-State in the roster department this year and is a legitimate Big 12 contender.
5. Kansas Jayhawks
Rating: 58
QB: 2 RB: 3 WR/TE: 3 OL: 5 DL: 14 LB: 13 DB: 2 ST: 10
Perhaps the biggest surprise of this entire project has been Kansas' ascent into the Top 5. The Jayhawks rate very high in the offensive units, going second at quarterback, third at running back and wide receiver, and fifth on the O-Line. While they rated second in the defensive backfield, the Jayhawks fall short at defensive line and linebacker, ranking last and second-to-last respectively. Kansas' offense will likely score as many points as they want if they can stay healthy, and that will keep them in games. However, if their run defense aligns with their front seven rating in this metric, it could be tough to win some games. Nevertheless, KU has an incredibly well-built roster offensively, giving them an RRS rating of 58.
6. Texas Tech Red Raiders
Rating: 56
QB: 6 RB: 11 WR/TE: 2 OL: 7 DL: 4 LB: 12 DB: 5 ST: 7
While I fully expect the Red Raiders to finish ahead of Kansas in 2023, the RRS has Texas Tech just behind them heading into 2023. The two units that seem to be holding this team back are linebacker and running back, as the rest of their units rate in the top half of the league. Given he can stay healthy, I expect Tyler Shough to have a massive season, and their best unit, wide receiver, will be the recipient of that success. If TTU can find a difference-maker at running back and round out a good group of backers behind a stout D-Line, this team will compete for a Big 12 title in 2023.
7. UCF Knights
Rating: 53
QB: 5 RB: 9 WR/TE: 5 OL: 9 DL: 5 LB: 7 DB: 13 ST: 4
UCF is, by far, the highest-rated newcomer in the first year of the RRS, with a whopping 53 out of a possible 100. While they aren't elite at any one position, the Knights are Big 12-ready nearly across the board, with the secondary being the biggest question. John Rhys Plumlee will be able to make a lot of wrongs right, while a great group of pass catchers will give him plenty of weapons to distribute to. The running back position feels a bit underrated here, but the Big 12 looks to have several good backfields this season. Overall, this is a great spot to be roster-wise if you're headed into your first year at the Power Four level.
8. BYU Cougars
Rating: 46
QB: 9 RB: 7 WR/TE: 8 OL: 6 DL: 8 LB: 9 DB: 9 ST: 8
Coming in seven points behind UCF is BYU, who will also make the Power Four jump in 2023. The Cougars are incredibly consistent in this year's model, spanning from the sixth-rated to the ninth-rated unit across the board. The offensive line and running back positions project as the best units comparatively, but no position on the team is necessarily unfit for Big 12 play. Despite the lack of an elite group compared to the rest of the Big 12, it feels like this represents a good look at BYU: a team that is tough, gritty, and just good enough to beat you on any given Saturday.
9. Oklahoma State Cowboys
Rating: 42
QB: 10 RB: 8 WR/TE: 7 OL: 11 DL: 12 LB: 3 DB: 8 ST: 9
The next two teams in this rating were very surprising, as I expected them to both be rated much higher. Oklahoma State comes in with a roster rating of 42, coming in 14 points behind Texas Tech, and 22 points behind Kansas State. After a mass exodus in Stillwater this past offseason, Oklahoma State had to depend on a lot of G5 talent to get their roster back up to snuff. Unfortunately, that resulted in perceived downgrades at a few positions. The biggest questions for this team are what Alan Bowman will look like at quarterback, and if the offensive line can stay healthy. Defensively, a strong group of linebackers and an underrated defensive line will be strengths.
10. Baylor Bears
Rating: 38
QB: 7 RB: 4 WR/TE: 10 OL: 13 DL: 9 LB: 5 DB: 12 ST: 13
I don't even know what to say about this one. I picked Baylor to finish sixth in my Big 12 preseason poll, but a freefall to 10 in the RRS is still shocking. While it's fair to say that running back and linebacker will be the strength of the team, a brand new offensive line, defensive backfield, and special teams units tank the Bears' overall rating in this season's projection. While their score comes in at 38, it's well behind the other perceived contenders in the Big 12. This is one that I feel will be way off come December, but it's just how the formula worked out ahead of the Bears' 2023 season.
11. Cincinnati Bearcats
Rating: 31
QB: 11 RB: 13 WR/TE: 14 OL: 14 DL: 1 LB: 10 DB: 14 ST: 3
A strong special teams unit and the best defensive line in the Big 12 give Cincinnati the distinction of staying out of the bottom three in the RRS ratings, but a quick look at the rest of the roster tells the story of why they're looking at a 31 out of a possible 100. The Bearcats are dead last at three positions (WR/TE, OL, DB), and second to last at running back. While the defensive line will impress as a unit in 2023, I don't foresee it leading to a ton of wins for Cincy in Year 1 under Scott Satterfield.
T-12. West Virginia Mountaineers
Rating: 27
QB: 13 RB: 6 WR/TE: 13 OL: 3 DL: 13 LB: 11 DB: 11 ST: 14
At first glance, it's clear what West Virginia should do best in 2023, and that is run the football. With the sixth-rated running back room and a top-three offensive line unit, the Mountaineers should force-feed CJ Donaldson the football this season. West Virginia ranks 11th or worse at the other positions, including last in special teams and second to last at quarterback and defensive line. With a rating of 27, Neal Brown's squad is tied for 12th in RRS heading into an incredibly important year.
T-12. Houston Cougars
Rating: 27
QB: 12 RB: 12 WR/TE: 9 OL: 10 DL: 6 LB: 14 DB: 10 ST: 11
Houston's outlook in the Big 12 has been pretty unanimous across the board, as most expect them to struggle in their first year in the Big 12, but to eventually become a contender. With a nearly identical score to West Virginia (off by 0.0012 points), it paints a pretty clear picture of where they stack up roster-wise. Despite a good defensive line group and a decent score at wide receiver, the rest of the roster is in double digits compared to the rest of the Big 12. Dana Holgorsen's return to the Big 12 could pay dividends eventually, but 2023 doesn't appear to be the payoff year.
14. Iowa State Cyclones
Rating: 22
QB: 14 RB: 14 WR/TE: 12 OL: 12 DL: 11 LB: 8 DB: 6 ST: 12
Prior to the betting scandal, Iowa State was just outside of our bottom three, but with the loss of five starters, including Hunter Dekkers and Jirehl Brock, the Cyclones are now dead last in the Roster Ratings System, with a score of 22. There's not much experience on this team and it will now have to replace its top passer, pass catcher, rusher, linebacker, and pass rusher in 2023. It's looking like a down year for the Cyclones in 2023, and the RRS agrees with that sentiment.