Big 12 News
Best Social Media Reactions to Deuce Vaughn's Preseason Debut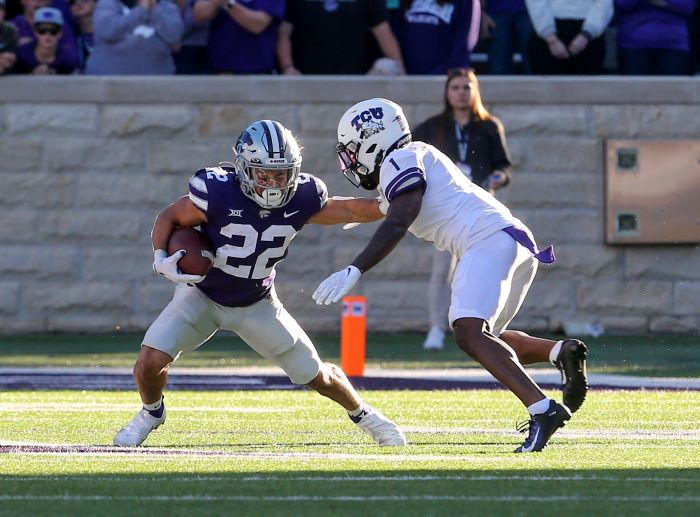 While Big 12 fans have been more than familiar with former Kansas State running back Deuce Vaughn's game, the rest of the world seemingly found out just how challenging it is to take down Vaughn in Saturday's game against the Jaguars.
Vaughn finished his day off with eight carries for 50 yards and a score on the day for the Dallas Cowboys, and while averaging roughly seven yards per carry is nothing new to the Texas native at this point, Vaughn went viral on social media for making multiple Jaguars defenders whiff tackles in the open field.
Some of the best reactions from the internet came from fellow NFL alumni, sports commentators, sports personalities, and more, which all centered around the enigma of a player that is Deuce Vaughn.
Vaughn's emergence in his first NFL game is nothing new to those who followed the Big 12 Conference as Deuce Vaughn consistently made defenders miss in the open field at Kansas State. Vaughn finished off his college career with 3,604 rushing yards, 34 rushing touchdowns, all while averaging 5.5 yards per carry.
Vaughn is currently fighting for a spot on the Cowboys roster behind running back Tony Pollard, and while Saturday's performance should make the case for Vaughn to prove his worth painfully obvious, Vaughn still has two more opportunities to light up the scoreboard on August 19th against the Seattle Seahawks, and August 26th against the Las Vegas Raiders. I would suggest to keep your eyes peeled for more highlights.