Trending Now
Brett Yormark to George Kliavkoff: 'I'm Sorry That My Gain is Your Loss'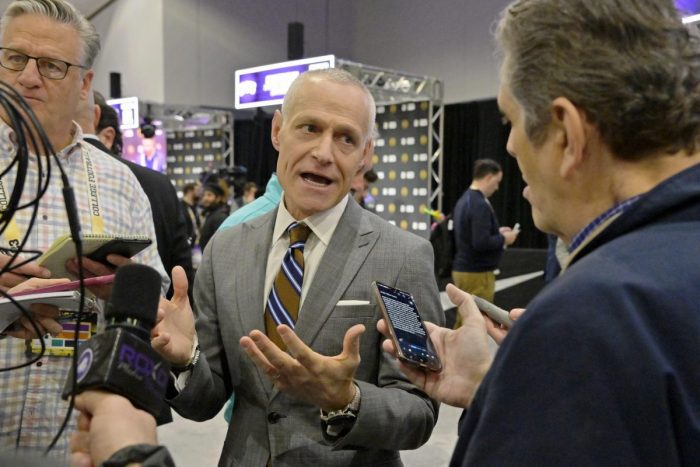 Realignment has always been a threat to conference integrity and as the years have pressed on, we've seen leagues fall to the wayside.
The Southwest Conference and Big 8 used to be powerhouses but found it necessary to merge in the 90s thanks to a changing landscape.
The Big East, a once powerful football conference, has since become a basketball conference with no football presence.
Now, over the past several months, we've watched the Pac-12 crumble from within until it finally came crashing down earlier this month when six of its schools bolted for the Big 12 and Big Ten.
While there is some excitement around Big 12 and Big Ten fan bases, the harsh reality is that a conference that has stood for over 100 years will now cease to exist. The very fabric that has held college football up for so long has suddenly developed a void that will take a while for the sports world to adjust to.
Making the decision to expand in today's climate is a no-brainer if you have the option, but in conference realignment, where there's profit, there's also loss.
When the Big 12 added four new schools, it also took four schools from the Pac-12, draining what was left of the lifeblood of the conference. There are people affected by that decision, and that's not lost on Big 12 Commissioner Brett Yormark.
In an appearance on The Marchand and Ourand Sports Media Podcast, Yormark opened up about his conversation with Pac-12 commissioner Goerge Kliavkoff after taking four schools from the dying conference.
"Yormark said his main message was to convey that he was sorry to put Pac-12 chief George Kliavkoff in a tough position," Ourand writes.
"But this was something that we had to do. And this was something that the board and our key stakeholders encouraged. I'm sorry that my gain is your loss," Yormark said. "We had a very collegial conversation. George was fantastic, and I'll be seeing him again in a couple of weeks at some industry meetings."
While it was a big moment for both conferences, the decision wasn't something that happened overnight. Yormark was clear from his first press conference that the Big 12 was looking to expand its footprint, and more specifically, expand westward.
"It didn't happen at night; it wasn't a shock-and-awe moment," Yormark said. "Everyone knew the Big 12 had an appetite to expand. Maybe some people in the industry didn't like it that I was so intentional about it, but I'm very transparent. In fact, I telegraphed it. I just felt that was the right way to do it versus other things that I've witnessed and observed in our industry over time, where transparency really wasn't the case."
Yormark was open and honest about his intentions, and Klaivkoff had every opportunity to save his conference in 2022 but made a major mistake when overestimating the Pac-12's worth without USC and UCLA. It sucks, and it will change college football forever, but at the end of the day, it's just business.