featured
HCS Mailbag: Bowl Projections, Bold Predictions, and Can the Newcomers Compete With the Big Boys?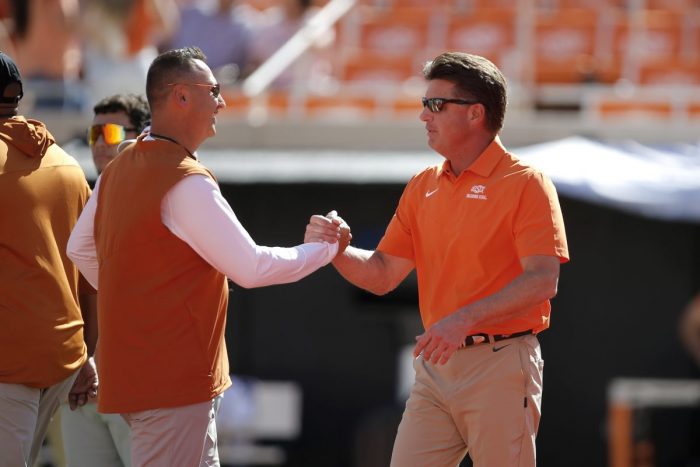 Welcome to the HCS Big 12 Football mailbag. This mailbag is for all you football junkies out there who root for a Big 12 school, and not only have questions about your team but other teams in the conference as well. So, join me, grab a cold brew or your favorite drink, and relax as I answer all your Big 12 questions. I want to thank each one of you who submitted a question this week and for tonight's drink of choice? Take a look for yourself. Cheers!
Duke: This projection is going to be pretty much a reflection of my preseason poll here so let me give it a shot. It's hard because some bowls may favor a certain school despite records to try and sell more tickets.
Texas: NY6 or CFP
Kansas State: NY6 or CFP
Oklahoma: Alamo Bowl
Texas Tech: Pop Tarts Bowl
Oklahoma State: Liberty Bowl
TCU: Texas Bowl
Baylor: Guaranteed Rate Bowl
UCF: First Responder Bowl
Kansas: Armed Forces Bowl
BYU: Radiance Technologies Bowl
Iowa State, Cincinnati, West Virginia, and Houston aren't going bowling.
Duke: Looking back at the media preseason poll and my preseason poll there weren't a ton of big differences. But I will give you two teams who I would change in both directions. I think Oklahoma State being picked to finish seventh is too low. It seems like every year that their expectations are low, they overachieve. If Alan Bowman can stay healthy, watch out. I like Brennan Presley to have a breakout year at wide receiver and Ollie Gordon should get the bulk of the carries at running back with an improved offensive line. Plus, I think their defense bounces back this year as well. I have them finishing in the top five of the conference this year.
As for a team that I would drop down, it would be Iowa State. Due to all the NCAA violations and suspended players, I think it is going to be another tough year in Ames and there is a real chance that they will finish dead last in the Big 12.
Duke: If Jalon Daniels can stay health, Kansas is a team that can win seven games which would be their highest regular season win total since 2008. Their offense can put up points and they have some good pieces around Daniels. However, if Jason Bean has to take over due to injury, I don't see Kansas even getting to a bowl game with him at quarterback. I just don't trust him enough as a passer to get the job done for more than one game.
Duke: I would love to meet those elitist-type fans because if you aren't a Georgia or Alabama fan is your football program at the top of the mountain? Those are the only two fan bases in college football that can look down upon other football programs and nobody would be mad at them for doing it. Saying the entire SEC dominates is a bit of a stretch. Since 2014 there have been only three schools to win an SEC championship. Those three schools are Alabama, LSU, and Georgia. Outside of that magical 2019 season with Joe Burrow, I wouldn't call LSU dominant. Georgia and Alabama are on a different level if you ask me.
As for the Big Ten, what are we talking about here? In the last eight years, The Big Ten has had the same amount of national championship game participants as the Big 12. And on top of that, the Big 12 runner-up (TCU) beat the Big Ten champion (Michigan) in the College Football Playoff last year. Can the new Big 12 teams compete with Georgia or Alabama right now? No, but who can?
Can they compete with everyone else? Absolutely.
Duke: This is a really tough question because when I look at the Big 12 this year, I see a lot of chaos and uncertainty which will make for some great games so I can't come off with some of the top of my head, but it would make for a great article piece down the road. I guess if I had to make some bold predictions it would be that Oklahoma State will finish in the top five of the Big 12 and that this will be the first year since 2009 that Texas wins the Big 12. Also, Texas Tech will finish in the Top 25 at the end of the year. Book it.