Big 12 News
OU Brings Back Tailgating to Lindsey Street Ahead of 2023 Season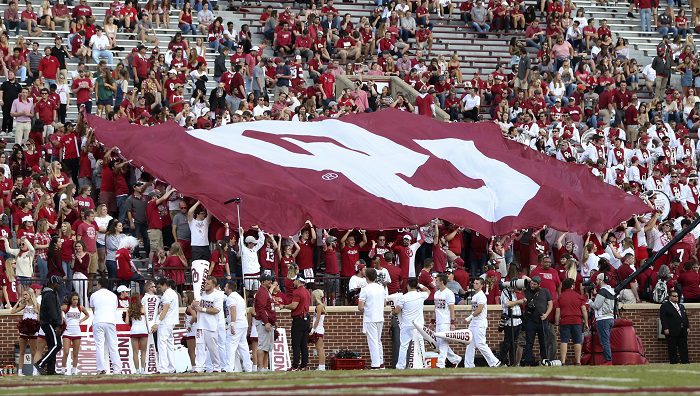 Back in June, it was rumored that Oklahoma might be looking to bring tailgating back to Lindsey Street, which runs directly parallel to the South Endzone of Memorial Stadium.
On Monday, the University of Oklahoma announced changes to its tailgating policies that will go into effect for the 2023 football season. For the first time since 2017, fans will be permitted to tailgate along the south side of Lindsey Street between Asp and Jenkins Avenues.
The update, or rather upgrade, to the University's policy on tailgating will vastly improve the gameday atmosphere outside of Memorial Stadium. As part of the announcement, OU provided a map to show where the new permitted tailgating area is located, giving the Sooner Nation a stretch of grass to set up on directly outside the stadium for the first time in six years.
As the announcement states, tailgating on the south side of Lindsey Street "may only take place on the grassy area between the Lindsey Street curb and the north side of the sidewalk."
Additionally, the other campus areas designated for private and public tailgating will remain the same as they were for the 2022 season.
This is fantastic news for Sooners fans, as the ban on tailgating on Lindsey Street has been a point of contention ever since it took place. However, with a move to the SEC coming up, the University realized that its policy needed to change.
During the Sooners' 2024 schedule reveal show, Oklahoma head coach Brent Venables even talked about the need for a policy update ahead of the SEC move.
"Every patch of grass is going to have a vehicle on it, every patch of grass," Venables said in June. "And the grass is gonna grow back just fine. But when you go on the road, you're going to see tailgating at its finest. So hopefully, as we continue to progress and transition, we are able to do that. To me, tailgating creates this amazing place to have memories. To remember moments. To build relationships and to share a passion, love, and joy for your university. It's one thing to do it on a slab of concrete but to compete, find a spot, and camp out for a couple of days and be able to do your thing from the beginning to the end of a college Saturday. It's a big deal."
In the Sooners' final season in the Big 12, we will see a major upgrade to the out-of-stadium festivities, and that's good news for both OU fans and visiting fans from all over the country.
Oklahoma will start the 2023 season against Arkansas State on Saturday, September 2, with kickoff scheduled for 11:00 a.m. on ESPN.