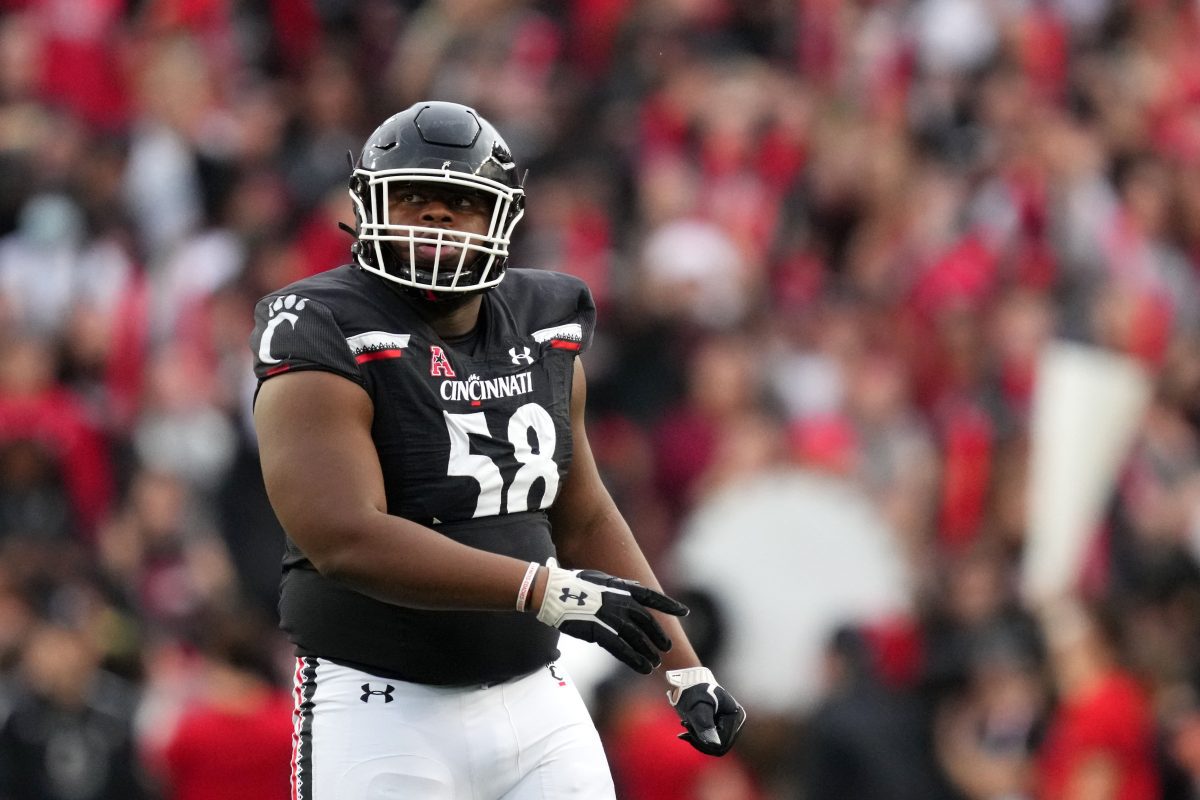 It takes a good athlete to play college football. You don't make it to the FBS level without being athletic. Of course, some athletes are better than others and some are just one of a kind. Each year Bruce Feldman lists the top freak athletes in college football and here are the Big 12 players who made the cut.
3. BYU OL Kingsley Suamataia
BYU offensive coordinator Aaron Roderick told Bruce that "Kingsley Suamataia is the most athletic and violent OL I've ever coached." BYU sports scientist Skyler Mayne said "Kingsley is off the charts. He's faster than our linebackers. He's just a Freak in the weight room." According to Mayne, Suamataia hit 21.5 MPH last year as a 318-pound freshman. That is extremely quick for a man that is 6-6, 325 pounds right now.
16. Cincinnati DT Dontay Corleone
Anyone who has the nickname of "The Godfather" is already legendary in my book but Dontay takes this to another level with his athleticism. Apparently, he wears a size 18 shoe and benches 485, squats 605, and deadlifts 700 pounds. Dontay clocked in at 18 MPH on the GPS and ran a 4.68 pro shuttle. The only defensive tackle over 300 pounds at the combine with a faster shuttle this year was Wisconsin's 309-pound Keenau Benton, who ran a 4.65. Plus, this man has a pizza named after him which may make him my favorite defensive player in the Big 12.
18. Texas DT Bryon Murphy II
Bryon made the list here due to his impressive strength. He did a front squat of 455 pounds and power cleaned 375. It was said that Texas strength coach Torre Becton had to shut him down because he could have lifted more. Becton claims that Murphy could've gotten 500 on the front squat and 405 in the power clean.
29. Texas Tech DB Tyler Owens
The former Texas Longhorn turned heads last season on the field and had a breakout performance in the Texas Bowl. Owens had a vertical jump of over 40 inches this offseason and also was running over 23 MPH in a game.
35. Texas Tech DL Myles Cole
If you thought Tyree Wilson was a freak last year, take a look at this man right here. Cole stands at 6-6 and weighs 285 pounds. The man has a basketball-like wingspan of 86 inches and was clocked in at a speed of over 20 MPH. For those counting at home, that is two Texas Tech players in the top 35.
42. Baylor WR Monaray Baldwin
While he may be small, he sure can move quickly. Baldwin hit 22.8 MPH on a touchdown run last season which was the fastest a college player was clocked in-game in 2022. And despite his size, he benched over 400 pounds this offseason.
45. Baylor DL Gabe Hall
The 6-6, 296-pound Baylor Bear bench-presses 500 pounds, squats 565, cleans 365, and did a 750-pound trap bar deadlift. He also has hit 19.9 MPH on the GPS. Watch out because this could be his big breakout season.
55. TCU WR Savion Williams
Quentin Johnston made the freak list last year, but Savion is even bigger than him standing at 6-5, 215 pounds. Williams hit 10-6 on the broad jump and posted a 40-inch vertical as well. According to Savion, he is faster than Quentin Johnston too.
61. TCU OL Brandon Coleman
Brandon started 15 games at left tackle in 2022 and was rated by PFF as the third-highest-graded returning offensive lineman in the Big 12. He has an impressive 35-inch vertical jump and can hit 18 MPH while running. He squats 600 pounds, benches 400, and power-cleans 375 as well.
63. Texas Tech DL Jaylon Hutchings
This is a guy who was once a running back in high school and now plays defensive tackle. Jaylon has a 500-pound bench, a 700-pound squat, but he has been clocked at 18 miles per hour. He was also the second-highest-graded defensive tackle returning in the Big 12 according to PFF.
77. TCU LB Shad Banks Jr.
I have never seen a linebacker return kickoffs before Shad Banks Jr. He is a former two-time Junior Olympic national triple jump champion and has been clocked at 4.4 in the 40-yard dash.
78. Cincinnati DL Jowon Briggs
Cincinnati already has "The Godfather" on their defensive line but they also have Jowon Briggs who was an all-conference nose tackle at Virginia. While Bruce listed his musical talents, it looks like he is equally as talented in the weight room. He squatted 700 pounds in high school and this offseason he deadlifted 655 and did 31 reps on the bench press at 225. 
93. Cincinnati LB Deshawn Pace
Deshawn is the younger brother of Cincinnati star Ivan Pace and will move from linebacker to the Star position for the Bearcats. The 6-2, 212-pound senior has very good speed, clocking 21.21 MPH with a speedy 1.51 10-yard split.
97. Houston DL Chidozie Nwankwo
 This man is a two-time state champion wrestler coming out of high school and he power cleans 345 pounds, squats 625, and bench-presses 435 as well. He has also been spotted pulling two 400-pound chains across the Elmer Redd Sports Performance Center on campus.