Big 12 News
Kansas QB Coach on Jason Bean: 'In 30 Years of Coaching, He's Made the Most Progress'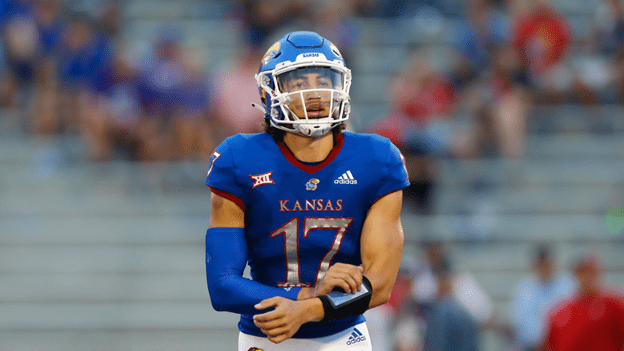 While backup quarterbacks don't usually get a ton of love from the fans, one veteran quarterback has been turning heads this offseason in Lawrence.
Quarterback for the Kansas Jayhawks, Jason Bean, has been a consistent producer in Lawrence for the better part of his career. He's seen action as both the starter and as the backup quarterback behind Jalon Daniels in his career, and with one remaining year of eligibility left, Bean is leaving nothing to chance.
Kansas quarterbacks coach Jim Zebrowski was complimentary of the fifth-year senior in front of the media on Thursday saying, "Out of all the years I've coached, 30 probably, Jason Bean has made the most progress."
While outworking every single quarterback involved with a coach over a 30-year career is far from an easy task, the Texas native has already found a way to accomplish that feat, all way showing up for the Jayhawks when needed.
Bean finished off the 2022 season with 1,280 passing yards, 14 touchdowns, and four interceptions en route to Kansas' first bowl game appearance in over a decade.
Jason Bean heads into the 2023 season behind Preseason Big 12 Player of the Year Jalon Daniels, and while it's never a good plan to bank on a player getting hurt, Bean is a capable, veteran leader, that has more than proved his readiness to step up in the event that Daniels falls victim to the injury bug again.