featured
Fact or Fiction Friday: Texas is Best in Big 12, Kansas Will Be Better in 2023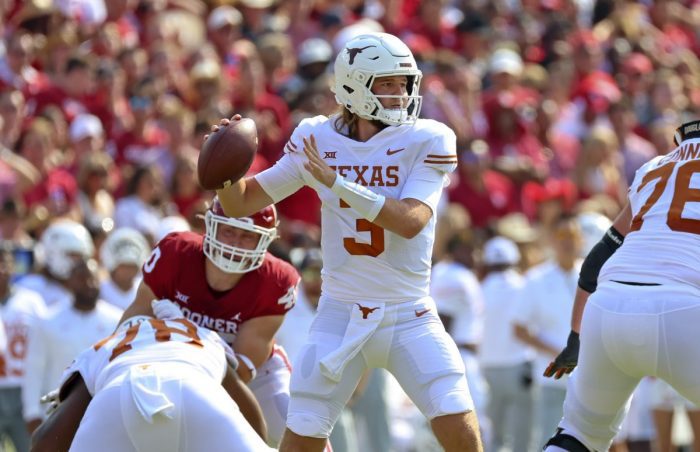 Welcome to Fact or Fiction Friday. Each Friday I give our Facebook fans an opportunity to ask the most intriguing questions in the Big 12 Conference and I will tell you whether they come true or if they are set to fail. Let's crack it open and see what we have in store this week.
Texas is the Best Team in the Big 12.
Fact: I picked them to win the Big 12 this year and before any of you tell me that I always pick them to win, that is a flat-out lie. Go back and look at my preseason poll from last year and you'll see that I picked them to finish fifth in 2022. However, this year is different. For the first time in years, I feel good about Texas. Replacing Bijan Robinson will be challenging, but Quinn Ewers should improve, and they arguably have the best wide receiver room in the nation. Plus, they return all five starters along the offensive line. The defense must improve for them to take that next step, but they have some key guys coming back and the defensive line is solid.
A Big 12 Coach Will Get Fired Before Halloween.
Fiction: I just don't see that happening but if there is a coach that could happen to, it would be West Virginia's Neal Brown. There is a high likelihood of the Mountaineers being 2-6 by the end of October going into the BYU game. But due to Neal's contract, I would bet that if they do fire him, they'll wait until after the season is over. Let's face it, the only reason he got another year is because they owe him too much money, so things would need to be really bad for West Virginia to decide it's worth the money at this point.
The Big 12 Will Still Be Intact in 2030.
Fact: For the sake of this website and my job, I sure hope so but, in all seriousness, yes. The Big 12's media deal runs through the 2030 season but will end after that. With Brett Yormark leading the way, I feel good about the direction of the conference now and the future of it as well. Adding Arizona, Arizona State, Colorado, and Utah helped this conference tremendously. Strength in numbers is a real thing in the conference realignment era, and with that, I feel a lot better about the future of the Big 12 than the Pac-12 or the ACC.
Oklahoma Will Go into the Red River Rivalry Undefeated.
Fact: Taking a look at the schedule, the Sooners will host SMU, Arkansas State, and Iowa State while traveling to Tulsa and Cincinnati before their meeting with Texas in Dallas. There really isn't a single game I just mentioned that I would worry about if I was an Oklahoma fan. If I had to pick the toughest game, I would say Cincinnati because Nippert Stadium will be rocking when the Sooners come to town, but they should still win that game.
Kansas Will Have a Better Record In 2023 Than It Did In 2022.
Fiction: The Jayhawks finished 6-6 last season before their bowl game. I know they may be more talented this year, but the schedule doesn't do them any favors at all. They'll have to go 3-0 in the nonconference, because I have a tough time seeing them win four or more conference games. The offense will score points with Jalon Daniels and Devin Neal, but for Kansas to take another step forward this season they will need the defense to improve greatly.
Texas A&M Fire Jimbo Fisher After Another Bad Season and Hire a Big 12 Coach.
Fiction: There is just too much money tied up with Jimbo Fisher at A&M. Even after coaching there for five years if Texas A&M fires him after the 2023 season they would still owe him over $75 million. I know the Aggies have money, but there is no way they will pay that buyout and go buy another coach.