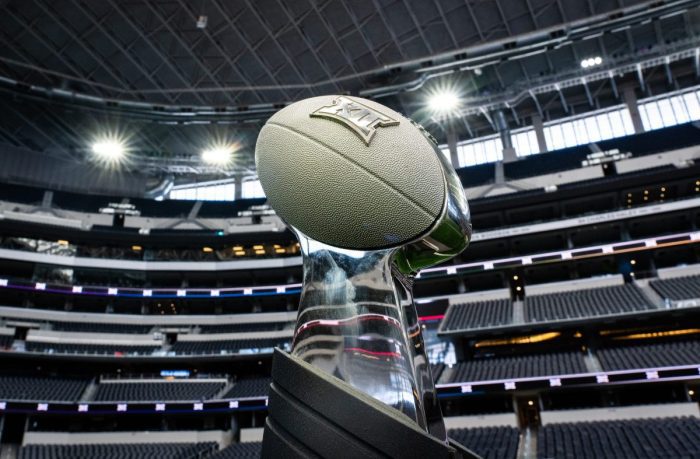 Every year, around Mid-August, I sit down with every preview magazine known to man, fire up the S&P+ and FPI rankings, and fill in my Excel spreadsheet for how I see the Big 12 playing out that season.
I pick every game on the schedule for every team, and by the end of the experiment, I've got a look at how I feel the Big 12 season should go. However, this season I decided to take things a step further.
For the first time since 2010, the Big 12 will not be playing a round-robin schedule, giving the conference race some very interesting variables to work through in regard to deciding a champion.
This week, I sat down and created a nightmare scenario for conference officials: a five-way tie for first place.
Candidly, it hardly ever goes exactly as planned. In fact, since Oklahoma's fall from the top spot in 2021, I've been wrong about the Big 12 Championship game. However, I usually find a landmine or two on some schedules that were hidden in the metrics, which seems to make me feel like I know what I'm doing.
Here's how it could go down.
The Bottom Tier
Iowa State: 2-10 (0-9)
After losing several starters to the gambling scandal, including Hunter Dekkers and Jirehl Brock, Iowa State's offense is even worse than it was a season ago. After close wins against Northern Iowa and Ohio, the Cyclones go 0-9 in conference play with virtually no offense and difficulty replacing last year's defensive production.
Cincinnati: 3-9 (1-8)
The Bearcats have a lot of new things heading into 2023, and the lack of stability heading into a new conference makes it tough to compete at a new level of competition. While still boasting a strong defense, Cincy's offense finds it difficult to put up points on a regular basis and falls off a cliff in Scott Satterfield's first season. After wins over Eastern Kentucky and Miami (OH), Cincinnati's only win the rest of the way is against Iowa State.
Houston: 4-8 (2-7)
In Dana Holgorsen's first year back in the Big 12 with Houston, things don't go exactly to plan. Donovan Smith's turnover issues follow him to his new destination, and without playmakers like Tank Dell and Alton McCaskill, the Cougars aren't able to reach offensive production from the last two seasons. The Cougars go 2-1 in nonconference and take down West Virginia and Cincy in Big 12 play.
West Virginia: 5-7 (3-6)
Despite being picked to finish last in the Big 12, West Virginia rallies around head coach Neal Brown and fights tooth and nail to be competitive in 2023. An upset win over Pitt in Week 3 gives Brown some room to breathe for a bit, but three straight losses to open up Big 12 play brings the Mountaineers to 2-4 on the year. They trade wins and losses each week to end the year just one win shy of a bowl game.
The Middle Tier
BYU: 6-6 (4-5)
The good news for BYU is that it makes a bowl in Year 1 in the Big 12. The bad news? 6-6 is the worst regular season finish for the Cougars since 2018, in Kalani Sitake's third year in Provo. With wins over Cincinnati, West Virginia, Iowa State, and Oklahoma State though, reaching a bowl in 2023 is a big deal for this Program.
Kansas: 7-5 (4-5)
Progress is progress and a 7-5 regular season guarantees Kansas will finish 2023 with a winning record for the first time since 2008. Kansas starts the season off with four straight wins to set up a ranked matchup at Texas. However, they drop that game and lose four of their next six games before beating Cincinnati to end the year.
UCF: 7-5 (4-5)
Of all the newcomers, UCF has the best season in its first year in the Big 12. However, they play some of the top teams in the conference, with K-State, Oklahoma, and Texas Tech all on the docket. With those losses and some slip ups against Kansas and Oklahoma State, UCF finishes at 7-5 and gets to a bowl game in 2023.
Oklahoma State: 8-4 (5-4)
Oklahoma State's schedule sets up for the Pokes to still have success in a down year, and that's exactly what they do. After a 4-0 start, including a win over a better-than-expected Arizona State team, Gundy's squad drops a Friday night game against Kansas State. Losses at West Virginia, vs Oklahoma, and vs BYU are the only hiccups the rest of the way.
Baylor: 8-4 (6-3)
In Dave Aranda's fourth year, Baylor improves on the defensive side of the ball and finds success in the running game after a tough start to the season with an inexperienced offensive line. Through five games, the Bears find themselves 2-3, with losses to Utah, Texas, and UCF. Then, they rip off five games in a row, including redemption against K-State after being embarrassed last year. TCU gets them in Week 12, but an 8-4 finish is a great turnaround from a year ago.
The Upper Tier – Kansas State, Texas, Oklahoma, TCU, Texas Tech
Texas Tech: 9-3 (7-2)
Here's where things get fun. Oregon comes into Lubbock in Week 2 and eeks out a win, but that doesn't stop the Joey McGuire train. Texas Tech beats K-State and TCU, but drops games against Baylor and Texas to finish the season. The rest of the schedule is filled with W's, and at 7-2, Tech is tied for first place.
Texas: 9-3 (7-2)
Texas' trip to Alabama proves a little too much for the Longhorns and gets the media fired up once again. However, Sark and the boy rip off six straight wins to get to 7-1, including another win over Oklahoma. Then, once things really get rolling again, UT drops back-to-back games against K-State and TCU before rallying to beat Iowa State and Texas Tech, giving them a 7-2 record in Big 12 play.
TCU: 10-2 (7-2)
Imagine the media hype train when Sonny Dykes and the Horned Frogs start the 2023 season off 7-0 and head into the K-State game on October 21 ranked inside the Top 10. Unfortunately, they drop that game and the following contest at Texas Tech on a Thursday night. However, in one of the most impressive rallies in the conference, TCU turns things around to beat Texas, Baylor, and Oklahoma in consecutive weeks to get to 7-2 in conference play.
Oklahoma: 10-2 (7-2)
After a 5-0 start, Oklahoma heads into the Red River Rivalry with renewed confidence and a much better defense. Unfortunately, Texas gets the better of the Sooners, though it's a much closer contest than a year ago. With the bye week following Oklahoma's first loss of the year, the Sooners come into Week 7 with a vengeance and get to 10-1 before a Black Friday game against TCU. There' the Horned Frogs spoil OU's chances of a CFP birth, leaving the Sooners at 10-2 and 7-2 in conference play.
Kansas State: 10-2 (7-2)
Kansas State's schedule is heavy in the middle with contests against Texas Tech, TCU, Texas, and Baylor from Week 7 to Week 11. They get out of that stretch going 2-2 in those games, with losses to Texas Tech and Baylor. Every other game on the schedule ends in the Wildcats' favor, leaving them with a 10-2 record overall, and a 7-2 record in Big 12 play.
So, Who Plays in the Big 12 Championship?
At the time this story was published, the Big 12 has not released its updated tiebreakers for the 2023 season. Given that there are 14 teams in this league with no divisions, it will be an interesting topic of discussion if we have a nightmare scenario such as this one.
Given that there aren't rules in place, how might this look come December?
Let's recap.
In this scenario, we have the following teams vying for two spots in the Big 12 Championship game:
Kansas State: 10-2 (7-2)
Oklahoma: 10-2 (7-2)
TCU: 10-2 (7-2)
Texas: 9-3 (7-2)
Texas Tech 9-3 (7-2)
Now, how did those teams perform against one another in this scenario? Let's look.
Kansas State
Wins: at Texas, TCU
Losses: at Texas Tech
Oklahoma
Wins: N/A
Losses: Texas, TCU
TCU
Wins: Texas, at Oklahoma
Losses: at Kansas State, at Texas Tech
Texas
Wins: Oklahoma, Texas Tech
Losses: Kansas State, at TCU
Texas Tech
Wins: Kansas State, TCU
Losses: at Texas
The first thing that stands out is Oklahoma has zero wins against the rest of the contenders, but still holds the same conference record. It's unlikely that that plays a factor in the official tiebreaker unless it comes down to the two highest-ranked teams.
If the conference takes the two highest-ranked teams to play in the conference title game, OU would lack a marquee victory over any of the others in this group, meaning its likely out if that's how things are decided.
Given that there are no rules in place at the moment, it might be a situation where each of the names is placed into a hat and two teams are drawn at random to decide who plays in the Big 12 Championship.
Can you imagine how tense that situation would be? Now, how likely is this scenario? Not very, but with a new conference schedule, there's much more of a chance that we see some ties in 2023 than in years past.
So, the Big 12 had better figure out its tiebreaker scenarios, or it could have a massive mess on its hands at season's end.