Baylor Bears
The Dream Big 12 Football Road Trip for 2023 Season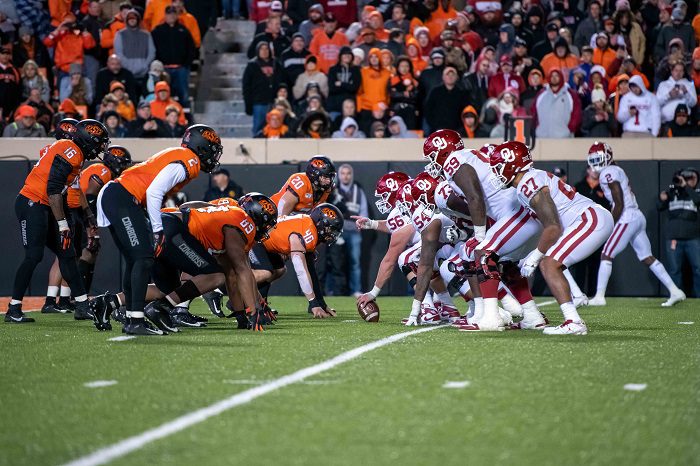 The college football season is right around the corner and its time to put together the dream Big 12 football road trip for the upcoming fall, as I have been doing for the past several years. There is always a caveat, as I made it so I had to go to each Big 12 stadium at least once. That made it more interesting as I had to plan around every stadium, not just picking the best game each week.
Obviously, with the Big 12 at 14 teams this season, I can't go to each stadium, since there are only 13 weeks in the season. So I am going to go to every stadium, other than either Oklahoma and Texas. It's only fair, right? They're leaving anyway. Find out which one I skip by reading through the article. So here is the Big 12 dream road trip, and the rule is I can't go to a stadium more than once.
Here we go.
Week 1: TCU vs. Colorado
This feels right for so many reasons. Right out of the gates we get to see the Big 12 team that reached the National Championship game last season, while also getting to see what will be a future Big 12 match up, along with catching Deion Sanders' coaching debut at Colorado. It's a no-brainer.
Week 2: Baylor vs. Utah
In Week 2, we've got another match up that will be a future Big 12 Conference game starting in 2024. Utah brings in a preseason Top 15 team to Waco and it will help us figure out whether or not Dave Aranda and the Bears will be a sneaky Big 12 team to keep an eye on this season.
Week 3: West Virginia vs. Pitt
The Backyard Brawl is back for a second-straight year. Last year's game in Pittsburgh was a classic rivalry match up. This year it moves to Morgantown in a game that could determine whether or not Neal Brown is still the head coach come Halloween. Can't wait.
Week 4: Cincinnati vs. Oklahoma
We'll then stay on the east side of Big 12 country and skip from Morgantown to Cincinnati for the short trip and watch the Bearcats open up Big 12 play against the Oklahoma Sooners. Nippert Stadium should be rocking with their first Big 12 game, plus it being OU.
Week 5: Texas Tech vs. Houston
It's an old Southwest Conference match up in Lubbock as Dana Holgorsen takes Houston on the road for the first time in Big 12 play against the Red Raiders, who have very high expectations this season. Also, Donovan Smith, who was just named the starter for Houston, will be going to his old stomping grounds in Lubbock, where he started several games in recent seasons.
Week 6: Iowa State vs. TCU
Early October in Ames is one of the most beautiful places and times of year in the entire Big 12. Plus, I admittedly want to get to Ames on this theoretical dream Big 12 road trip before Iowa State's season unravels, which it may, depending on how the first month goes. The last two years have been blow outs on both sides in this match up, but three of the last five games have been decided by a touchdown or less. So let's see how this game plays out.
Week 7: Houston vs. West Virginia (Thursday)
After that, it's a short week to Houston where Dana Holgorsen welcomes in his former squad, the West Virginia Mountaineers on a Thursday night. There are so many storylines here from Dana facing his former team to Neal Brown's job status at this point in the season. This game is going to be a fun one. Plus, it gives me a nice breather in the middle of the season and a weekend to rest!
Week 8: Kansas State vs TCU
It's time to head north to watch Kansas State and TCU. These two teams played a pair of great games last season. In the regular season, K-State blew a 28-10 lead in Fort Worth and lost 38-28. But then, the Cats got revenge in the Big 12 Championship Game at AT&T Stadium to win the conference title. Now we get their third meeting in two seasons, and I'm not missing that.
Week 9: Kansas vs. Oklahoma
It's a short road trip in Week 9 to go to Lawrence as Kansas hosts Oklahoma. Remember two years ago, it was KU who almost pulled off the huge upset against Lincoln Riley's Sooners, before OU came back late to seal the win. This is the last time KU and OU will play for likely many seasons, so let's see if Lance Leipold has a little late-season magic in him.
Week 10: Oklahoma State vs. Oklahoma
Speaking of OU, I'm following them in Week 10 to watch the last Bedlam for what could be decades. It is one of the great rivalries in college sports and it's sad to know that it won't happen again for likely a very long time. But there's nothing I can do about that other than be at the game and enjoy it. So I won't go through the season without catching the final Bedlam.
Week 11: UCF vs. Oklahoma State
It's mid-November, so I'm going to get a break from the Midwest temperatures and head to Central Florida where the Knights take on the Cowboys. Maybe I'll get in a round of golf too. Who knows, in the unpredictable Big 12, it would not shock me if there's some type of Big 12 Title Game implications for one of these teams.
Week 12: BYU vs. Oklahoma
It's a cross-country trip to BYU for the first time as the Cougars take on Oklahoma. It's a team that will likely play OU this one time and then not again for years, if ever. The BYU home crowd should be incredible, as Big 12 fans got a glimpse of last year when they hosted Baylor. Now, they get OU in late November with the snow-capped mountains in the background? Sign me up.
Week 13: Texas vs. Texas Tech (Friday)
And here we go. The last game of the regular season, and last game of the road trip, will be at Texas for their final Big 12 regular season game. It will likely be a game with Big 12 Title implications for possibly both teams, as Texas and Texas Tech should have hopes of reaching the Championship Game this season. And it's the last time Texas Tech will get to play UT for possibly years to come. So many storylines for this Black Friday match up and what a way to end the road trip!