Football
Postscripts: Texas Football's Playoff Skepticism, Apple TV's Pac-12 Future and Big 12 Chaos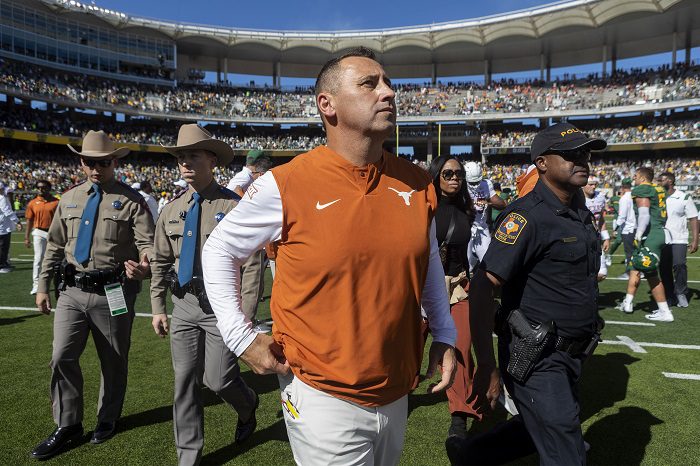 What's going on in the Big 12 and beyond? I expand and explain every Sunday (in this case, Monday) in Postscripts at Heartland College Sports, your home for independent Big 12 coverage.
This week, is Texas fixing its late-game problem, will Apple eventually take over college sports and there's a chance Big 12 football could end up truly chaotic — and we did the math to prove it.
If Texas Wants to Win Big …
Sometimes you start with a hypothesis, do the research and you realize the hypothesis you started with didn't provide the answer you were expecting.
Take Texas football.
In Steve Sarkisian's first two years as head coach I've felt one of their biggest issues is holding a double-digit lead. If you're going to be a great team, you have to shut the door when you have that kind of lead. To me, a double-digit signifies that you have some level of control over the game. The longer you maintain that lead, the better your chances of winning should be.
So I applied that to Texas the past two years under Sark. The criteria was simple — what was Texas' record in games in which it held a double-digit lead at halftime or at any point in the third quarter against Power 5 teams?
I must admit, I was expecting a terrible record. Perhaps that's the 2021 loss to Oklahoma talking. But I was surprised at the record in those games — 6-5.
So, average. In fact, Texas got better in those games from 2021 to 2022. In 2021, Sark's first season, the Longhorns went 1-3 in those games. Last season they went 5-2.
So my hypothesis was "Texas doesn't know how to manage big leads." But, after looking at the last two seasons, the Longhorns are actually getting better at it.
But it also exposes how close the margins were last season. Texas finished a game out of the Big 12 Championship Game, even though it beat Kansas State in a game in which it led 31-10 at halftime.
Beat Texas Tech — a game they lost in overtime while leading 24-14 at halftime — or Oklahoma State — a game they led 34-24 in the third quarter — and the Longhorns go to Arlington to face TCU.
Texas is a trendy pick to win the Big 12. They're certainly the most talented team in the conference. But, to this point, that talent hasn't translated to a league crown. But, from Sark's first year to second year, there was clear improvement in their ability to win games in which they led by double digits.
The next step? Win that last game or two that gets them to Arlington.
I've been picking Kansas State to win the Big 12 all offseason and I remain steadfast in that belief. ESPN wrote earlier this week that "people need to be prepared" for Texas to be a College Football Playoff team.
Ok, fine. Show me.
Can Apple Come In Through the Back Door?
Apple was foiled in its attempt to get the TV rights for the Pac-12. But, if a recent report from Front Office Sports is any indication, The Pac-12 might end up being small potatoes.
Earlier this week, someone you've likely never heard of — Wedbush Securities analyst Dan Ives — said that Apple acquiring ESPN for $50 billion would be a "no-brainer" for the company.
From there, FOS provided a solid breakdown of the pros and the cons of such a transaction.
We do know that Disney is looking for ways to bring in equity partners to help bolster ESPN, as it is seeing subscriber loss due to cord-cutting. But it also has the biggest market share of live sports around, and it has several contracts up for renewal in the next few years, including the NBA.
Imagine if Apple became even a minority partner in ESPN in the next few years and how that would change the sports broadcast landscape?
Another thing to consider is this. Last year Disney completed a transaction that made news, but only in tech circles, completing its purchase of BAMTech. This is the streaming tech that MLB actually created and was considered one of the pioneering streaming platforms.
Now think about it. It would make a lot of sense and it would change the game in sports television.
Big 12 Chaos Theory
Remember back in 2014 when the Big 12 had co-champions in TCU and Baylor but wouldn't designate a "champion" for College Football Playoff purposes? Yeah, that was probably a mistake.
If you're a long-time college football fan, you probably remember the 1994 season of the Southwest Conference. That season the top of the league was a five-way tie between Baylor, Rice, Texas, TCU and Texas Tech. That was because Texas A&M was on probation and wasn´t eligible for the league crown, despite going 10-0-1 and 6-0-1 in SWC play.
Back then, the league champ got the Cotton Bowl bid. That season it was Texas Tech. Know how the SWC broke the tie? The team that had gone the longest without going to the Cotton Bowl got the bid. Before 1994, Tech had last been to the Cotton Bowl … gulp … after the 1938 season.
So, with the Big 12 going to 14 teams, not every team playing every team and no divisions, there's the chance of a tie. There's the chance of, believe it or not, a five-way tie?
Don't believe me? Our Bryan Clinton did the math. At least the Big 12 has some solid tiebreakers. The SWC could have used those back in 1994.
You can find Matthew Postins on Twitter @PostinsPostcard.