Big 12 News
Jerome Tang: 'We Can Be The Fastest Team in the Country'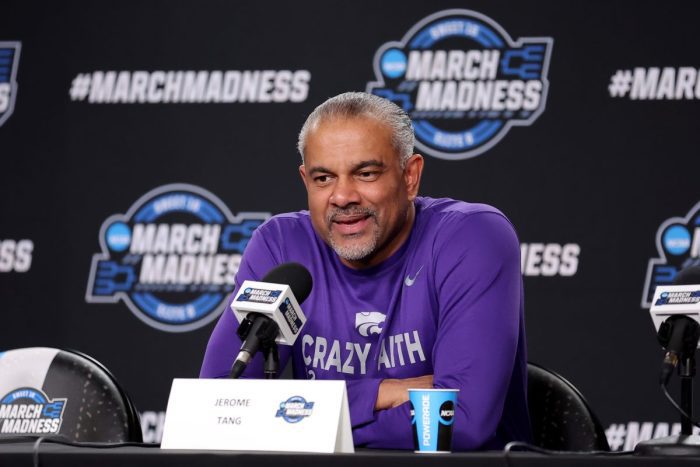 Jerome Tang addressed the media for the first time since returning from the Wildcats overseas tour in Israel, and when asked about what he learned about his team on the trip, Tang gave K-State fans something major to be excited about.
Tang mentioned that he believes that the 2023-24 squad can be the, "fastest team in the country," following the emergence of players like Nae'Qwan Tomlin, Tylor Perry, and Arthur Kaluma.
The Wildcats played three games in their recent overseas trip, coming away with wins against Israeli Select and UAE Select, and one loss in a tight contest against Mexico. Tang's squad showcased their speed in each matchup with some highlight dunks, fastbreak offense, and quick possessions, to set the tone for the group.
Senior center Nae'Qwan Tomlin is a perfect example of the range on Tang's squad, as the 6'11 forward was primarily used as a versatile guard in each exhibition match. Tomlin was joined by another returning member from last year's squad in junior guard Cam Carter, who showed off some major endurance last season playing more than 30 minutes in each of the Cats' NCAA Tournament games.
Tang's former point guard, Markquis Nowell, who set the college basketball world on fire with a historic run back in March, was one of the most used players in the country last season averaging a whopping 36.9 minutes per game. Endurance is one of the key traits of a Jerome Tang player, and while the second-year head coach has shown no shyness towards letting his players play, this years team looks more athletic than last year, and faster than ever.
Kansas State added three players in the transfer portal this offseason with the additions of Tylor Perry, Arthur Kaluma, and Ques Glover, who all saw enormous usage rates at their previous schools. While it is important to keep in mind that the team wasn't at full strength on their overseas trip with the absence of David N'Guessan and Ques Glover, the speed of this years unit speaks for itself, and oh yeah… it's only August.