Big 12 News
Oklahoma Unveils 'Schooner All-American Ale' Ahead of 2023 Football Season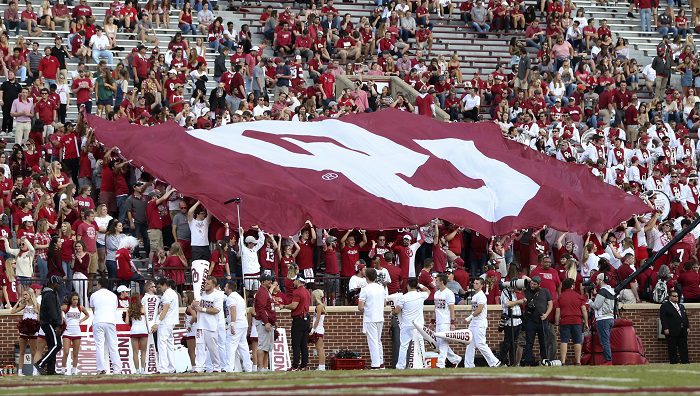 The Oklahoma Sooners have partnered with COOP Ale Works to produce the first-ever official team-affiliated beer for OU, "Schooner All-American Ale."
The Oklahoma Athletics social media team released this video on Monday morning, giving Sooner Nation their first look at the Oklahoma City-brewed ale, which is available for purchase starting today.
"Heading into the 2023-24 athletics year, OU fans across the state will be able to enjoy an officially licensed, premium craft beer made exclusively for Sooner supporters," an Oklahoma press release reads. "OU Athletics, its multimedia rights holder, LEARFIELD's Sooner Sports Properties, and licensing agent CLC announced today that they have partnered with Oklahoma craft brewery COOP Ale Works to make Schooner All-American Ale, the Official Craft Beer of OU Athletics."
"We are excited to see OU Athletics come together with COOP Ale Works to offer fans a specially branded craft beer," said Kelly Collyar, Vice President and General Manager of Sooner Sports Properties. "From the start, this has been a collaborative effort between OU Athletics and COOP's creative teams to bring this idea to life, down to every last detail. We can't wait to see fans all over the state enjoying Schooner All-American Ale this fall."
The ale is a traditional blonde with a 4.7% ABV that will serve as OU's first-ever craft beer. Sooner fans can purchase Schooner All-American Ale year-round starting on August 21 at select retailers, and is available in single-serve 16-ounce cans, 6-pack 12-ounce cans, and 12-pack 12-ounce cans.
You will also find it available in Norman on gamedays, available for purchase starting with the Arkansas State home football game on September 2, as well as at Party at the Palace before the game.