Trending Now
College Basketball Coaches Surveyed Believe UConn Should Not Join Big 12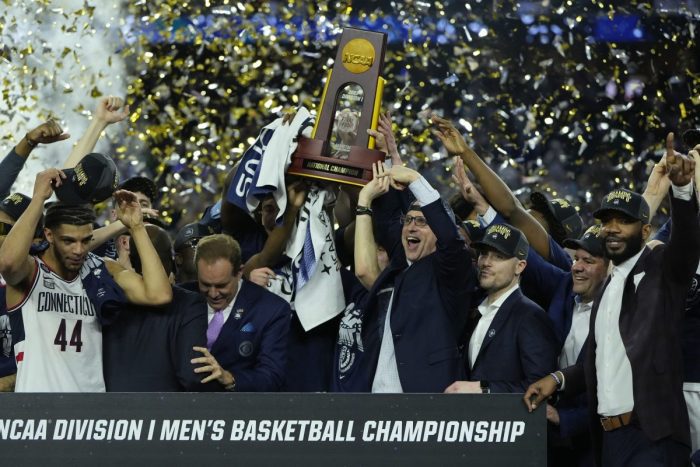 Just a month ago, there was a real chance that the UConn Huskies were going to get an invite to leave the Big East and join the Big 12, giving the conference its 14th team.
Had Arizona, Arizona State, and Utah not followed Colorado in exiting the Pac-12 for the Big 12, it would very likely have been the Huskies who completed the Big 12's membership.
If you ask college basketball coaches, that would have been a major mistake for UConn though. In a survey conducted by CBS Sports, over 75% of college basketball coaches surveyed said that UConn should stay in the Big East.
The survey, which involved roughly 100 college basketball coaches, ended with 77% saying the Huskies should stay in the Big East, and 23% saying it would be better for UConn to join another conference like the Big 12 or the ACC.
Some of the answers given though, were the most eye-opening part of the experiment.
"They should stay in the Big East," a coach told CBS Sports. "Football can never [be consistently successful to the point} where they can compete with huge college-town universities where there is no pro team to root for."
"For once, basketball should win out over football," another said. "Don't leverage the golden goose for a hope football makes it."
Some of the answers from coaches who believed they should go were equally as intriguing.
"I get that the basketball programs love the Big East, but, as a university, you have to think bigger. If they can get tens of millions more dollars per year to join a different conference, they have to do it."
"They're a little different than Gonzaga because of football. With UConn, even though the Big East is as good as it gets with their commitment to basketball, if they can add $30 million [annually] to their athletic budget [by joining another league,] I think that would be a win for them."