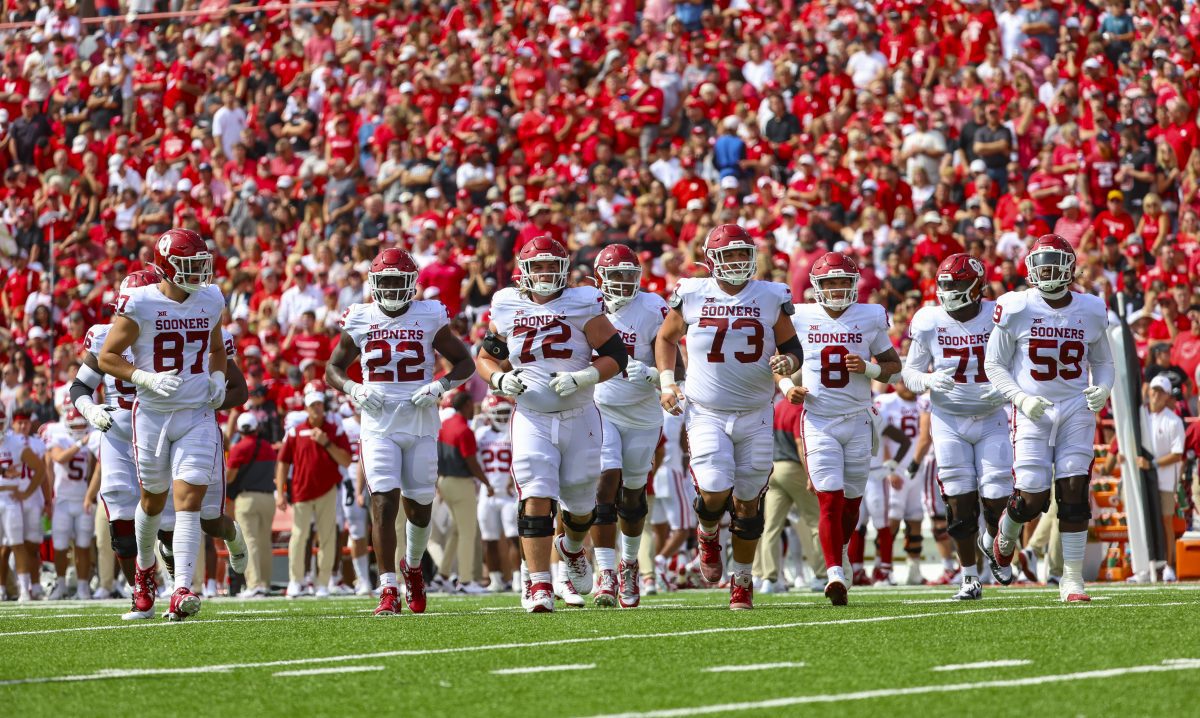 Oklahoma and great offensive line play have become synonymous over the years, with Bill Bedenbaugh serving as the architect for the Sooners' success on the line of scrimmage.
There have been several big names come through the program over the years, and there could be more than one playing up front for OU in 2023. Tyler Guyton is already garnering attention from NFL scouts and looks the part of a future first-rounder at offensive tackle at 6-7, 330 pounds.
There's another name that scouts might want to brush up on for future reference. Oklahoma guard Savion Byrd has spent each of the past two seasons in Norman, but has yet to live up to his billing as a Top 100 recruit out of Duncanville (TX).
However, it looks like that narrative might be long gone heading into 2023, as Byrd is growing into his own, both physically and technically.
"He's a mauler, man," Sooners' center Andrew Raym said on Tuesday. "If he gets his hands on you, you better start praying. But shoot, Byrd, he gets his hips and hands – he's going to be a hell of a player. He's going to move people off the line, make a lot of holes, make a lot of touchdown runs."
And it's not just his teammates seeing a difference, either.
"Savion's done a nice job. He's continuing to mature physically. He's a difference-maker at that position inside," OU offensive coordinator Jeff Lebby said. "He's gotta continue to mature and understand what we're doing inside every game plan. But proud of how he's worked himself into being a real guy at left guard."
Coming out of the spring, Byrd seemed to have one thing holding him back: his weight. At one point, he dropped to 275, making him a featherweight among the offensive guards in Norman. That's not a problem anymore though, as he's back north of three bills heading into the final stretch of fall camp.
"I weighed in this morning at 305, so it's looking really good," Byrd said. "Actually, at the beginning of summer conditioning, I was like '65, almost 270. Just staying consistent. I had to find my routine, what I'm going to eat on a daily basis. And how I'm going to eat on a daily basis. Making sure I'm timing my meals up. Staying consistent has been the biggest thing this whole summer, camp, and spring."
Putting on 30+ pounds of good weight in a matter of months isn't easy. So, how did he do it?
"Big shoutout to Carol's Kitchen," Byrd said. "They have these Oreo pancakes. These Oreo pancakes – it's like two pancakes with Oreo on the top. In the middle is cookie crumble, like, yea, you got me sweating. I like breakfast food. There is a food truck down the street on Lindsey. They sell Mexican food. They have these nacho fries, tacos. I'm in hog heaven. Not going to lie, I've been in hog heaven.
Surprisingly, putting on the weight was the hardest thing. Because I felt like I was just forcing myself to eat. But staying consistent – it just kind of works itself out. After a while, you're just like, I'm hungry as s***. Let's go eat."
Aside from his weight, Byrd has struggled with consistency in his first two seasons at OU, but something has changed. Heading into 2023, he looks primed to be a major part of Oklahoma's offensive line, and he credits faith from his coaching staff for the switch being flipped.
I would say really Venables and Bill Bedenbaugh, Schmitty — never gave up on me, never judged my character, never looked down upon me or anything like that. It was always just, 'OK, next rep, 'OK, next day,' 'OK, now let's stack days and let's be consistent.' They really did. They saw me where I was at in life and they came to me. They didn't make me go to them. They came to me. That's all the motivation I'll ever need. If I have to go pull and hit four mo**********s, I'll go do that s*** Honestly, I just love my coaches. Football itself is hard but when you have genuine love for your coaches, you just love the program. Seeing Wanya Morris and Anton go out there and do their thing, it made me like, 'Man, I want to do that,' 'I want to be an offensive lineman,' 'I want to have the love.' It's OU. I could say like toward the end of the year, everybody's like, 'Man, go lock it in. This is yours. Go take it.' You work your whole freshman year and didn't see the field. Sophomore year, you work and you work, how could you not be motivated?"