Big 12 News
Texas AD Chris Del Conte Tells Longhorns to 'Embrace The Hate'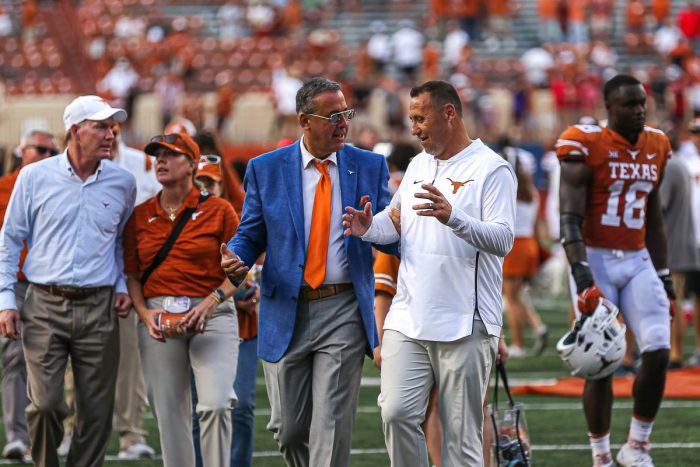 The Texas Longhorns are entering their final season in the Big 12 Conference and they know they'll get everyone's best shot in every sport.
So, what did Texas athletic director Chris Del Conte decide to do about it?
Embrace it, and that's what he wants his coaches and players to do, too, as he told Orangebloods' Anwar Richardson during his "Old Fashioned Sports Show."
"We know we have to embrace the hate this year," Del Conte said. "Everyone in the Big 12 is mad at us because they think we broke up the Big 12, they think we broke up the Pac-12, because we left. We left for what's right for the University of Texas and that is my job. That's our job as leadership to protect the brand and put ourselves in the best position to be successful. So we have the T-shirts that we gave our staff and kids (that say) 'Embrace the Hate.' That's our mantra this year."
Texas and Oklahoma will likely 'feel the hate' everywhere they go in their final season in the Big 12. Their decision two years ago to accept an invitation to the SEC had repercussions far beyond the Big 12 expanding and inviting BYU, UCF, Cincinnati and Houston this season.
It likely triggered the Big Ten's invitation to USC and UCLA to join their conference last year, and the implosion of the Pac-12.
Four more Pac-12 schools will join the Big 12 next year — Arizona, Arizona State, Colorado and Utah — while Oregon and Washington will follow the two Los Angeles-based schools to the Big Ten.
Those triggers have led the ACC to consider expansion with Cal, Stanford and SMU.
Along with embracing the hate, Del Conte also likened this season to a nostalgic stroll down memory lane with a big goal in mind.
"At the same time, it's a farewell tour and our goal — we won 12 Big 12 Championships last year, the year before we won 13 and the goal this year is to win all 20. That is our goal and for us to compete for championships. I will tell you it's my goal for Steve (Sarkisian) and that's our expectations. We know we have to embrace them."
Funny that the only coach he mentioned was Sarkisian, who just happens to lead the football team that hasn't won a Big 12 title since 2009.
After all, this realignment is primarily about football.
You can find Matthew Postins on Twitter @PostinsPostcard.