Baylor Bears
The Top 10 Big 12 Football Games for the 2023 Season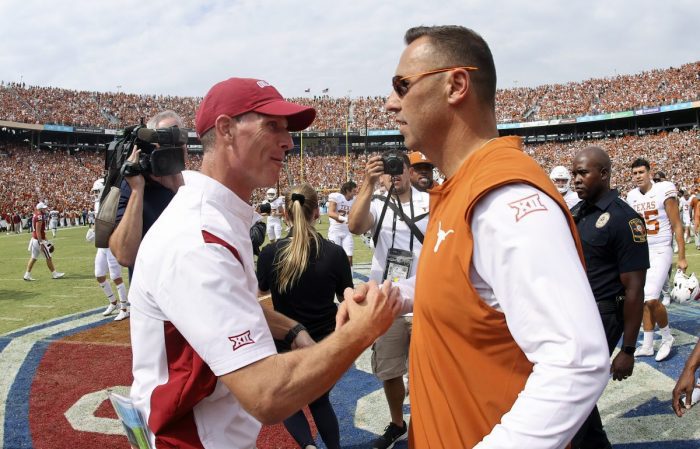 We are just days away until the 2023 college football season kicks off and the race to crown a new champion is underway. The Big 12 has welcomed four new members in Houston, Cincinnati, UCF, and BYU to join the party this year.
With four new teams, and Oklahoma and Texas still in the league, the 2023 season should be as fun a season as there has been in recent memory. Before we get to the kickoff though, I thought it would be fun to list my top ten conference games of the season.
Honorable mentions
TCU at Texas Tech (November 2nd)
Texas Tech at Texas (November 24th)
10. TCU at Houston (September 16th)
The list starts off with one of the four new members of the Big 12 Conference. It's been over a two-year wait and the time has finally come. This will be Houston's first ever Big 12 game and it's at home, which makes it even more special. I wonder how many energy drinks Dana Holgorsen will need for this one.
9. Cincinnati at BYU (September 29th)
How about a match up between two new Big 12 schools? That sounds awesome because BYU will play their first-ever conference game at home as they host Cincinnati. I imagine the atmosphere in Provo will be nuts and I have a feeling that crowd is going to be on a sugar rush between the dirty soda and cougar tails. Speaking of which, do they sell cougar tails outside the stadium too?
8. Baylor at UCF September 30th)
While this may not be UCF's first Big 12 Conference game, this is their conference opener. Out of all the new schools, I am not sure if there is a more passionate fan base than UCF and I couldn't miss out on the opportunity to go to this game in person. I want to find out just why they call it the Bounce House in Orlando.
7. Oklahoma at Cincinnati (September 23rd)
Are you catching onto the theme here? I wanted to honor the four new members by putting their conference home openers in my Top Ten. While there are some great games for the other schools, Cincinnati has the toughest conference home opener out of anyone in the entire Big 12. The Bearcats welcome in Oklahoma to Nippert Stadium and I sure hope the beer and Skyline Chili is flowing outside the stadium.
6. Kansas State at Texas Tech (October 14th)
This is going to be a very important game for both schools and will likely determine which direction they go in for the rest of the season. Kansas State plays Oklahoma State the week before and Texas Tech travels to Waco before this game. Don't be surprised to see these two teams are undefeated when this game comes around.
5. Kansas State at Oklahoma State (October 7th)
I put this game ahead of K-State vs. Texas Tech just because it comes one week earlier. This will be Kansas State's toughest game to date because there is no doubt in my mind that the Wildcats will be undefeated come October 7th. Also, the Cowboys will be 4-0 heading into this game as well. I can't wait for this one.
4. Texas at Baylor (October 7th)
Both teams will come into this conference opener with a loss. Baylor will probably lose to Utah, and I think Texas will fall to Alabama. However, this will be a good gauge of just how good Baylor is and should provide Texas with a great test as well. If Texas wins this game, then I may just become a full-time believer. If not, I have a tough time seeing them win the Big 12.
3. Kansas State at Texas (November 4th)
While I don't think Texas will go into this one unbeaten, I wouldn't be shocked to see Kansas State going to Austin at 8-0. This game right here could shake up the entire conference title race and may end up determining who will end up at Jerry World come December. It also could be a good preview of the Big 12 title game itself.
2. Oklahoma at Oklahoma State (November 4th)
If you look at the date of this one you will see that is the exact same day as the Kansas State-Texas game. I suggest that you sit on the couch all day and soak these games in from home. In the state of Oklahoma, there is no bigger game than this one and with the Sooners leaving for more money, I mean the SEC, then this could be the last time these two schools meet up for a while. I hate seeing this game go but I hope one day they can play again and leave money and feelings out of it.
1. Oklahoma vs Texas (October 7th)
I know this is going to make a lot of people upset, but I have to keep it real with you. This is the best game in the Big 12 almost every year. Not because of the records, but because it is one of the best rivalries in all of college football. The scene is incredible as you have the Texas State Fair in the background and the smell of corn dogs and beer take over. You combine that with one of the best game atmospheres in college football. The stadium is half burnt orange and half crimson and it is one of those bucket list games everyone should go to in person at least once. The Big 12 fan in me wants to hate this game, but the college football fan in me is going to miss this one dearly.