featured
Chris Del Conte is Right, Texas Should Embrace the Hate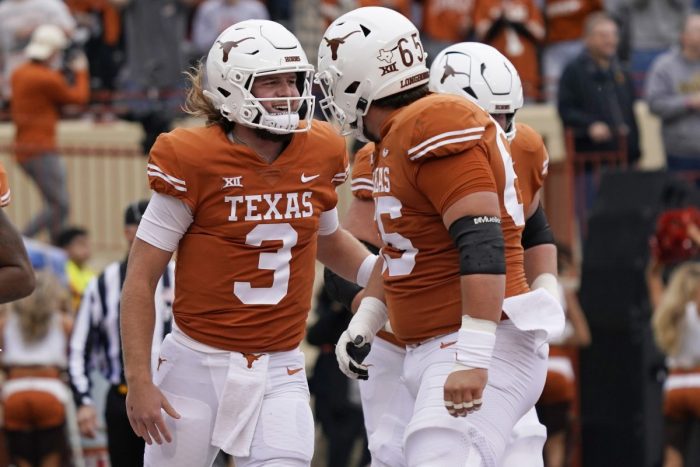 The 2023 season will be arguably the most memorable year in the history of the Big 12. Four new schools join the conference (BYU, Houston, Cincinnati, and UCF) while two schools (Texas and Oklahoma) are on their way out. But before they leave, they will be playing one more year in the conference along with the four new members.
With this being Texas and Oklahoma's final season in the Big 12, the rest of the schools in the conference are going to do everything they can to make it a miserable goodbye for both schools. Every Saturday they are going to get everybody's best shot, because everyone wants to take them down, including Big 12 commissioner Brett Yormark.
The conference commissioner was at the annual Red Raider Club kickoff luncheon in Lubbock on Wednesday, and he wasn't shy at all about his feelings toward the Texas Longhorns. "Candidly, we were able to get Texas and Oklahoma out a year early. That was a big deal for us and I think all of you," Yormark told a gathering of Texas Tech supporters. "And coach (McGuire), I'm not going to put any pressure on you, but I'm going to be in Austin for Thanksgiving, OK? And you'd better take care of business like you did right here in Lubbock last year."
Now before the Texas faithful start pointing fingers and drawing up crazy conclusions, think about the environment Brett Yormark was in. He was speaking in front of Texas Tech supporters and was clearly playing to the crowd and made a joke. Now did he probably mean it a little bit? Sure, but let's not act like Brett Yormark is going to tell Big 12 officials to screw over Texas and Oklahoma this season.
If you think the Big 12 officiated Texas and Oklahoma out of Big 12 title contention last season, then you must be crazy. Texas finished the regular season with four losses in 2022 while Oklahoma went 6-6 and had their worst season in the last quarter century. The officials and Brett Yormark had nothing to do with their poor play. If you want to blame somebody, tell your coach to look in the mirror for not getting the job done on the field.
And by the way, Brett Yormark wouldn't say this about a school that is sticking around for the future. We are talking about two teams that went behind the Big 12's back and left them for dead. It's no secret that Texas and Oklahoma are the biggest brands in the Big 12. It's been that way for a long time, and guess what? People hated them then and people still hate them now. Nothing has changed and with this being the final season for them in the conference; people are going to give them a hard time.
If the folks at Texas thought that everyone in the Big 12 was going to kiss their butt and send them off in style, then they are dead wrong. The days of doing whatever Texas wants are over. It's not 2010 anymore. Texas drove Colorado, Nebraska, Missouri, and Texas A&M away and they wonder why people hate them.
Perhaps what is even more frustrating is the lack of success on the field for Texas. Since 2010, the Longhorns have zero Big 12 football titles. Sure, they have all the swimming titles in the world, but any Longhorn fan would trade those all away in a heartbeat for just one Big 12 football title. Texas is a big brand, but they have not done anything of relevance since 2009. They have had to sit back and watch Oklahoma win a handful of conference championships which makes it ten times worse for the Burnt Orange faithful.  
My advice to Texas fans? Embrace being the villain. You have already been the villain for so long so what's another year of it? If Texas wants to silence the critics, then this is the year to do it. If you want to stick it to the Big 12 and everyone else, then show it on the field. Don't worry about what other people think and just get the job done. Texas athletic director Chris Del Conte said on Wednesday, "Embrace the hate." That statement right there should be all over the football facilities because they are going to have to not only embrace it but succeed, which is something that hasn't happened in Austin in a long time.