Big 12 News
Mike Gundy Believes Field Temperature For Opener Could Be Unsafe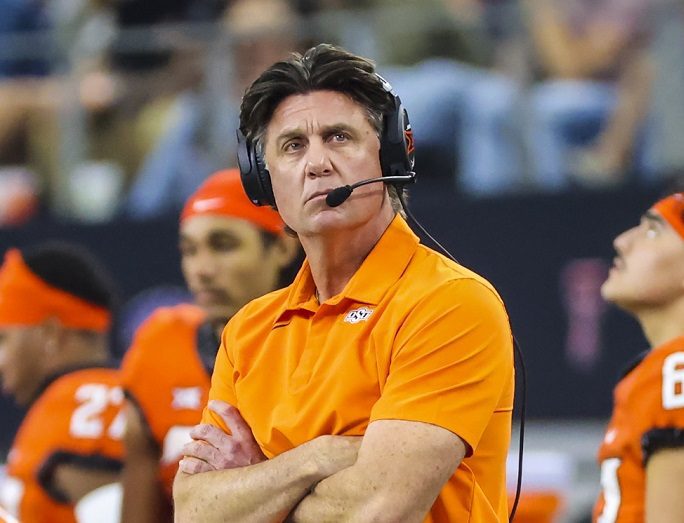 The Oklahoma State Cowboys will host the Central Arkansas Bears in their season opener on Sept. 2 at Boone Pickens Stadium.
For Cowboys fans that will be a fantastic day, the start of the 2023 college football season.
It will also be a hot day. A REALLY hot day.
With the middle of the United States gripped in a heat wave that has been relentless this summer, a look at Weather.com and the forecast for gameday in Stillwater shows a high temperature of 98 degrees with sunny skies and kickoff expected at 6 p.m.
The forecast could change, of course. But it isn't just the temperature that Cowboys head coach Mike Gundy might be concerned about.
Boone Pickens Stadium features field turf, which tends to hold more heat than natural grass. With a sunny day leading up to kickoff, the turf could heat up well above the high temperature.
Jon Walker of the Stillwater News-Press relayed an exchange with Gundy this week. Gundy noted that he expects the field temperature that day to be anywhere from 150 to 160 degrees when the game kicks off.
Walker tweeted that someone in the room said to Gundy, "That seems dangerous."
Gundy's response?
"It is."
But at least Oklahoma State is starting its game close to dusk. Two Big 12 teams — TCU and Oklahoma — are starting home games at 11 a.m. that day. TCU hosts Colorado and Oklahoma hosts Arkansas State. The difference is that both stadiums use natural grass and not field turf. So it will still be hot, but it won't hold in the heat quite like Boone Pickens Stadium might.
Texas could have the same issue. The Longhorns host Rice at 2:30 p.m.. Darrell K. Royal-Memorial Stadium uses field turf and the game temperature that day could be over 100 degrees.
You can find Matthew Postins on Twitter @PostinsPostcard.