Football
Fact or Fiction Friday: Will the Big 12 Have a Heisman Finalist?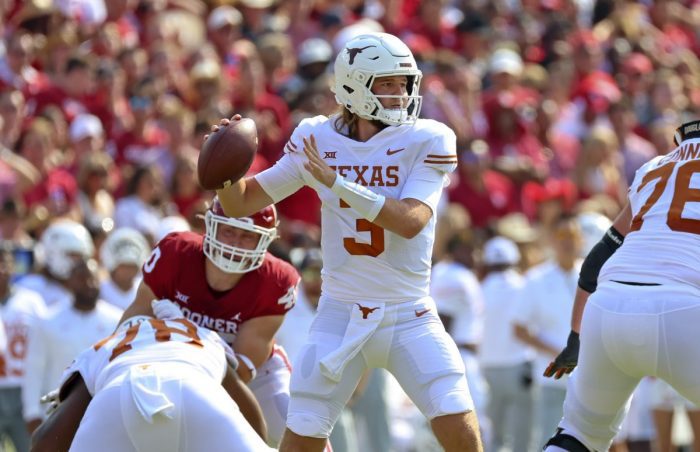 Welcome to Fact or Fiction Friday. Each Friday I give our Facebook fans an opportunity to ask the most intriguing questions in the Big 12 Conference and I will tell you whether they come true or if they are set to fail. Let's crack it open and see what we have in store this week.
UCF Surprises Everyone and Wins the Big 12
False: Out of all the new Big 12 teams coming in, I believe that UCF will have the most success in year one. However, I am not ready to crown them conference champions just yet. There is going to be an adjustment period for these new schools and most of them will likely struggle this season.
The Knights have some players I really like. Offensively they have a solid running back duo with Johnny Richardson and RJ Harvey, and they also bring back two good receivers in Javon Baker and Kobe Hudson. Some of the concerns I would have are on the offensive line and the defense outside of the front line. Also, can John Rhys Plumlee improve as a passer? UCF will finish in the top eight, but I don't see them as a true contender.
The Big 12 Will Have a Heisman Finalist This Year
False: According to BetMGM, Texas quarterback Quinn Ewers is the only Big 12 player to have top 15 odds. The net closest player is Dillon Gabriel from Oklahoma. Unless someone comes out of nowhere like last season (Max Duggan), then I seriously doubt the conference will be sending someone to New York in December. Don't get me wrong, there are some good players in this conference but none worthy enough (as of now) to  make it there.  
Kansas State Will Have More Rushing Yards Without Deuce Vaughn
Fact: Last season Kansas State had the second-best rushing offense in the Big 12. The Wildcats averaged 208.3 yards per game and that is an absurd amount. Losing Deuce Vaughn hurts but hear me out, Kansas State brings back their entire offensive line including last year's offensive lineman of the year Cooper Beebe. Those guys up front are going to pave the way for running backs Treshaun Ward and DJ Giddens. While neither guy may have the talent of Vaughn, the blocking up front should be even better this season which is why I think they could rush for even more yards.
Texas is Back
False: I have said plenty of times before that I have Texas at the top of my preseason poll. They have the team to make it to Jerry World this season. But as a program, Texas is not back. When someone talks about Texas being back, I think of the run from 2004 to 2009. In those days, Texas was playing in big time bowl games and national championships. Right now, Texas isn't a national title contender. I mean we are talking about a program that hasn't won a Big 12 title in over 12 years so no they aren't back. Let's see them win a Big 12 title before we even ask that question again.
Iowa State Wins All Their Home Games
False: Even before the gambling stuff I wouldn't have said that the Cyclones go unbeaten at home. And now with key players gone, I am not even sure if they will win half of their home games. This season Iowa State will host Northern Iowa, Iowa, Oklahoma State, TCU, Kansas, and Texas. I am sorry to disappoint Iowa State fans here, but I only see them winning two out of their six home games this season.
West Virginia Will Exceed Preseason Expectations
Fact: Back in July, I picked West Virginia to finish dead last in the Big 12. I know Neal Brown wasn't happy with the media and he mentioned several times about his team having a chip on their shoulder. I like that kind of fight and passion, but I still don't think West Virginia is a top ten Big 12 team. The defense was a disaster last season, and I have plenty of questions offensively for them outside of that offensive line. Their best bet is having a good ground game and controlling the clock. While I don't think West Virginia will finish in the bottom three now, I just don't see this 2023 team doing enough to save Neal Brown's job.