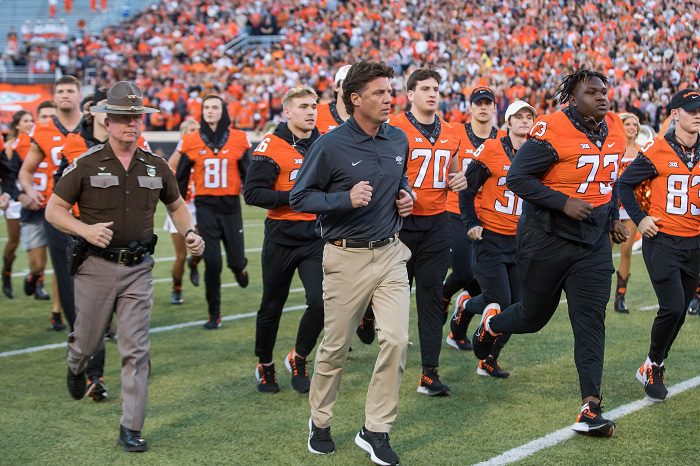 Here is everything you need to know ahead of the matchup between the Oklahoma State Cowboys and the Central Arkansas Bears.
GAME INFO
Saturday, September 2nd; 6:00 PM (CT); Boone Pickens Stadium; Stillwater, Oklahoma
TV: ESPN+
Radio: Cowboy Radio Network, Dave Hunziker, John Holcomb, and Robert Allen.
2022 Records: Oklahoma State 7-6, Central Arkansas 5-6
Rankings: N/A
Series History: Oklahoma State Leads Series, 1-0
Last Meeting: Oklahoma State 32, Central Arkansas 8 (2015)
Spread: N/A
Fun Fact: The last time these two teams met, four teams in the Big 12 Conference crossed the 10-win threshold with Oklahoma, TCU, Oklahoma State, and Baylor all finishing in the AP Top 25.
KEY PLAYERS
OKLAHOMA STATE
QBs ALAN BOWMAN/GARRET RANGEL/GUNNAR GUNDY
While Mike Gundy has yet to officially announce a starting quarterback, the combination of Alan Bowman, Garret Rangel, and Gunnar Gundy is going to be a key area to watch when the Cowboys take the field for the first time. While I fully expect Michigan transfer Alan Bowman to lead the charge for Gundy's squad, week one could provide a big dose of playing time for each quarterback on the roster. It's tough to say if the matchup with Central Arkansas will showcase one of the three as the standout favorite in the quarterback battle, but with Mike Gundy expecting to use multiple QBs this season, Cowboys fans will be in for a treat.
DE COLLIN OLIVER
Collin Oliver is a player to watch for a reason. The junior pass rusher has been an absolute beast in his first two seasons of college football racking up a total of 16.5 sacks and 57 tackles. Oliver is already being viewed as a middle-round NFL player by multiple scouts, and with another year of production under his belt in 2023, the Oklahoma native could improve his stock as one of the nation's best pass rushers. Look for him to come out swinging in his first game of the season.
CENTRAL ARKANSAS
QB WILL MCELVAIN
While Central Arkansas may not have the roster to compete with Oklahoma State on paper, senior quarterback Will McElvain has the ability to put up some points. McElvain finished off his 2022 season with an impressive quarterback rating of 143.7, throwing for 2,592 yards, and a touchdown to interception ratio of 18 to eight. The Iowa native has a big arm and is not shy about throwing the deep ball which could hurt Oklahoma State and put the Cowboys' defensive backs in limbo.
DE LOGAN JESSUP
The Bears have a solid edge rusher on the opposite side of the ball in senior defensive end Logan Jessup. Jessup recorded four-and-a-half sacks in 2022 as well as a forced fumble and 20 total tackles. He was named to the First-Team Fall All-Southland Conference Team as a defensive end in 2020, a Preseason All-ASUN selection in 2021, First-Team All-ASUN in 2021, and was listed as a member of the 2021 ASUN All-Academic Team. Jessup could make some noise on the outside as he attempts to corral three different Cowboy quarterbacks.
KEY STORYLINES
OKLAHOMA STATE
Was last season a fluke? How will Mike Gundy's squad respond after losing multiple players in the transfer portal this offseason? While we may not find the immediate answer to these questions in the first game of the season alone, September 2nd will be a great opportunity to see the trajectory of the team. While the game could feature three different options under center, the likelihood of the Cowboys taking care of business feels like a safe bet, but who knows? Stranger things have happened.
CENTRAL ARKANSAS
Does Central Arkansas have enough talent to be competitive? With a match between an FCS team and an FBS team, it takes a special group to compete with the big dogs of college football. While I do believe that Will McElvain is a stud, this team would have to make some serious leaps in order to pull a fast one over on Mike Gundy. Oklahoma State had to replace both safety positions in the transfer portal this offseason, and if the Bears receivers can find a way to take the top off of the defense, Central Arkansas could put together some splash plays.
PREDICTION: OKLAHOMA STATE 34, CENTRAL ARKANSAS 12
While I do like some aspects of the Bears roster, Oklahoma State isn't losing their season debut. I think each quarterback for the Cowboys will put together some solid drives, but with three different players potentially taking snaps under center, I expect the score to be a bit lower than most. Central Arkansas will most likely find some big plays in the passing game for big scores, but with the game out of hand early, the two-point tries will be plentiful yet unsuccessful. The Cowboys earn their first win of the season over the Bears while also managing to leave several questions unanswered.