Baylor Bears
Ranking Big 12 Football Coaches on the Heat Seat Heading Into the 2023 Season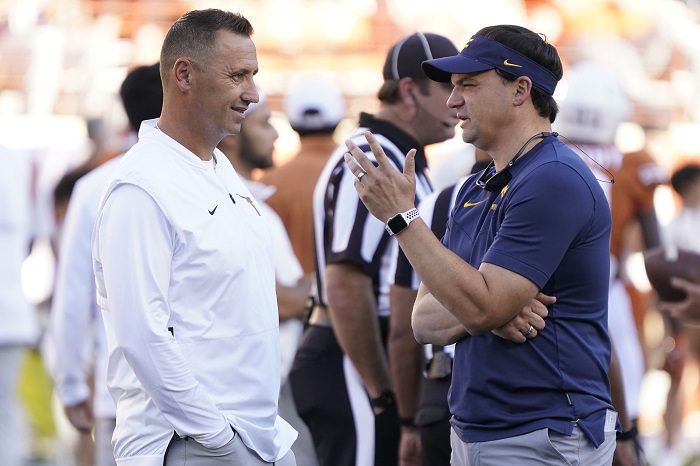 The Big 12 football season is just days away and for some coaches it means their final opportunity to prove they're "the guy" for the job at their program. In the Big 12, there are four tiers of coaching hot seats: Safe, Simmer, Warm and Red Hot.
So let's get to each of the 14 Big 12 coaches ahead of the 2023 college football season.
Safe
Matt Campbell, Iowa State
Iowa State had its worst season under Matt Campbell last season, and this year may not be much better. However, Matt Campbell has still achieved things never done in Ames and there's no way he can be considered anything but "safe" at Iowa State.
Chris Klieman, Kansas State
One year ago he might have been in the "simmer" category, but when you win a Big 12 Championship, that changes everything. Klieman is proving his rebuild of this program is paying off with its depth and talent development. He's turning into exactly what K-State fans hoped he would and its fun to watch.
Lance Leipold, Kansas
How much needs to be said? Leipold took Kansas to a bowl game in his second season for the first time in 14 seasons. KU is putting money into the football facilities, showing that the donors and athletic department have full faith in Leipold continuing to rebuild this program.
Mike Gundy, Oklahoma State
Gundy is the longest-tenured coach in the conference is defines everything that is Oklahoma State football. Granted, last year ended on a sour note and second half, but Mike Gundy isn't going anywhere and is still just one season removed from a Big 12 Championship appearance (and one yard from a win) and a Fiesta Bowl victory.
Joey McGuire, Texas Tech
McGuire had a solid first season in Lubbock, highlighted by an early-season victory over Texas. McGuire now heads into Year 2 with expectations that he should have Tech in the Big 12 Title hunt down the home stretch. The head coach admitted as much to Jim Rome this week. He's as safe as a second-year head coach can be.
Sonny Dykes, TCU
Did I just say McGuire is as safe as a second-year coach can be? Well, nevermind. Obviously no one can be safer in Year 2 than Sonny Dykes, who is coming off an improbable trip to the National Championship. No more needs to be said.
Scott Satterfield, Cincinnati
Satterfield is entering his first season at Cincinnati after a four-year stretch of .500 football at Louisville. Whether or not he's the answer remains to be seen, but he can't be anything but "safe" with a 0-0 record.
Kalani Sitake, BYU
Sitake is entering his eighth season in Provo and is in charge of transitioning this program from independence to the Big 12. Overall, he's 56-34 as head coach, including two 10-win seasons the last three years. The Cougars went 8-5 last season and while there is likely to be a transition to the Big 12, Sitake has proven enough to have a long leash.
Gus Malzahn, UCF
Gus Malzahn enters his third season at UCF after back-to-back nine-win campaigns. He's recruiting on a level that UCF never has before and has this team primed to make a great transition to the Big 12 Conference. I'm not ready to call UCF "contenders" yet, but they will be competitive right away and will win games many won't expect.
Simmer
Dave Aranda, Baylor
Aranda has had an up-and-down three seasons in Waco. After going 2-7 in his first year on the job, Aranda led the Bears to a Big 12 Title in Year 2, and then with sky-high expectations last season, including expectations of winning back-to-back Big 12 Championships, the Bears went 6-7 in 2022. Aranda isn't on the hot seat, that's not fair, but to suggest he's "safe", is too much, at least in my book.
Warm
Steve Sarkisian. Texas
Steve Sarkisian is entering a critical Year 3 before the Longhorns move to the SEC. After going 5-7 in Year 1, Texas improved to 8-5 in Year 2. This Texas roster is by far the most talented in the Big 12, so anything short of a Big 12 Title will be a disappointment. And depending on if, and by how much, Texas falls short, will determine Sark's future in Burnt Orange.
Brent Venables, Oklahoma
There was no more disappointing team in the country last season than Oklahoma. The Sooners went 6-7 for their worst season in nearly 25 years. Venables and this staff believe they have the right guys to turn around the program, but another average season will have a larger portion of OU fans wondering if they have the right guy to make the SEC transition.
Dana Holgorsen, Houston
Dana Holgorsen is no stranger to the Big 12, but now he has to prove his move to Houston is justified by consistent winning at the next level. No one is expecting it to happen right away, but his leash shouldn't be that long. In 2021, Holgorsen went 12-2, but in his other three seasons he's won four, three (COVID year) and eight games last season. Holgorsen has insinuated he left WVU for Houston because of the proximity to talent and potential to win big. Well, his time is now coming to prove that is the case.
Red Hot
Neal Brown, West Virginia
Well, Neal Brown is alone in the "hot" category, and rightfully so. Brown was left with a rebuild by Holgorsen, but he's entering Year 5 and there's no sign things are improving. Brown is 22-25 and 14-21 in Big 12 play. He has yet to finish conference play with a record above .500. It's now or never for Brown in 2023, and he knows it.