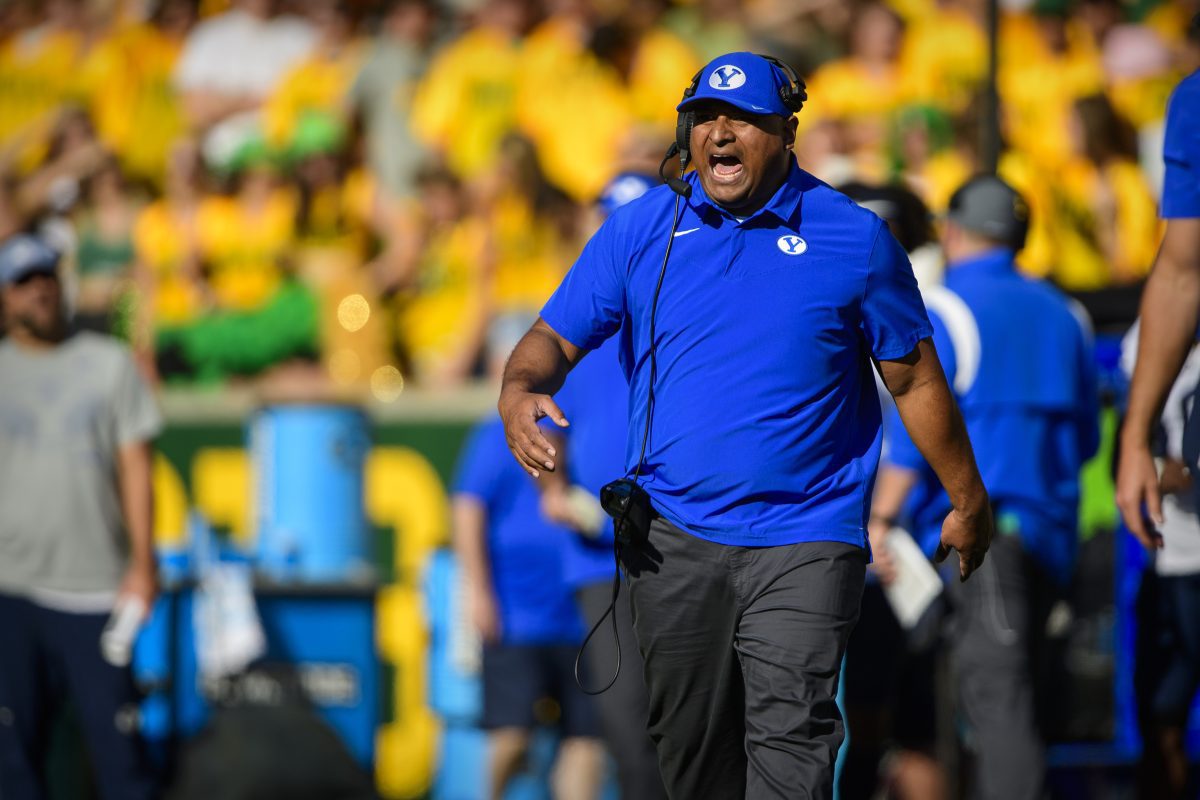 Here is everything you need to know ahead of the matchup between the BYU Cougars and the Sam Houston Bearkats.
GAME INFO
Saturday, September 2; 9:15 p.m. (CT); LaVell Edwards Stadium; Provo, Utah
TV: FS1
Radio: KSL News Radio 102.7 FM/1160 AM
2022 Records: BYU, 8-5; Sam Houston, 5-4 (FCS Independent)
Rankings: Neither team is ranked.
Series History: BYU and Sam Houston have never met in football.
Last Meeting: BYU and Sam Houston have never met in football.
Spread: N/A
Fun Fact: BYU is one of four new members of the Big 12. But, the Cougars have been in four other conferences for football — the Rocky Mountain Athletic Conference (which is now a Division II conference), the Skyline Conference, the Western Athletic Conference and the Mountain West Conference. The Cougars left the MWC after the 2010 season to be an independent in football. The rest of its athletic teams were members of the West Coast Conference.
KEY PLAYERS
BYU
QB KEDON SLOVIS
To many, Slovis seems to be a well-traveled quarterback. But he spent his first three seasons at USC (2019-21), where he became an instant starter due to injury and was a 2020 All-Pac-12 First Team selection. After the 2021 season — and the hiring of former Oklahoma coach Lincoln Riley — Slovis decided to transfer. Eventually, he ended up at Pitt and he threw for 2,397 yards with 10 touchdowns and nine interceptions. By transferring to BYU, he gives the Cougars a player with Power 5 experience and the Cougars give him an offense that is well-suited to his abilities.
LB MAX TOOLEY
Tooley should be one of the Cougars' most productive defensive players once again in 2023. Injuries limited him to just seven games last season, but he still ended up as BYU's fourth-leading tackler and tied for the lead in interceptions with 57 stops (33 solo), two tackles for loss, a sack, quarterback hurry, forced fumble, pass breakup and three interceptions with 67 return yards, including two for touchdowns. Believe it or not, he is the team's active leader in interceptions. He could put up impressive numbers with a full season of work.
SAM HOUSTON
WR IFE ADEYI
Ideyi has been with Sam Houston since 2019, so he's one of the Bearkats in the locker room with a national championship ring as a result of the team's 2021 FCS national championship victory. He can't be judged off last season's 12 receptions while the Bearkats were an FCS independent. He played in just four games. 2021 is a better barometer. He had 54 catches for 747 yards and 10 touchdowns in that national title run. He should be a prominent part of the offense this season.
LB KAVIAN GAITHER
No intrigue here. The Cougars have to account for him on every play. He was the WAC Defensive Player of the Year in 2022 and a Buck Buchanan Award finalist, which is given to FCS's top defensive player. He also earned All-WAC First Team honors. For the season he had a team-leading 79 tackles with 11.5 tackles for loss, three sacks and an interception.
KEY STORYLINES
BYU
The Cougars have done well as an independent the past decade or so. In the last three seasons head coach Kalani Sitake has led the Cougars to a 29-9 record. But the Big 12 will provide an upgrade in scheduling, something the Cougars have not experienced since they were members of the Mountain West Conference. Looking back, the Cougars didn't have a losing league season in their final five years in the MWC, including two undefeated seasons and a 7-1 season. That's unlikely to happen in their first season in the Big 12, but it's a glimpse of what the program has been and what it could be, given the proper time to develop.
SAM HOUSTON
Sam Houston has been one of the best FCS programs for more than a decade, and in the spring of 2021 they reached the pinnacle of that division by winning a national championship. Shortly after that the Bearkats accepted an invitation to join Conference USA, which required a move to FBS. So, last season the Bearkats were an FCS independent, even though they played mostly a WAC schedule (their previous conference). They're led by one of the best FCS coaches in history in K.C. Keeler, who also won a national title at Delaware and has won 259 games.
PREDICTION: BYU 47, SAM HOUSTON 14
BYU is looking for a good start to its season. Sam Houston is looking for a fat paycheck. Everyone goes home happy.