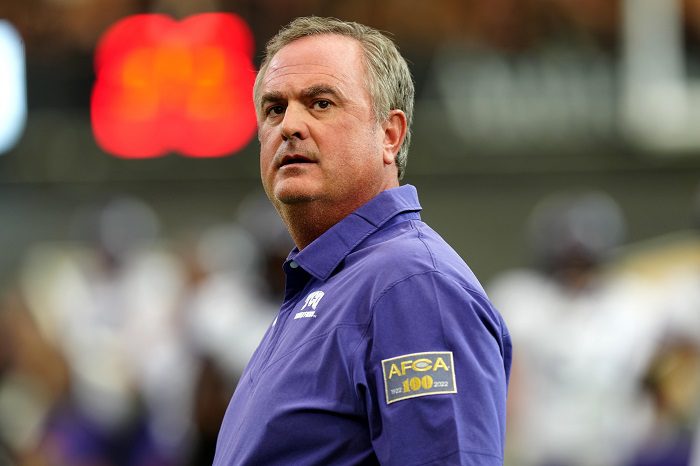 Here is everything you need to know ahead of the matchup between the TCU Horned Frogs and the Colorado Buffaloes.
GAME INFO
Saturday, September 2; 11 a.m. (CT); Amon G. Carter Stadium; Fort Worth, Texas
TV: Fox
Radio: Horned Frogs Sports Network, Brian Estridge, Landry Burdine, Chris Blake
2022 Records: TCU, 13-2, Colorado, 1-11
Rankings: TCU, No. 17 (AP); Colorado, not ranked.
Series History: TCU Leads Series, 1-0
Last Meeting: TCU 38, Colorado 13 (2022)
Spread: TCU -20.5
Fun Fact: You may have heard this already, but come next year this has the potential to be a conference game as Colorado, along with Arizona, Arizona State and Utah, join the Big 12.
KEY PLAYERS
TCU
QB CHANDLER MORRIS
The Chandler Morris era begins … again. Last year Morris won the starting job coming out of fall camp, started the Horned Frogs' opener against Colorado and got hurt. That paved the way for Max Duggan to return to the starting job and … well … you know the rest. Morris is the son of former Arkansas head coach Chad Morris and TCU coach Sonny Dykes and new offensive coordinator Kendal Briles run the kind of offense that should suit Morris' style. But, this is Morris' fourth year of college football and he's thrown just 108 passes. It's his job and as long as he doesn't get hurt, it's his job to lose.
LB JOHNNY HODGES
Hodges transferred in from Navy before last season and made himself indispensable to TCU's run to the College Football Playoff. The Big 12 Defensive Newcomer of the Year was also Second-Team All-Big 12. He led TCU with 87 tackles last season, which was the most by a Horned Frog since Garret Wallow had 90 in 2020. He was third with 9.5 tackles for loss and he started 14 games. The only game he missed was the Big 12 Championship Game due to injury. He did all of that as a sophomore. As a junior, he could be this defense's unquestioned leader.
COLORADO
QB SHEDEUR SANDERS
Yes, he's the son of the head coach, Deion Sanders. Yes, he transferred in from Jackson State, an FCS school. But his numbers are hard to ignore. In two years at JSU he threw for 6,983 yards and 70 touchdowns with just 14 interceptions, while adding 157 yards and nine rushing touchdowns. He helped the Tigers to two straight SWAC championships, a 23-3 record and he was a finalist for the Walter Payton Award, given to FCS's best offensive player. Moving to FBS is a step up, for sure. But Sanders has talent and that's clear from two seasons at JSU.
S TREVOR WOODS
He's one of the few holdovers from last year's one-win team, and the Buffs will be glad to have him. Last season as a sophomore he had 66 unassisted tackles, 84 total tackles, two tackles for loss, eight third down stops, two forced fumbles, five pass break ups and one interception in 10 games. He'll play alongside Shilo Sanders, another son of Deion Sanders, in a remade Colorado defense that the Buffs hope can create turnovers and make big plays.
KEY STORYLINES
TCU
Look, last season was magic. No one expected 13-2 and a berth in the CFP championship game in Dykes' first year. But it happened and it was beautiful but it's time to move on. The goal now is for the Horned Frogs to be a consistent winning team that can contend for the top of the Big 12 each season. To do it, the team has to transition from players like Duggan and running back Kendre Miller to players like Morris. The Horned Frogs had nice continuity from last year to this year. It's one of the big advantages going into this game — the Horned Frogs know who they are, even if some of the players have changed.
COLORADO
Deion Sanders is the head coach. He brought his sons with him. He brought his luggage with him. And he turned over pretty much the entire roster. At Jackson State he proved he could recruit, coach and turn a program around. Can he do it again at the FBS level? He made quality coaching hires, most notably luring Kent State head coach Sean Lewis to be his offensive coordinator. But, on gameday, it's about the players. Has Sanders recruited enough quality talent to compete with TCU? Chemistry is going to be a huge key early this season.
PREDICTION: TCU 38, COLORADO 21
I hate to even offer a prediction. We know plenty about TCU. We know practically nothing about Colorado, given what Sanders has done to the program. It's such a drastic change Dykes said he isn't even going to watch Colorado tape. I think the game will be close early as Colorado will play with its hair on fire. But as the game wears on, TCU's overall talent and team chemistry helps them pull away.