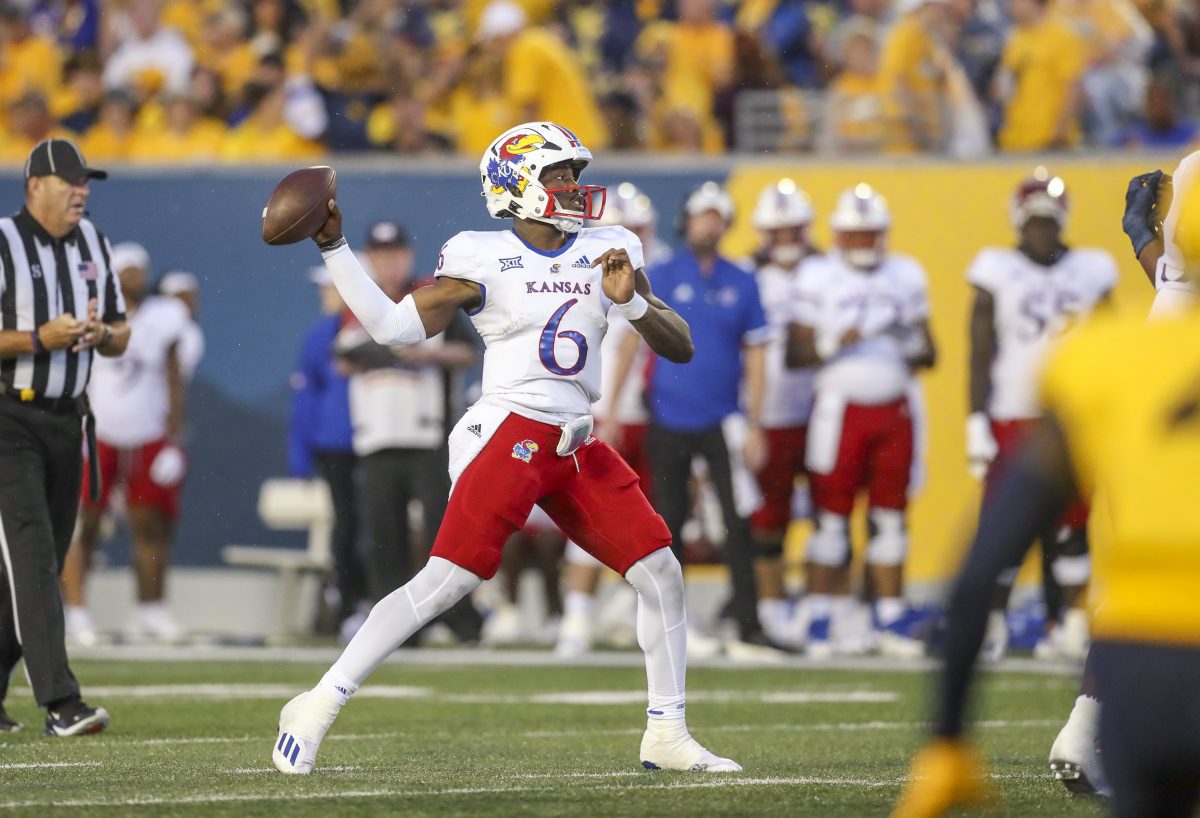 Here is everything you need to know ahead of the matchup between the Kansas Jayhawks and the Missouri State Bears.
GAME INFO
Friday, September 1st; 7:00 PM (CT); David Booth Kansas Memorial Stadium; Lawrence, Kansas
TV: ESPN+
Radio: Jayhawk Sports Network, Brian Hanni
2022 Records: Kansas 6-7, Missouri State 5-6
Rankings: Neither team is ranked.
Series History: Kansas and Missouri State have never met in football.
Last Meeting: Kansas and Missouri State have never met in football.
Spread: N/A
KEY PLAYERS
KANSAS
QB JALON DANIELS
Here's the thing about Kansas QB Jalon Daniels, no one is disputing his talent. Daniels was picked as the Big 12 Preseason Player of the Year in the recent Big 12 Media Poll for a reason, and while I don't expect the Jayhawks to need peak Daniels to take down Missouri State, he absolutely has to stay healthy. Daniels is driving the bus for the Jayhawks and has all of the talent needed for this team to get back to a bowl game in 202. If Daniels gets banged up against the Bears and starts off a little slower than expected, Kansas' season could be drastically altered. As Daniels is reportedly dealing with back tightness heading into the season, I think it would be very wise of Lance Leipold to give Jason Bean some snaps if the game gets out of hand.
LB RICH MILLER
Full disclosure, Kansas' defense last year was bad. Outside of a few big names like Cobee Bryant, Daniel Wise, Lonnie Phelps, and Rich Miller, the unit struggled to get teams off of the field. Kansas lost both Wise and Phelps to the NFL Draft, and while Lance Leipold hit the transfer portal hard in the offseason, senior linebacker Rich Miller is going to have to answer the call. Miller finished off his 2022 campaign with 94 total tackles, one sack, and one interception for the Jayhawks, and while Miller could be seen flying around the field last year, the unit was one of the worst in the league. Missouri State's offense shouldn't be much of a test for the unit, but if Miller can set the tone early by showcasing the defensive effort needed this season, Kansas could make a run in the Big 12.
MISSOURI STATE
RB JACARDIA WRIGHT
If that name sounds familiar to you, it should. Jacardia Wright is a former Kansas State Wildcat who transferred to Missouri State after his junior season. Wright is an explosive playmaker from Illinois who made the switch from Manhattan Kansas to Springfield Missouri and led the Bears with 156 carries for 711 yards and ten total touchdowns. If Missouri State's offensive line can find some wins in the trenches against the Jayhawks' new defensive line, Wright could show up and make some plays.
DL JALEN WILLIAMS
Missouri State defensive lineman Jalen Williams had a really solid 2022 campaign. He was one of the best members of the Bears' defensive line group last season and finished off with 17 total tackles, four sacks, and one forced fumble. While Jalon Daniels is one of the most mobile quarterbacks in the country if Jalen Williams can find a way to get off the ball quickly, he could highlight a problem area for Kansas.
KEY STORYLINES
KANSAS
How will Kansas handle the non-conference schedule? While Kansas' first game against Missouri State may not be the toughest week one opponent, they face a brutal draw in the non-con with a game against Illinois on blank. If Lance Leipold's group looks past the Bears to focus on week two, Missouri State could catch the Jayhawks off guard and make this a tricky game. Kansas has been getting a lot of hype this offseason from fans, deservedly so with a new direction under Lance Leipold, and if Kansas plans to make a run to a bowl game in 2023, it starts with dominating the non-con.
MISSOURI STATE
I think Missouri State's running back situation is a really interesting matchup with Kansas. Senior RB Jarcardia Wright knows Kansas well after playing in three straight Sunflower Showdown matchups from 2019-2021, and while that may not change a ton in terms of the on-the-field strategy, Wright may have some idea of how to best attack the Jayhawks' defense. If Kansas' defense gets off to a lackluster start in slowing down Missouri State's offense, this game could be a bit too close for comfort for Big 12 fans.
PREDICTION: KANSAS 31, MISSOURI STATE 10
While week one matchups usually finish in blowout fashion one way or another, I actually like the first quarter/half of the game to be semi-competitive. I do think Kansas will handle business in the second half but could experience a slow start before turning things up a notch. I fully expect Missouri State to score at least once in the rushing game but not be able to stack up to Kansas' secondary of veterans. Kansas rolls into week two after scoring three touchdowns in the second half.