Texas Longhorns Sports
Steve Sarkisian on Brett Yormark Joke: 'I Got a Letter About Sportsmanship A Day Before That Speech'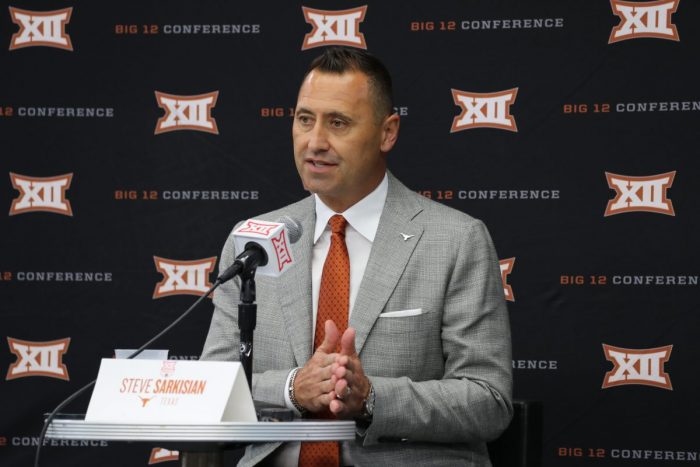 While Big 12 Commissioner Brett Yormark made headlines this week by telling Texas Tech head coach Joey McGuire to "handle business" when playing the Longhorns in Austin, Texas HC Steve Sarkisian chimed in on the situation with a funny response.
Sarkisian mentioned in response to the commissioner's comments saying, "I got a letter from the commissioner about sportsmanship the day before that speech." He then joked that he wouldn't be extending an invite to commissioner Yormark for Thanksgiving dinner at his place.
Yormark's full comments broke at Texas Tech's official media day where he addressed the team and Red Raiders fans saying, "Candidly, we were able to get Texas and Oklahoma out a year early. That was a big deal for us and I think for all of you. And coach, I'm not going to put any pressure on you, but I'm gonna be in Austin for Thanksgiving, and you better take care of business like you did right here in Lubbock last year."
While Yormark's remarks have been a big topic of conversation over the last few days, Steve Sarkisian mentioned that he doesn't want to make the situation any bigger than it already is.
The two teams clashed last season and gave us one of the best games of the 2022 season with the Red Raiders pulling out a major win over the Longhorns in overtime, 37-34. With an increased focus on the rivalry between the two Texas schools due to Yormark adding some extra gas to the fire, November 24th is going to be a big date for more than just Thanksgiving.