Big 12 Previews
Cincinnati vs. Eastern Kentucky: Preview, Prediction, and Game Odds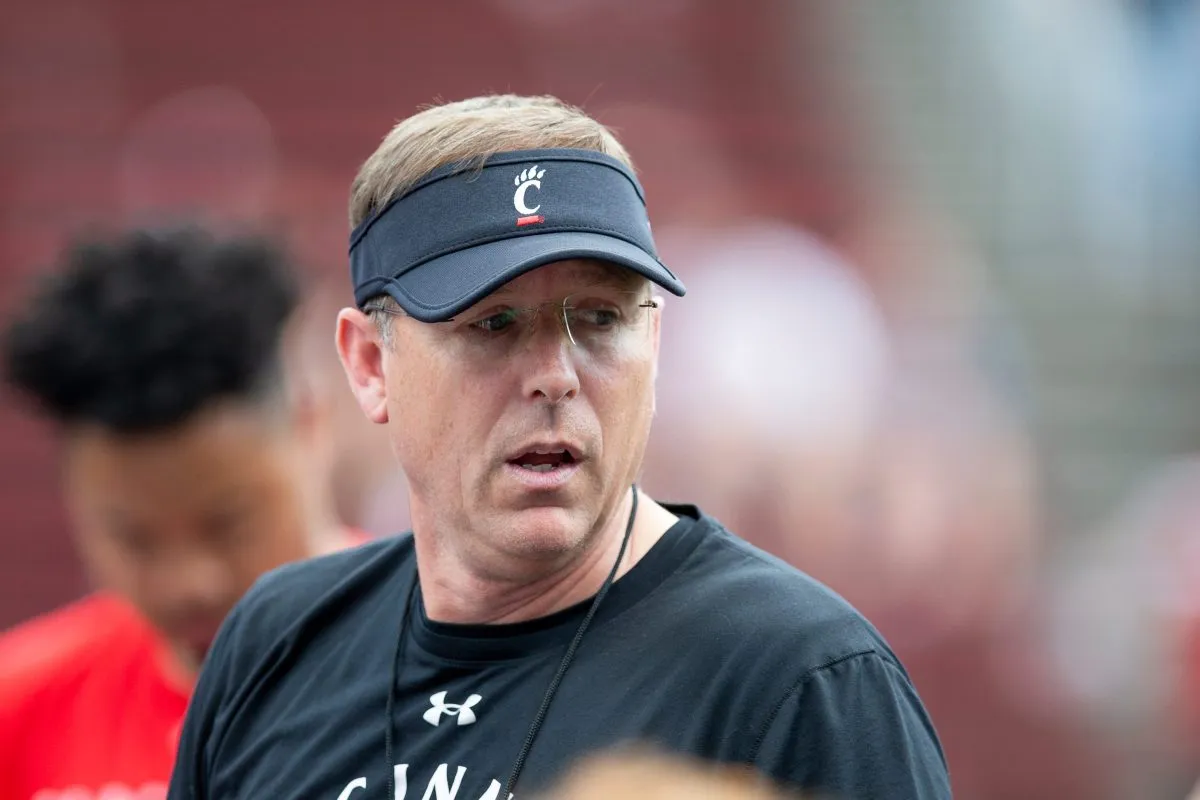 Here is everything you need to know ahead of the matchup between the Cincinnati Bearcats and the Eastern Kentucky Colonels.
GAME INFO
Saturday, September 2; 2:30 p.m. CT; Nippert Stadium; Cincinnati, Ohio
TV: ESPN+
Radio:
2022 Records: Cincinnati 9-4 (6-2 AAC) Eastern Kentucky 7-5 (3-2 ASUN)
Rankings: N/A
Series History: Cincinnati and Eastern Kentucky have never met in football
Last Meeting: Cincinnati and Eastern Kentucky have never met in football
Line: N/A
Fun Fact: The matchup between Cincinnati's offense and Eastern Kentucky's defense will be a completely different look from the previous year as 15 of the 22 players on the field will be new to the starting lineup (Cincinnati 7, Eastern Kentucky 8).
KEY PLAYERS
CINCINNATI BEARCATS
QB EMORY JONES
Arizona State transfer quarterback Emory Jones is the key to Cincinnati's season. While the Bearcats likely will find themselves behind the ball in terms of readiness to compete in year one as a member of the Big 12 Conference, if Emory Jones can take a big step forward in 2023 and solidify himself as a top-tier quarterback in the league, Scott Satterfield's squad could shock people. Jones is a veteran quarterback at the Division 1 level who heads to Cincinnati with 4,880 passing yards in his career to go along with 1,304 rushing yards, and 47 total scores. While it may sound dramatic to say Jones has to be Cincinnati's savior this season, I also don't think it's that far from the truth.
DL DONTAY CORLEONE
Dontay Corleone, the man so good he has a pizza named after himself. Corleone was named to the First Team All-Big 12 Preseason team by members of the media earlier this offseason and has quickly become one of the best interior defensive linemen in the league despite the fact that he hasn't taken his first snap in the Big 12 yet. The blank native was a menace in his freshman season with the Bearcats recording 44 tackles, three sacks, and two forced fumbles in 2022. He now looks to make his presence felt in the Big 12 as the anchor for the Bearcats' solid defensive line unit.
EASTERN KENTUCKY COLONELS
QB PARKER MCKINNEY
Anytime a player accounts for nearly 5,000 yards of total offense and 40 touchdowns in a single season, it's probably a safe bet to assume that he's going to be a player to watch. McKinney enters 2023 as one of the most underrated passers in the nation following his 2022 campaign where he threw for 3,956 yards, and finished with a touchdown to interception ratio of 33-8. McKinney added more scores on the ground last season to solidify what can only be viewed as an outstanding senior season for the Tennessee native. McKinney enters 2023 with 9,723 passing yards, 1,446 rushing yards, 94 total touchdowns, and 32 interceptions over his career. Watch out.
LB LOGAN BLAKE
The elephant in the room for Eastern Kentucky is the fact that the squad only returns three starters on the defensive side of the ball from the previous season. blank linebacker Logan Blake was one of the top off-season acquisitions for the Colonels and if the relatively new bunch is going to have a shot to slow down a dual-threat playmaker like Emory Jones, Blake will have to be on his A-game. Blake was one of the top players in the NAIA at Marian College last season and earned some major honors with the Knights. Blake was named an NAIA AFCA Honorable Mention All-American, and an MSFA Mideast Co-Defensive Player of the Year. He ranked in the top 100 in the NAIA for total tackles with 74 tackles, 13.5 tackles for loss, four sacks, and three interceptions, all while setting Marian's career record for interceptions returned for touchdowns.
KEY STORYLINES
CINCINNATI BEARCATS
Cincinnati has a brutal draw with Pitt as the second game of the non-conference schedule, and while I do think that Satterfield's squad should handle the Colonels with relative ease in Week One, if the team starts to look ahead to Pittsburgh during game week, a veteran quarterback like Parker McKinney could make things difficult early. Cincinnati doesn't have many supporters who believe that they will be able to compete in year one, as shown in the recent Big 12 Media Preseason Poll where UC was picked to finish 13th, earning a solid win and getting experience for the young squad would go a long way in the team's non-conference schedule.
EASTERN KENTUCKY COLONELS
This game is a big moment for Parker McKinney. While the matchup is going to be tricky to handle, McKinney can pass the career 10,000 passing yards mark with a 277-yard passing performance. McKinney gets the opportunity to take on a brand-new Bearcats defense so long as he can avoid pressure from Dontay Corleone. While it would take some serious heroics from McKinney for the Colonels to pull off the upset, if the senior quarterback can air it out early, Cincinnati could be on upset alert.
PREDICTION: CINCINNATI 31, EASTERN KENTUCKY 14
This game may be one of the closer week one matchups for any Big 12 team with the exception of Houston and West Virginia, and while I believe the Bearcats will handle the Coloniels in week one, Scott Satterfield's bunch could have a slow start. Cincinnati will make it out with some highlight plays from Emory Jones, mixed in with some heroics from Dontay Corleone, and move on to face Pittsburgh in week two, 1-0.