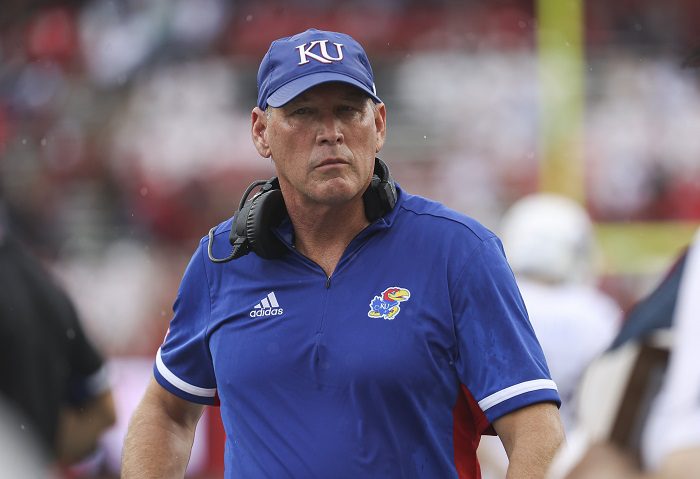 Kansas is coming off its best season in over a decade and will look to improve even more in 2023.
Last year head coach Lance Leipold claimed "no moral victories" at Big 12 media days and that winning would become the standard for the Jayhawks and their football program. Six wins in year two was good, but now expectations are growing. It all starts in Week 1 when Kansas hosts Missouri State on Friday night at David Booth Kansas Memorial Stadium. Here are five things that could help lead Kansas to a win.
Let the Running Backs Cook
Running back Devin Neal is the real deal. Neal averaged 6.1 yards per carry in 2022 and could see even more touches in 2023. However, Daniel Hishaw was also a very effective running back, averaging 5.9 yards per carry and scoring five touchdowns before going down with an injury in Week 5. The depth is still very impressive and the Jayhawks should lean into the running game, which can open things up for the passing game.
Let Jalon Daniels Cook
There's a lot of hype surrounding Jalon Daniels after his breakout campaign in 2022. The Jayhawks will look to utilize his unique skill set to continue pushing the envelope in 2023. Daniels was great at improvising and generally played mistake-free football throughout the course of the first half of the season when the Jayhawks jumped out to a 5-0 start to the season. If the running game is cooking, that would open up plenty of passing lanes for Daniels to make big plays down the field. This could be a game where a lot of points are put up on the board and Daniels will lead the charge.
Can the Pass Rush Step Up?
The Jayhawks lost their top pass rushers with Lonnie Phelps declaring for the NFL Draft and super-seniors Caleb Sampson and Malcolm Lee graduating. The Jayhawks have a healthy linebacker core coming back between Craig Young, Rich Miller, and Taiwan Berryhill, but they weren't typically guys getting into the backfield to get after the quarterback. The only returning defensive linemen lack production, and they may look to two Minnesota transfers, Gage Keys and Austin Booker, to step in and make contributions. Dylan Brooks, a former four-star prospect who just transferred from Auburn, may also have a critical role in the rotation. The two top transfers that could make an immediate impact from day one are Patrick Joyner Jr. and Devin Phillips. Joyner joins the team from Miami while Phillips comes to Lawrence after five seasons at Colorado State. This will be something to watch starting in week one as the team gets ramped up for a tougher slate of games as the season moves along. If they can't get it done against Missouri State, it won't get any easier moving forward.
Kansas Secondary Stepping Up
Kansas has their entire starting secondary returning, which will be a huge boost for this team if the pass rusher isn't up to speed at the beginning of the season. Cornerback Cobee Bryant can play on an island and create turnovers, while Kenny Logan Jr. can cover the entire field at th safety spot. This should be a bright spot for the Jayhawks this season and getting off to a fast start and forcing a few turnovers against Missouri State would be a good sign of things to come.
Special Teams Upgrades
The Jayhawks brought in former Kansas State head coach Bill Snyder's son, Sean Snyder, to help overhaul the special teams in March 2023 He has played a major role on previous teams he's worked for with special teams units, including at Kansas State, USC where he helped the Trojans have the #1 special teams unit in America, and most recently he helped turn around an Illinois program that finished second in the Big 10 West last season. Snyder will continue to help the Jayhawks with the special teams unit and beyond as a special assistant to the head coach. It all starts in Week 1 and seeing how the special teams unit matches up against Missouri State will give us a look at what Snyder has been working on since joining the Jayhawks. 
There are many things to keep an eye on as KU kicks off its season against Missouri State, but the biggest takeaway will be seeing the Jayhawks walk away from this game with an easy win. Anything else wouldn't be satisfactory in a season where the expectations continue to grow around the football program in Lawrence.