Trending Now
George Kliavkoff Predicts Pac-12 Will Win College Football National Championship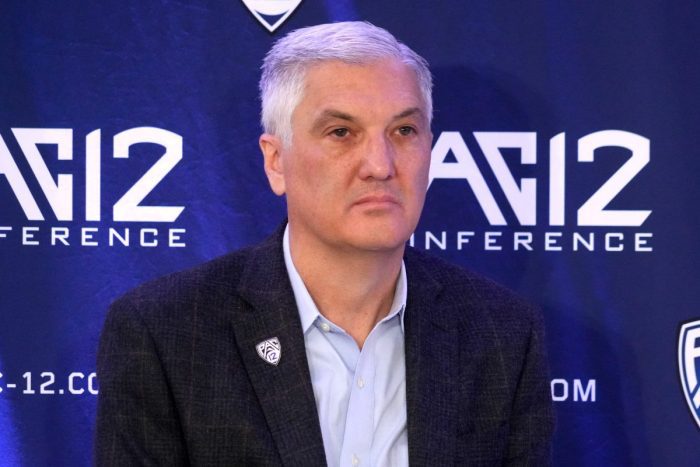 Pac-12 commissioner George Kliavkoff attended Wednesday's College Football Playoff meetings in Dallas and had a bold prediction for the future.
Well, the NEAR future.
This was Kliavkoff's first CFP meeting since the Pac-12 basically imploded due to their inability to agree to a new television deal.
This summer, four teams — Arizona, Arizona State, Colorado and Utah — have agreed to join the Big 12 next summer.
Oregon and Washington were invited to follow USC and UCLA to the Big Ten next summer.
That leaves the Pac-12 with four members for the 2024-25 season — California, Stanford, Oregon State and Washington State. Currently, Cal and Stanford are waiting to find out if the ACC will extend them an invitation to join next season.
So in what configuration the Pac-12 will exist next season is up to debate. But Kliavkoff, for now, still has a job and a conference to manage for one more season.
And he's quite bullish on that final football season. When asked what the future held for him by The Athletic, he replied:
"The Pac-12 winning a national championship this year."
That's bold. But, the Pac-12 has candidates based on the AP Preseason Top 25.
USC is the highest-ranked Pac-12 team at No. 6. The Trojans have already won their opener over San Jose State, which was played during Zero Week.
After that, Washington is No. 10, Utah is No. 14, Oregon is No. 15 and Oregon State is No. 18. The Beavers are the only team that, for the moment, will be part of the Pac-12 next year.
So, maybe the near future will play out like Kliavkoff hopes. That would also be bucking recent history. The Pac-12 hasn't gotten a team in the CFP semifinals since Washington made it after the 2016 season.
As for his future, well, only time will tell.
You can find Matthew Postins on Twitter @PostinsPostcard.